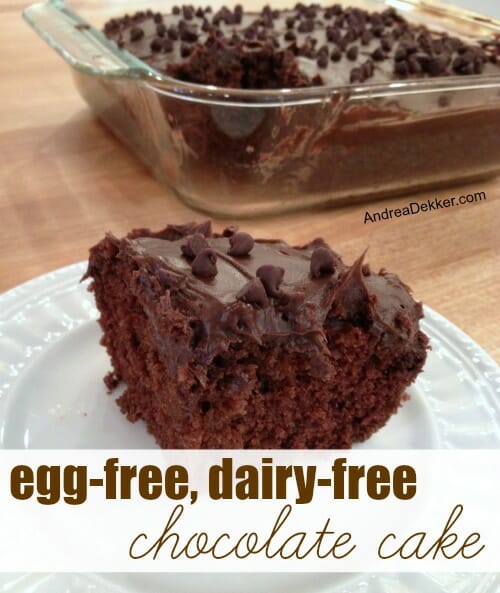 Although we are fortunate not to have any known food allergies or sensitivities in our home, we do have many friends who can't eat certain foods. Because of this, I'm often on the lookout for allergy-friendly recipes that still taste good.
It's usually fairly easy for me to prepare a meal that satisfies everyone's food requirements… but I'll be honest, when it comes to desserts, I often just make 2 or 3 different options so the people with allergies can have their thing, while the rest of us enjoy something a little tastier (what can I say, I love my desserts!)
We have a few friends with kids who are allergic to eggs — which, in my opinion, makes baking any dessert that tastes REALLY good almost impossible. However, I've had this recipe for egg-free, dairy-free chocolate cake in my file for some time now and have made it on occasion when our egg-allergy friends are coming over (or if I run out of eggs!)
It honestly tastes REALLY good (especially with some chocolate frosting!) and is usually the only dessert I make to satisfy everyone at the table. The egg-allergy friends can eat it without worry, and the non-allergy friends are always surprised by how yummy it tastes.
So, since it's an extremely simple recipe, and since I know some of you might be looking for more allergy-friendly recipes to add to your file, I figured it was time to share it here on the blog.
Plus, as Dave said, one more "excuse" for me to make chocolate cake 🙂
Recipe for Egg-Free, Dairy-Free Chocolate Cake
makes a 8″x 8″ pan or an 8″ round pan
INGREDIENTS:
1.5 c. all-purpose flour
1 c. granulated sugar
3 T. unsweetened cocoa powder
1 tsp. baking soda
1/2 tsp. salt
1 c. water
1/3 c. vegetable oil
1 t. white vinegar
1 t. vanilla extract
Frosting and toppings (optional)
DIRECTIONS:
Preheat oven to 350*F. Grease a 8″x 8″ baking pan (or an 8″ round pan) and set aside.
In a medium bowl, mix all dry ingredients together
Add in all wet ingredient (no need to mix them together in a separate bowl first)
Mix until well combined
Pour batter into prepared pan
Bake in preheated oven for 25-30 minutes, or until the middle is set
Let cool before frosting and/or decorating
You could easily double or triple this recipe for multiple round pans to create a layer cake. Or you could pour the batter in muffin tins for cupcakes (adjust baking time to about 15-17 minutes for cupcakes).
You could also add in chocolate chips, nuts, or any other "mix in" provided it fit with your allergy requirements — but I usually save the add-ins for the top.
And yes, I realize that with the additional chocolate chips, it's NOT dairy-free, but those are optional!
This cake is so yummy, I promise you'll never guess it was egg and dairy-free!
What are your favorite allergy-friendly dessert recipes?
Visit my virtual recipe box for more simple, delicious, family friendly recipes!