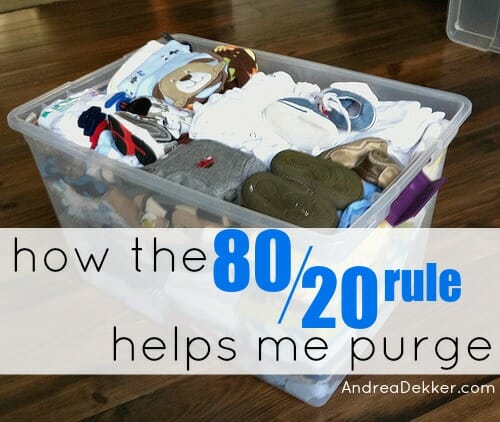 Four years ago, I wrote a post about The 80/20 Rule for Your Closet, and honestly, I think about that post almost daily.
Whether it's the fact that I use the same 3 mixing bowls in my kitchen almost EVERY SINGLE TIME I'm making food, the fact that we visit the same parks and restaurants out of habit, the fact that my kids play with their same favorite toys and request the same stories read over and over and over again, and yes, the fact that even when I'm not wearing my limited maternity wardrobe, I often resort to the same handful of favorite tops and jeans EVERY day!
In almost every aspect of my life, the 80/20 rule rings true — and after realizing this, I have started to use the 80/20 rule as a great "tool" to help and encourage me to purge more than I otherwise might.
In case you're not familiar with the 80/20 rule, it basically states that we use 20% of our things (clothes, toys, shoes, kitchen gadgets, tools, etc) 80% of the time. That means that the other 80% of our stuff sits unused most of the time — and we could probably do without it if we really had to or wanted to.
So how does this rule help me purge?
Lately, if I start to realize I'm using or wearing the same things over and over again, I take a few moments to evaluate whether or not I really need to hang onto all the other items I'm not using or wearing or enjoying.
I ask myself why I'm not using those items, if there was something I could do to make them more appealing to me, or if I could easily purge them to free up more space in and around my home.
Thinking of my "clutter" in a more logical manner helps me to remove some of the emotional attachment that can often be associated with purging.
For example:
Last week, I decided that I really didn't need so many mixing and serving bowls since I literally use the same 3 favorites all the time. Of course, I didn't toss all my bowls as there are times during the year when I do need and want more large bowls; however, I was able to more easily part with a handful of my bowls because I knew I wasn't using them, I didn't need them, and I'd rather have all that extra space in my drawers.
I also did a mini toiletries purge a couple weeks ago. I realized that over the past few years, I had accumulated A LOT of makeup and hair products that I never used (NEVER). Many were given to me as gifts or by companies hoping I would promote their things on my blog — and it was all just taking up space. It felt really great to get rid of all that unneeded stuff and pare down to only the things I actually use each day.
When it comes to clothing, I'm at kind of a rough spot right now due to the crazy changes my body will be going through in the next few months. On one hand, I'm SOOOOO anxious to get the maternity items out of my closet, but on the other hand, I know that even after the baby is born, I'll need to hang on to a few different sizes until I figure out what size I'll ultimately end up at — hopefully the same size I was BEFORE… but we all know how that goes 🙂
I've been on a mission to purge all my extra home decor items as I'm finding less and less space to display them now that my kids are getting taller and more curious! Our walls and tables and shelves are much more empty these days — and although I really do love decorating, it's just not worth the hassle of saying "don't touch that" 537 times each day. So the decorations are going since it's not worth storing them for several more years… and I'm loving all the extra free space in my home!
I could continue to give more and more examples from my own life — but I think you get the point.
I challenge you to start paying more attention to the clothing you wear, the items around your home that you actually use, and the things you touch each day. If you're anything like me, you'll most likely start to see a pattern, and realize that you are often wearing and using the same 20% of your things 80% of the time.
And while I would never tell you to purge the entire other 80%, I would encourage you to evaluate whether hanging into ALL that extra stuff you're rarely using is worth it.
Most times in my own life, I decide it's not worth it — and having a clearly thought-out decision like that has made the purging process so much easier for me!
What about you?
Have you noticed you wear, use, do, or touch the same 20% of your things 80% of the time?
If so, has that realization helped you to more-easily purge some of your excess?