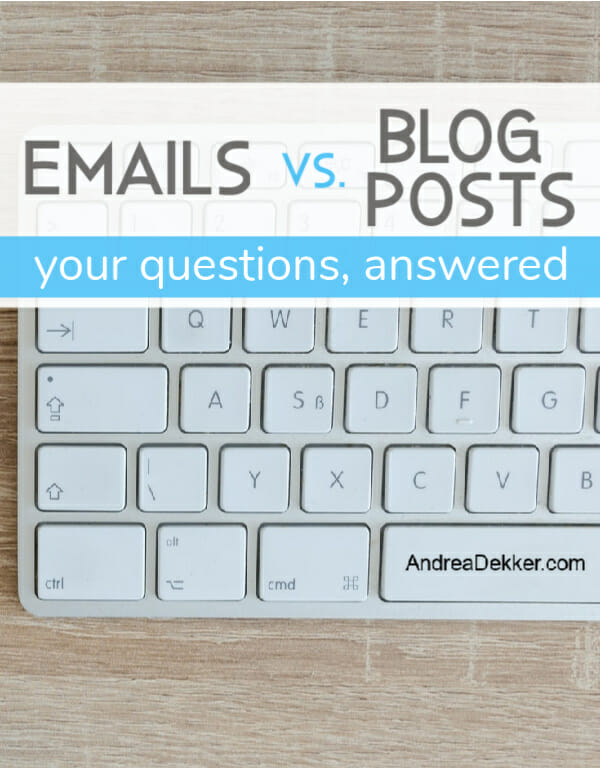 Last week, I shared the BIG BLOG NEWS that I plan to reduce my blogging frequency to 2 or 3 blog posts each week — down from 5 new posts each week which was my normal schedule for the past 10 years!
I was surprised by how many people thought I was completely shutting down the blog!
NOPE!
I'll still be here 2 or 3 times every week, sharing simple-living tips, easy weeknight recipes, and clutter-busting motivation!
That said, if you're a reader who really enjoys starting your weekday mornings with content from me, I have a super simple solution for you…
All you have to do is subscribe to my email list and you'll get something from me most weekdays.
Thousands have already subscribed to my mailing list… thank you so much!
However, announcing the new email list brought with it a host of additional questions (which I will answer below).
Will you sell our email address?
Honestly, I was totally taken aback by this comment. It's something I never ever thought of — and my answer is a resounding "NEVER!"
There is no way I'd ever sell or share or distribute your email address to anyone for anything! Dave is potentially the only other person who even has access to your email address — and you know he's not doing anything with them!
Rest assured, your email addresses are safe with me!
.
When will you send emails out?
My plan is to send some type of email communication out each weekday morning — shortly after 6 am.
This might change if I feel 5 emails are too "noisy" for one week — but many of them will be short, with a few quick tips or ideas to motivate you each day.
.
When will you post on the live blog?
I don't have my new schedule 100% set in stone yet — I want to give myself a chance to see what it feels like to publish 2 or 3 posts each week — then determine what feels MOST doable for me right now.
My plan is to ALWAYS share a new post on Monday mornings. I hope to get a post up on Tuesdays and Thursdays as well.
I will not post on Fridays unless it's something time-sensitive that requires a Friday post.
.
What type of content will be in the emails?
Many times, my emails will highlight a handful of relevant blog posts (including any new posts I wrote that week).
I will also share recipes I'm trying, quick organizational tips, life/family updates, little home projects we're working on, and some of my favorite products.
You really should just subscribe and see for yourself — you may always unsubscribe at any point (there's an unsubscribe link at the bottom of every email — no hurt feelings, no worries!)
.
But how will you make money?
I love that so many of you are concerned with my income. Several of you even offered to come to my blog each day and scroll through old posts so my ad revenue wouldn't go down.
Seriously, you are all THE BEST!
You are so much nicer, more thoughtful, more supportive, and more responsive than most. I rarely ever deal with rude or snarky comments these days (I know so many bloggers who deal with them on a daily basis.)
You are like a sea of sisters, mothers, and grandmothers, cheering me on from afar each day — I appreciate this more than I can possibly express in one blog post!
Rest assured though, there are MANY ways I can earn an income through email:
1. Ads:
Within each email, I plan to include links to blog posts that will direct readers back to my site (and thus, help with my ad revenue).
2. Affiliate Links:
I also plan to include affiliate links within my emails (I will disclose this in each email).
With affiliate links, I earn a small kickback from the company for my promotional efforts IF you buy the product.
There is NO extra cost for you, and often, you get a discounted rate by shopping through my link — so this really is a win-win for both parties (I only promote products and services I actually use in my own life).
3. Product Sales:
One of my goals for 2020 is to create and SELL products on my website (eBooks, eCourses, etc.) One of the best ways to market these products is to share them with my email list.
You will have NO obligation to buy anything. However, you will be the first to know about any products I sell (and you'll probably get a discount too!)
4. Sponsorships:
I usually share one sponsored post a month on my blog, but there is also an option to send sponsored emails — with links and images for the sponsor worked into regular email content.
I currently haven't accepted any of these offers yet, but there are a few companies I've worked regularly with over the past 10 years that are interested in this opportunity.
Also, as you'll see by my answer to the next question, I plan to work SIGNIFICANTLY fewer hours each week, so even if my income decreases, it really isn't that big of an issue for me.
It's sort of like working part-time after working full-time — you expect to make less, and that's OK because you're trading time for money!
.

Ok, so how are 5 emails any easier than 5 blog posts?
GREAT QUESTION!
I didn't think to address this question in my previous post, but I definitely should have based on how many questions I got!
The short answer is:
Writing email content is much MUCH less time consuming than writing blog content. Emails are more casual, less "polished", and much shorter in length (500 words versus 1500 – 2000 words).
The long answer is:
For those of you who have no idea how much work goes into publishing ONE blog post… let me enlighten you 🙂
These are the many steps I work through in order to publish my blog posts…
Draft a bunch of blog posts ideas (I usually try to draft 3-4 weeks at a time)
Write rough drafts of each post (I work in batches of 5 posts at a time, writing roughly 1500 words per post.)
Take whatever pictures and videos I might need for those posts (usually 10-15 pictures per post)
Edit all images and videos.
Create "pinnable" images for each post (the photos with words on them)
Create recipe cards for recipe posts.
Do keyword research and then choose a specific keyword or keyphrase for EACH post (this can be quite time-consuming)
Optimize each post for that keyword (this is also very time-consuming)
Follow all other SEO (search engine optimization) "best practices" for each post — optimize text, add "alt tags" to images, create a catchy title, provide proper "metadata", optimize recipe cards, etc. etc.
Add links to other posts from past blog posts (and from around the web, if relevant)
Finalize the post and make sure all ideas flow and all content is relevant
Create social media "snippets" and the little blurb that shows up on the home page.
Proofread the post (Dave does most of this for me).
Promote the post on various social media channels throughout the week it goes live.
Monitor and respond to comments.
Eventually, go back and update the post (if necessary) to keep content relevant (I'm not great at following up with this).
If I'm writing a sponsored post or doing a giveaway, the workload is even greater because I need to go back and forth with the brand to assure I'm sending the correct message, tweaking and changing things until the post is finally approved.
Nope, I'm not joking — this is what I do for ALL of my blog posts each week!
On the flip side — this is what goes into sending an email:
Write about whatever I want to share with you that day (roughly 500 words or less).
Include 1 or 2 pictures.
Include a few links back to relevant blog posts from my archives.
Hit SEND!
I'm guessing that my decision to switch over to email makes a little more sense now… right!?
This picture of baby Clara sums up my reaction pretty well. 🙂
Some of you might think I'm absolutely insane for actually writing 5 blog posts a week for the last 10 years — honestly, I'm starting to wonder myself!
However, blogging was not always so complicated!
Back in the "good old days" I could write a short blog post with 1 picture, post it on Facebook one time and the masses would flock to my site. Over time, there has just been more and more and more added to a blogger's to-do list… and frankly, I'm tired of it!
.
My Main Goal:

My intentions are not to somehow swindle my subscribers, sell your emails, or create the world's most lucrative email funnel. Certainly, anyone who has followed my blog for more than a couple of weeks should believe this.

I simply want to WORK LESS and LIVE A SIMPLER LIFE while still connecting with readers and providing near-daily content to help you simplify your life.

I absolutely LOVE writing and sharing my thoughts online… I just don't love all the extras that are now forced upon bloggers.

It's not a sly business move, it's not a sneaky ploy, it's just me living out my desire for a simple life — practicing what I preach every day here in this space.
.
Hopefully, this all makes sense.
If you have more questions — ask away! I'll do my best to answer them.
In the meantime… click on the image below to join my email list!