What I Do When the Sniffles Strike
posted by Andrea | 11/12/2015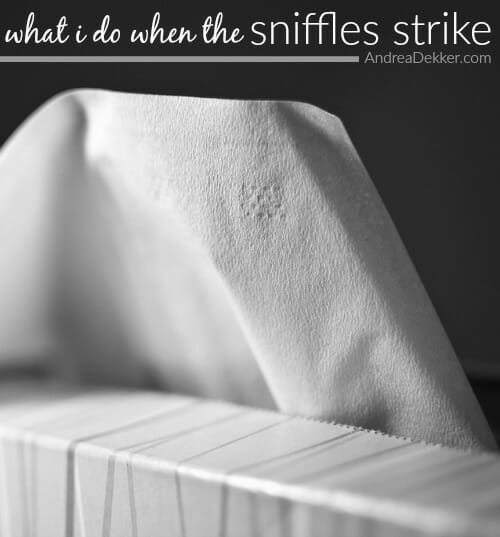 A few weeks ago, I shared our super simple tip to keep germs away (a.k.a we wash our hands ALL the time!)
In that post, I jokingly mentioned that I was jinxing myself by sharing our tip to keep germs away, and that someone in our family would most likely be sick by the next week.
Well, thankfully, the flu never hit our house… but we did have a full week where all 3 kids were sneezing, coughing, and dealing with stuffed up noses.
This is bad enough with Nora who completely overreacts to EVERYTHING and usually refuses to take any type of medicine; but it's just plain heart-breaking when you're trying to feed a little baby who can't breath through his nose.
Thankfully, Dave and I were spared… at least in the stuffy nose department. We paid our dues in the form of waking up over and over and OVER again with our children who couldn't sleep due to stuffy noses and being under the weather.
Sigh…
Although we are generally quite healthy around our house, the kids have had enough runny and stuffy noses over the past 4 years to allow me to develop a little routine of sorts for "what to do when the kids get a cold".
Today I'm sharing a little more about what I do when the sniffles strike… as well as some of my favorite cold and cough remedies for kids.
.
I Wash the Toys:
One of the first things I do when I start hearing sniffles coming from the kids is to wash the toys that are regularly played with. In our case, that's the doctor's kit, a handful of Simon's favorite balls, the play food and dishes, and our musical toys.
I usually wash as much as I can in the dishwasher (on the top rack in mesh garment bags) but recently, Nora has wanted to "help" me wash the toys in the sink. I use plenty of dish soap and a splash of bleach with SUPER hot water. I wear gloves and wash the dishes… Nora just dries them as we don't have gloves for her and the water it too hot.
p.s. does anyone know where I can buy kid-size rubber gloves? I've found gardening gloves and disposable gloves, but never the yellow rubber dishwashing gloves. 
I also throw all the stuffed animals and fabric toys into the washing machine with hot water and detergent.
Nora and I use sanitizing wipes to wipe down the larger toys, door knobs, handles, light switches, etc. I swear, Nora loves doing this so much that she probably would fake having a stuffy nose!
I do try to wash our toys relatively frequently, however it's one of the first things I do when a cold hits our house.
Also, I try to keep James' few toys separate from the rest of the toys. He has 3 or 4 that he loves to grab onto (and suck on) so I usually keep them where the other two can't reach.
.
I Wash the Bedding:
Whenever I'm not feeling great, I personally think that nice clean sheets and pillows help me sleep better. Plus, since I actually wash the pillows along with the pillowcases and sheets, I feel like there is less of a chance that dust or dust mites will continue to cause any nasal or respiratory issues.
Once the kids are 'back to normal' I rewash the sheets again to remove any lingering germs.
.
I Reorganize the Medicine Cabinet:
Since we thankfully don't have colds very often, it's not unusual to find expired items in our medicine cabinet. So whenever a cold does hit our house, it serves as a good reminder to reorganize the medicine cabinet.
It only takes a few minutes for me to toss out any expired medicine and make note of new items I might need to stock up on (both for adults and kids).
Since young children apparently aren't supposed to have any type of cold medicine, I rely on our trusty vaporizer, Maty's Children's Cough Syrup, and lots of Maty's Baby Chest Rub.
The vaporizer is something I purchased right before Nora was born and has been SO helpful over the past 4 years. I found Maty's Healthy Products a couple years ago after hitting so many dead-ends looking for something I could give my young children to help with common cough and cold symptoms (besides just Tylenol).
Since then, we've been using several of the Maty's products for our whole family (their adult cough syrup tastes almost as good as jam!)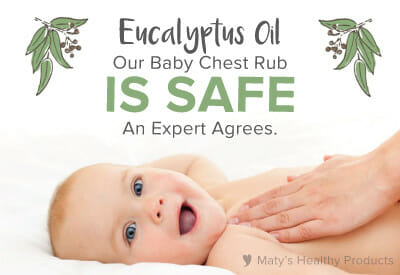 The Baby Chest Rub is especially popular in our house because our kids love the smell of it! Plus, Nora is not big on ingesting any type of medicine, so the fact that the chest rub is topical is a win-win for everyone 🙂
I also made good use out of their adult Vapor Rub when I was pregnant (I tend to get stuffed up more easily when I'm pregnant) and it was so nice not to worry about any added chemicals or anything that might otherwise be unhealthy for pregnant women.
Just an FYI, the Maty's Healthy Products are available at most RiteAid and CVS stores, along with the Maty's website.
.
I Encourage Them to Drink LOTS of Water:
I usually let the kids have whatever salty snacks they want when they have colds, mainly because it gets them to drink lots and lots of water. (Veggie straws, pretzels, and Goldfish crackers are some of their favorites.)
In general, my kids are really good about drinking water; in fact, Nora still will not drink anything but water! However, I know that a little extra water won't hurt them, and hopefully, it will help to flush out the cold just a little bit faster!
.
I Clear My Schedule:
Whenever my kids are even slightly under the weather, I've realized that there is almost no point in trying to run errands, get out and about, or do anything "extra" around the house. The kids are so much fussier, and I just end up frazzled if I try to do too much while still caring for them.
So I clear my schedule and prepare for lots of time on the couch, lounging in our PJ's, reading books, watching Netflix shows and movies… and praying that they take long naps! I'll also give them nice warm baths in the middle of the afternoon — which they actually really like!
On rare occasions, I can even get Nora to take a "rest" with me when she's not feeling great. I usually give her some type of reward if she lays in our bed with me during Simon and James' naps — which means I get a little extra rest too (see, I really am getting better at this motherhood thing!)
.
Again, we've been pretty lucky not to have too many bouts with colds or other sicknesses — but even still, it's nice to have a plan and the appropriate supplies for when those nasty germs invade our house!
I had to laugh a couple weeks ago when Nora said, "I'm sure glad Moms can't get sick, otherwise who would do everything for us and take care of us!"
Let's just cross our fingers and hope this mom stays healthy for another cold and flu season!
A big thanks to Maty's Healthy Products for sponsoring this post and making it possible for me to provide all of the content on my blog free of charge! My opinions are 100% my own! Please see my full disclosure policy and contact me with any questions you have.