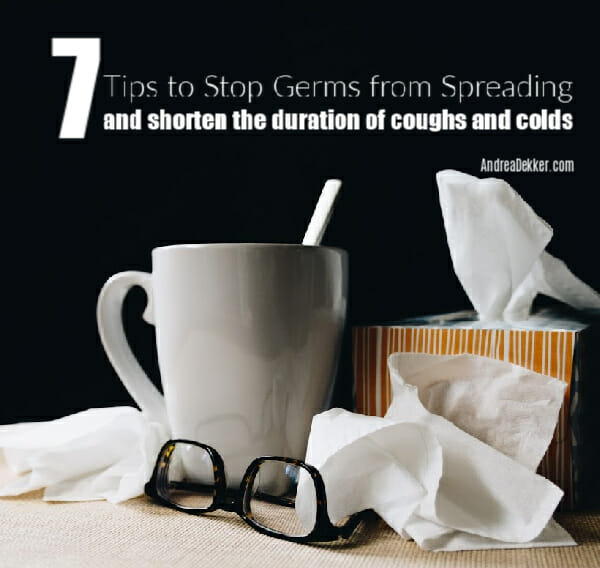 Although we are generally quite healthy around our house, our kids have been hit hard with stuffy noses, runny noses, and crazy coughs over the last 2 months. Some days, it felt like they were simply passing it from person to person within our home!
At one point, I went to Meijer to restock our children's meds and the whole shelf was wiped clean — clearly there are other families struggling right now too!
If you've been hit with colds, coughs, etc. you'll want to keep reading!
The 7 simple tips below are the things we do to stop germs from spreading and shorten the duration of coughs, colds, sore throats, and more.
Of course, they aren't magic and they don't always work — but more often than not, we've had really good luck with these simple tips. I hope they will work for you too!
This post contains affiliate links. If you click through and take action, I will be compensated. Read my full disclosure policy.
1. Implement Strict Hand-Washing Rules:
We are very diligent about washing our hands whenever we come inside or come home from running errands (and of course, after using the bathroom) but we don't always wash them as often throughout the day.
So in the winter months, when we're inside a lot, we tend to wash our hands less (even with all the coughing and sneezing).
Over the last few months, I've been a stickler for hand-washing — having everyone wash their hands before any type of snack or meal, after they blow their noses or sneeze, and sometimes just because.
If you follow me on Facebook or Instagram, you've probably seen me mention more about the new goat milk soap we've been using (from Bend Soap Company). It's been an adjustment to use bar soap again, but the kids are having fun with it and I love that the ingredients are all-natural.
NOTE: We use the Tea Tree or All Shield soap in the bathrooms and kitchen as they have natural antibacterial properties.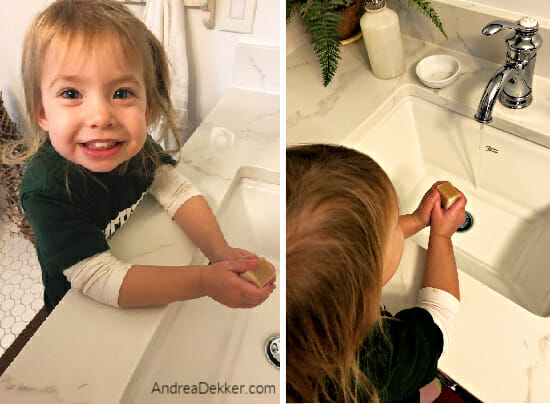 2. Drink LOTS of Water:
I usually let the kids have more salty snacks when they have colds, mainly because it gets them to drink lots and lots of water. (Veggie straws, popcorn, pretzels, and Goldfish crackers are some of their favorites.)
I also have "special water bottles" reserved for when I want them to drink extra water. It doesn't really matter what type of bottle it is, just as long as it's not the one they normally use — the kids get so excited about using something new that they drink so much more!
3. Wipe Down Door Knobs and Handles
I often give the kids sanitizing wipes and tell them to go around the house wiping down doorknobs, light switches, stair banisters, remotes, and any other places they regularly put their hands. They think this is great fun and willingly help. Of course, I'm not sure how well things get cleaned, but it has to be better than nothing!
I also regularly wipe down all bathroom faucets and toilets (I do this all the time, not just when people are sick).
We love the Seventh Generation wipes — it's all I've been using for years now.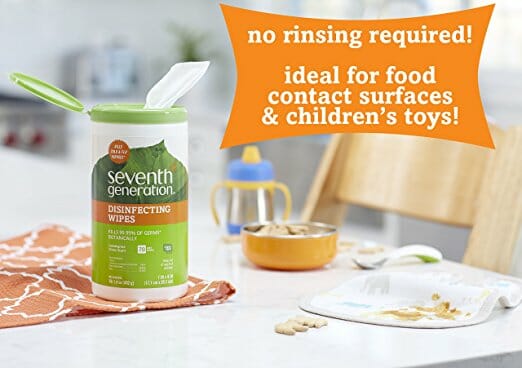 4. Wash Toys, Stuffed Animals, and Blankets:
Soon after I hear sniffs and coughs, I gather up the toys that tend to go in their mouths and give them a good washing (play food, musical instruments, the doctor's kit, whistles, etc.)
I usually wash as much as I can in the dishwasher (on the top rack in mesh garment bags) but sometimes the kids like to "help" so I use the sink or the bathtub to wash a bunch of toys all at one time.
5. Wash the Bedding:
Personally, I feel like I sleep better in clean sheets, and while I usually only wash sheets once a month, I do it more often when kids are sick (note: I wash pillowcases every week).
I also wash any stuffed animals, pillowcases, and their special blankets in hot water and a little bleach.
.
6. Reorganize the Medicine Cabinet:
Since we (thankfully) don't get sick all that often, it's not unusual to find expired items in our medicine cabinet — despite my efforts to stay on top of the various items inside!.
I've found that whenever a cold hits our house, it's a great reminder to purge and reorganize the medicine cabinet.
It only takes a few minutes for me to toss out any expired medicine and make note of new items I might need to stock up on (both for adults and kids).
NOTE: Here's how we organize our medicine cabinet. And here's a clever way to organize medicine when you're traveling.
Also, I'm regularly asked about the "best" or "right way to dispose of expired meds. Here's the information I know…
Use this map (mobile friend) or check out The American Medicine Chest to find a prescription dropoff location near you
If you can't find a close enough dropoff location, mix the prescription with an undesirable substance (used coffee grounds, dirt, kitty litter) and place it in a sealed bag in the trash.
Never throw any type of drug away in the actual packaging.
Remove labels from prescription bottles to prevent unauthorized refills
In general, flushing meds down the toilet is not recommended, except if your drug is one on this list.
7. Clear Your Schedule:
Obviously not super simple (especially if you work outside the home), but whenever my kids are under the weather, I've realized there is almost no point in trying to run errands, get out and about, or do anything "extra" around the house. The kids are so much fussier, and I just end up frazzled if I try to do too much while still caring for them.
So I clear my schedule and prepare for lots of time on the couch, lounging in our PJ's, reading books, watching Netflix shows and movies… and maybe even snoozing a little bit (if I'm lucky!)
Unfortunately, I can't completely stop the germs from entering our home; but these 7 simple tips have really helped to shorten our children's coughs and colds over the past few years.
I had to laugh a couple of weeks ago when James said, "I'm sure glad Moms can't get sick, otherwise who would do everything for us and take care of us!"
Let's just cross our fingers and hope this mom stays healthy for the remainder of the cold and flu season!
What are your best tips to ward off coughs and colds this time of year?