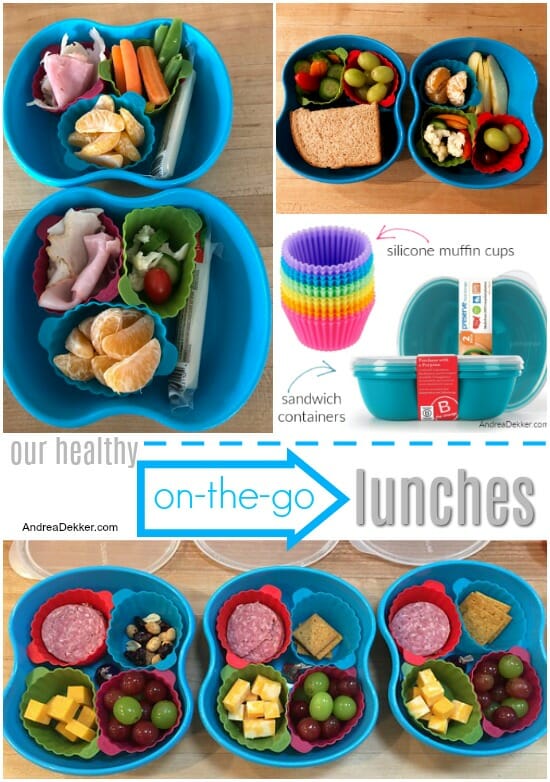 Our simple, healthy on-the-go lunches have been a time, money, and sanity saver for me now that we are officially out of the napping stage of life and can more easily get out of the house during the day (as opposed to just a few hours in the morning).
The kids and I are out and about for a better part of 2 days each week (at least the kids who aren't in school). We run errands, visit area attractions, stop at thrift stores, attend local events, and head to friends' houses to play or hang out.
It's very strange for me to be away from home so much, but surprisingly, I don't hate it!
One thing I quickly realized though, is that we need to take A LOT more food with us when we're gone all day versus just a quick snack for morning errands.
We had a couple days of crabby kids (and mom) because I didn't pack enough food along. But now that I've learned from my mistakes, I pack healthy on-the-go lunches (a.k.a. "fast food lunches"!) for whenever we're away from home all day.
I usually let the kids "help" pack their own lunches too (always a big hit). They get to choose what goes inside (from my preselected options) meaning they are far more likely to actually eat the lunch!
This post contains affiliate links. Please read my disclosure.
Our On-The-Go Lunch Containers:
Anytime I share pictures of our healthy on-the-go lunches, I get hounded with questions asking what containers I use.
We use the Preserve brand of sandwich containers. However, we don't use them for sandwiches, but rather for our on-the-go lunches!
The rounded corners of the Preserve containers fit 4 silicone muffin cups PERFECTLY. Plus, they are just the right size for little hands to hold on to in the car.
NOTE: These are regular-size muffin cups, NOT the mini cups.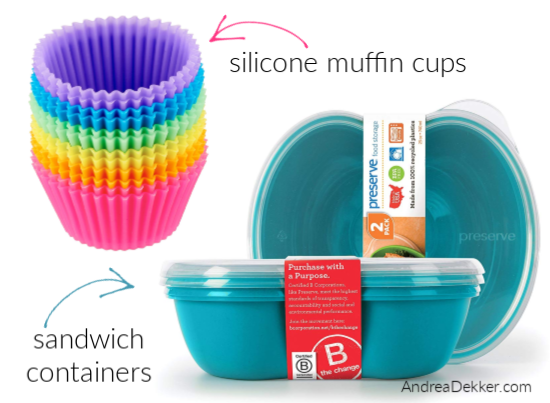 The preserve containers have tight-fitting lids, they stack really nicely, and they are very light-weight. I keep them in a small fabric cooler with a couple of ice packs to assure they stay cold while we're out and about.
The sandwich containers and the muffin cups are dishwasher, microwave, and freezer-safe. I do choose to wash the muffin cups by hand because they aren't "sturdy" enough to stay in one spot during a dishwasher cycle. I hate opening the dishwasher to find muffin cups filled with dirty water!
.
Quick Tip for Disposable On-The-Go Lunches:
I'm not proud of it, but I do (very occasionally) buy Lunchables for the kids. I often save the little plastic trays to reuse when they need to bring a disposable lunch container.
I load up the trays with food from home and use Glad Press'n Seal Wrap to tightly cover the top.
NOTE: here are a bunch more uses for the amazing Glad Press'n Seal Wrap.
.
Our School Lunches:
I want to clarify that the ideas above are only used for on-the-go lunches.
The kids use their Planet Box lunch containers for school lunches (read more on those in this post). The reason we don't use Planet Boxes for our on-the-go lunches is because they are too large to fit comfortably on the kids' laps when eating in the car.
Our Planet Boxes are still in perfect condition — even after a couple of years of daily use (and I still highly recommend them!)
.
Why I pack our lunches:
I'm sure I don't need to elaborate on the benefits of packing our own healthy on-the-go lunches for days when we are out and about.
Here are just a few of the many reasons we pack our lunches at home:
We save time by not making an extra stop somewhere else.
We save money by not going out to eat.
We save calories by loading up on fresh fruits and veggies instead of a burger and fries.
We can eat whenever we're hungry and don't have to find a place to stop or try to rush home again.
The kids absolutely LOVE eating in the car!
More Lunch Inspiration:
How We Simplify School Lunches
Our Favorite At-Home Lunch Ideas
Simple Weekday Lunch Ideas for Mom
The tools we use to pack "low-waste lunches"
What are your favorite on-the-go lunches?