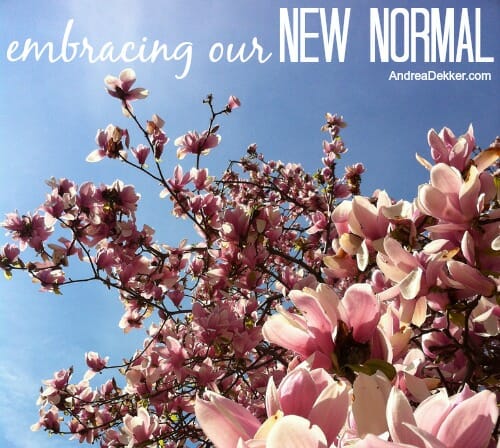 A couple weeks ago, I posted a question on Facebook regarding what topics people would like me to write about.
One request I got over and over again was how to "get back to normal" in terms of getting life and home and family and schedules back to the way they were before a big change (a move, a marriage, a new job, a new baby, a loss, a tragedy, a chronic sickness, a new season of life, etc.)
I get it… change is hard for so many people (myself included). Good change, bad change, happy change, sad change, small change, and especially big change — it's hard because it's new and different, and we need to figure out how to work this newness into our current lives.
It would be so much easier (at least in our minds) if we could just figure out how to get back to the way things were before, back to familiar territory, back to what we're used to.
Unfortunately, based on my own experience, it's often not possible to truly "get back to normal" — especially after a big change.
Instead, I feel it's more fitting to focus on EMBRACING A NEW NORMAL versus constantly trying to GET BACK TO NORMAL.
This is not necessarily easy to do — in fact, many times, embracing a new normal requires a grieving process. However, I feel it's mentally easier for me to wipe the slate clean, start fresh, and simply decide to accept the fact that things most likely won't ever go back to the way were before.
I'm certainly not saying we can't (or shouldn't) try to mend problems, fix relationships, clean up messes, or recreate fun traditions and events… I'm just saying there comes a point when, for our own well-being, we just need to accept the change and press on with our lives.
Whether it's donating the last of our baby things, packing up our desk at work, moving to a new city, mourning a broken relationship, entering into a new relationship, donating the clothing we were going to fit into again someday, grieving the loss of a loved one, or finally downsizing after raising a family and living in your dream house for 40 years.
Of course, there are many other small day-to-day "new normals" as well, but I think it's the big ones that usually catch us off guard and cause us to fixate on "getting back to normal".
With a little time and a lot of intentional effort, we will continue to find our new normals… until the next big change when we'll be left floundering once more.
If you have been waiting and trying to "get back to normal", I'd encourage you to spend the next few days thinking about what a NEW normal might look like for you. Then make a goal to start working towards that new normal in the New Year.
It's the perfect time of year to start fresh!