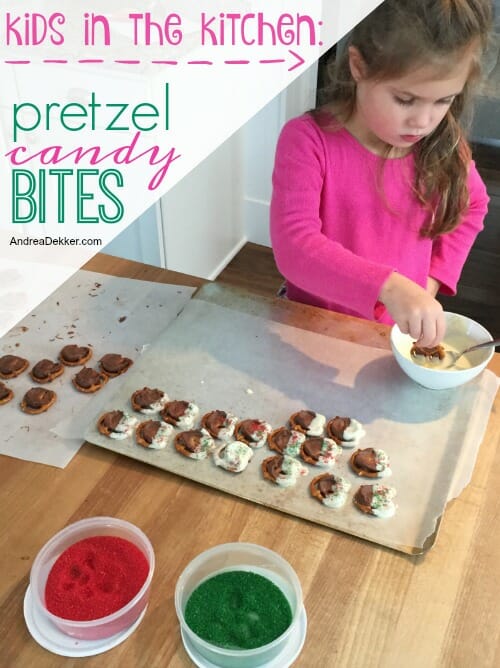 Over the years, one of my favorite salty + sweet treats are the pretzels + Hershey's Kiss + M&M candy (here's my 'recipe'). I love them all year round, but especially during the holiday season.
They seem to be a hit for almost any party or occasion, everyone loves them, they are great for little hands, and they freeze well so I can easily make a couple hundred at a time!
My kids LOVE these chocolaty pretzel bites; however, a couple months ago, we tried making the same concoction… but we used Rolo candies instead of Hershey's Kisses.
The results were amazing!
The gooey caramel + crunchy pretzel + sweet chocolate + salty pretzel is one of the best combos I've had in a bite-sized snack in a very, very long time!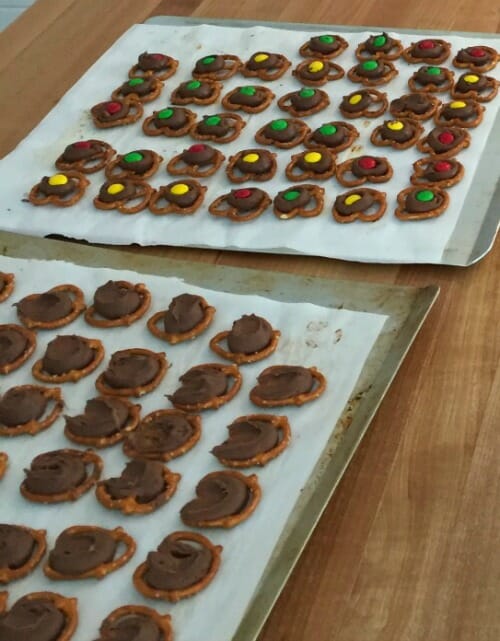 We all loved the Rolo candy addition so much that we even made them into turkey's for Thanksgiving!
Then, a few weeks ago, I saw a Facebook post that gave me another idea to kick our favorite bite-sized treats up a notch again.
We dipped them in white chocolate!
The white chocolate added a whole new flavor combo — one that is rather addicting, I might add!
I currently have a couple large food storage containers filled with these yummy pretzel candy bites — and I'm quite confident we won't have many left after taking them to various holiday parties over the next week (and snacking on them at home).
The best part about this recipe for me is that my 5 year old made these treats almost completely on her own!
I told Nora exactly what to do, I put the pans in the oven, and I melted the white chocolate — other than that, she did everything else while I was making soup for dinner!
If you're looking for an extremely simple, super delicious treat to bring to a holiday party, or just something fun to do with your children or grandchildren over Christmas break, I don't think you can go wrong with these yummy pretzel candy bites!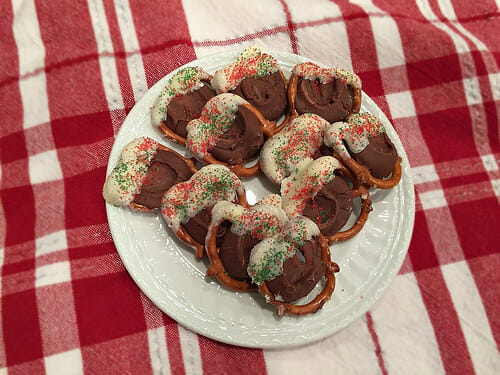 Recipe for Pretzel Candy Bites:
this recipe makes about 6 dozen bites
INGREDIENTS:
bite-sized pretzels (any shape will work — I like the circles, but the store was out of those)
Rolo candies
4-6 oz. white chocolate
1 ts. shortening
colorful sprinkles (optional)
DIRECTIONS:
Preheat oven to 350ºF
Line 2 baking sheets with a sheet of parchment paper
Place 3 dozen pretzels on each baking sheet
Top each pretzel with 1 Rolo candy
Bake in preheated oven for 2-3 minutes
Use the back of a spoon to smash the melted Rolo into the pretzel (I usually only bake 1 sheet at a time so I can smash the Rolos from one sheet while the 2nd sheet is in the oven)
Let Rolos cool and harden up again (you could even put them outside for a bit if you want to hurry the process)
Once the Rolos are cooled, place the white chocolate and shortening in a small bowl
Microwave chocolate for in 30 second intervals (stirring between) until fully melted
Dip pretzel bites halfway into white chocolate and place back on parchment paper
Sprinkle with colorful sprinkles if desired
Let sit for about an hour (or until chocolate is no longer melty) and store in an airtight container with sheets of wax paper between the layers.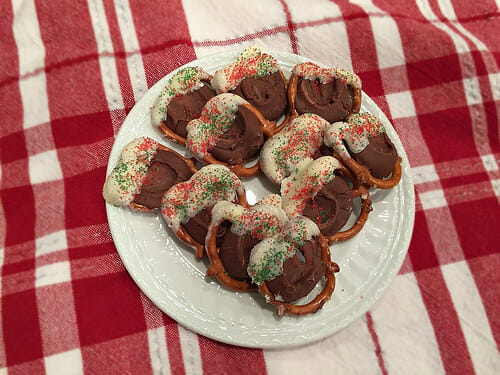 These bites are such a fun treat any time of year, but with a sprinkling of red and green sugar, they are the perfect munchy to bring along to all our Christmas parties!
What are your favorite Christmas munchies?
Visit my virtual recipe box for more simple, delicious, family friendly recipes!