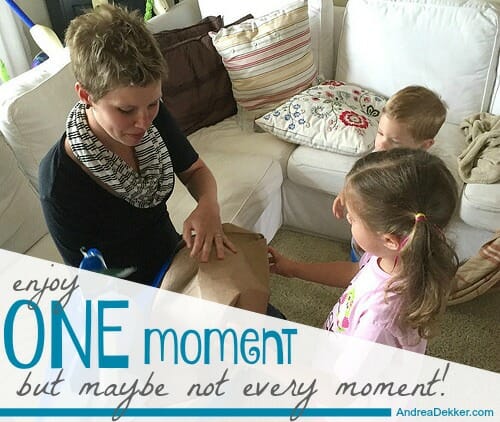 The kids got me a watering can for my birthday last week and they were SOOOOOOO excited to give it to me. They basically unwrapped the entire thing for me. We also went bowling and out to Arby's for dinner to celebrate my special day 🙂
As Dave and I shuffled our children around the bowling alley and scrambled to pick up all the food they were spilling at Arby's, we got several "enjoy every moment" and "it goes so fast" comments from friendly onlookers.
I completely understand what they meant, and although these cliché phrases can get old after hearing them 583 times, I truly am not offended or upset.
They are sweet sentiments that are almost always said with affection and endearment… so I smile and nod in agreement because I know they are right — it DOES go "so fast", but that's not necessarily a bad thing in my opinion!
For example, the 2 pictures above were taken in the exact same driveway, at the exact same parade, on the exact same day — just 4 years apart. A LOT happened in those 4 years, and although it's fun to look back at old pictures, I'm SO happy to have 2 more little boys and my big girl Nora, who is much happier now than she was as a baby!
Yes, looking back it went fast, but although I enjoyed most of it, I did NOT enjoy "every moment".
.
There have been times when I've let myself feel guilty for NOT "enjoying every moment" — especially when we were trying to do something fun like take the kids to the water park, but it totally blows up in our faces and turns into a not-so-fun afternoon of hot weather and whiny kids in a chaotic park, leaving Dave and I way more stressed out then if we would have just stayed home (not that this has ever happened to us before!)
I think to myself, "Why didn't we enjoy that? It was supposed to be fun for everyone, but no one had any fun and now all the kids are crabby."
But then I usually snap out of it and remind myself that it's essentially 100% impossible for anyone (no matter your age, gender, race, occupation, income level, or family status) to truly "enjoy EVERY SINGLE moment" of life.
Even the happiest, most positive, joy-filled, Jesus-loving, glass-half-full people I know still have weak moments, bad days, and rough periods of life that they definitely do NOT enjoy.
That's life — and it's normal.
They are not horrible people because they didn't enjoy the moment they couldn't pay their bills.
They are not missing out on life because they didn't enjoy the moment their spouse passed away from cancer.
They are not grumpy mean parents because they didn't enjoy the moment their child had a complete meltdown in the grocery store checkout lane.
They are not negative people because they didn't enjoy the moment they missed out on a big promotion or a big raise at work.
Like I said before, it's impossible to enjoy EVERY moment.
.
I know I'm just barely 31 years old (and I don't often say "never"), but I have secretly vowed to never say, "enjoy EVERY moment" to anyone… ever.
I do think we should all try to enjoy MOST moments of life — whether we have young children, older children, adult children, or no children… but I don't think anyone should ever feel guilty if they don't enjoy EVERY SINGLE moment of life.
I get so many emails and comments from readers asking about this "enjoy every moment" phrase, how I respond when people say it to me, and how I get over the fact that I DON'T "enjoy every moment".
I don't have a perfect solution, but for now, I think I'll just keep smiling and nodding!
Also, one thing I've been trying to focus on lately is to simply enjoy ONE moment.
Enjoy ONE moment.
If I go to the library with all 3 kids, I want to make sure we have at least ONE memorable moment together — even if the majority of the time was spent trying to keep James from pulling all the books off the shelf or reminding Simon over and over again that we don't shout "cheeseball" in the library.
If we play at the park, I want to recall at least ONE moment of enjoyment — even if the friends we were supposed to meet got sick, the toys were soaking wet from dew, another kid threw sand at Simon, and someone looked at Nora the wrong way 🙂
If we stay home all day, I try to think about ONE moment during the day that was truly exceptional and enjoyable — even if it felt like the kids were whining all day and I was scolding them all day.
If we go out for fast food, we try to enjoy at least ONE moment — even if food is spilled, children are sticky messes, our order gets messed up, and the fries are cold.
Now certainly, there are many times when I enjoy more than just ONE moment (some might argue that I should set my standards a bit higher) but I like the simplicity of searching for and remembering ONE enjoyable moment.
And honestly, it has been so "freeing" to push away any guilt I might feel for not enjoying every single moment because I know I am enjoying at least one moment within each activity or event we do in any given day.
It's not a perfect solution, but striving for ONE enjoyable moment has helped me realize how much of my life I actually DO enjoy — and alleviate so much guilt for those times when I do get frustrated, annoyed, angry, or stressed.
What are YOUR thoughts on the "enjoy every moment" comments.