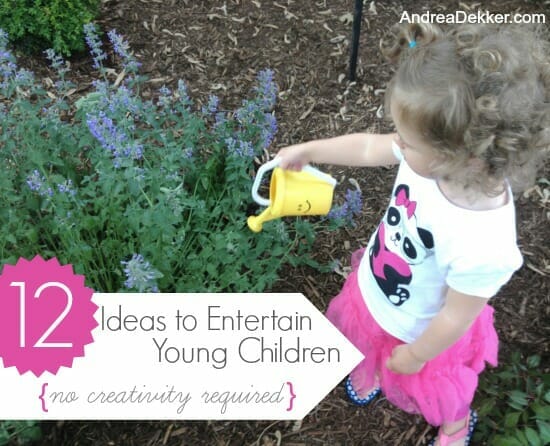 As I've mentioned before, I'm not the most crafty person in the world. And although I can be creative if I try REALLY hard, it definitely doesn't come naturally to me — especially when it comes to planning or thinking of fun ways to entertain and occupy young children.
All those fabulously creative ideas on Pinterest always seem too involved or too expensive for me. I'm well aware that even the most fun activities will only entertain preschoolers and toddlers for 15-2o minutes at a time, so I refuse to spend excess time, money, and energy planning activities that will only buy me a few minutes of peace!
No, I definitely don't think we need to entertain our children all day long, and I'm also not opposed to letting kids watch a little TV every day. However, my kids wake up early in the summer, and if I don't have a few fun things planned each day, we end up doing the same things over and over and over again.
So, for those of you who have young children, those of you who aren't necessarily super creative or crafty, and those of you who have no idea what you're going to do now that it's summer break and your kids are home ALL DAY LONG, here are a few things we do to stay busy around here.
You should notice that most of these activities require little to no creativity, little to no monetary cost, little to no set-up, and little to no clean-up! Win, Win, Win, Win!
Also, I wrote this post with the "under-5 crowd" in mind, but I think several of these ideas can be adapted for older children too!
1. Automatic Bubble Blower:
Oh my word — my kids LOVE bubbles! Nora can sometimes blow them herself, but usually Dave or I take turns blowing (and that gets old after a while!
We first discovered the amazingness of an automatic bubble blower at a music class we went to a few years ago. It blew hundreds of bubbles in a continuous stream — totally amazing!
We obviously only use the bubble maker outside, but it's pretty fabulous how long my kids are entertained by running through bubbles! I can pull weeds or do any other yard work while still watching them.
RELATED: Here's my recipe for homemade bubbles.
2. Watering Cans, Buckets, and Hoses:
This is obviously another outside activity, but I can often keep Nora and Simon busy for a full hour with a garden hose, watering can, and a few big buckets. They wash their cars and bikes, they water plants, they dump rocks into big buckets, they make puddles to jump in, and so much more!
Of course, the kiddie pool is fun too — but I need to be close by when they are swimming in our pool. When they just have a hose and watering cans, I feel like I can still do a little yard work while they play.
3. Dusting:
I realize my children might be a little odd when it comes to their obsession with cleaning — but they LOVE to dust 🙂
I can give them various colored rags or any type of tissue, toilet paper, paper towel, napkin, etc. and they will go room to room "dusting" anything they can reach. In fact, Nora actually does a decent job (especially on the baseboards!)
Simon loves using the Swiffer dust mop, so I usually let him go over the floors after I sweep them once to get anything I might have left behind.
It doesn't entertain them for hours, but it keeps them occupied for a few minutes, plus it's helping me (sort of) and teaching them some good skills in the process!
4. Playing "Beauty Salon":
Have you ever let your kids do your hair? I'll warn you ahead of time, if you have long hair, it will probably be a huge snarly mess by the time they are finished, but they will most likely have a lot of fun!
Dave is a really good sport about this — so he is often the preferred "client" for our kids 🙂
5. Cooking or Baking:
Most children I know get VERY excited about the idea of cooking or baking anything — especially if they get to sample the goodies.
Yes, it definitely takes me longer to cook and bake with "help" from my kids, but I figure I need to make some type of food almost every day, so I might as well entertain them (and teach them) in the process.
Simon is definitely more difficult to get involved, but Nora is actually able to do quite a bit to help.
6. Whistling or Humming Guessing Games:
I have to give my mom credit for this one — she's an elementary school music/choir/band teacher, so she's ALWAYS coming up with musical games for the kids to play. Most recently, she started a "guessing game" where she would whistle or hum a certain song's melody, and then Nora has to guess what song she's humming.
Nora's gotten really good at this game and can often guess the song with just a few notes.
This is a fabulous game to play with kids while you're in the car, cooking or baking, folding laundry, feeding another baby, etc. etc. because they are so busy thinking and concentrating that they don't get loud or act out.
7. Laundry:
Again, I need to do the laundry anyway, so why not try to get the kids involved so they learn to "help" me instead of bugging and distracting me the entire time. I let Nora and Simon take turns putting the clothes in the washer (we have a front-loading machine). They also know what button to press to turn it on.
Nora is actually somewhat helpful with folding rags, towels, washcloths, etc — Simon and James are mostly just destructive so I usually wait to fold the laundry until they are sleeping!
8. Special Meals:
Pick one day a week (or even one day a month) and have a special meal based on leftover foods you already have in the house. It could be as simple as eating all red foods one day, all foods that start with an "s" another day, or even all foods you normally don't let your kids eat for that particular meal.
For example, one of our lunches was 'C' themed — we had chicken, cheese, corn, chips, and a cookie. Another time we did a 'red' lunch — complete with strawberries, raspberries, pasta with tomato sauce, and bread with strawberry jam. No, those items don't necessarily go together, but that's what makes it fun.
Sometimes we'll have "rainbow lunches" where we eat all the colors — and other times I'll make a face with their breakfast or lunch.
It's a minimal amount of extra work for me and the kids think it's such a fun treat!
9. Ripping, Dumping, Stuffing, and Sorting:
I won't lie, this is basically just "making a controlled mess" and kids love it.
I give them magazines or coupon packets from the mail and let them rip them over the trash can or over a large bag. I give them large buttons or coins or other objects that they can sort in muffin tins. I give them a couple buckets or baskets and a variety of soft/small toys and just let them dump toys between containers or stuff as many items as they can into bags and boxes.
Every single time, it amazes me how long they stay occupied with this!
10. Send Them on "Scavenger Hunts":
I hesitate to call this an actual "Scavenger Hunt" because that sounds like it requires a lot of work and creativity — but I promise my scavenger hunts are really easy and require absolutely no set-up on your part.
Simply ask your kiddos to find ______ around your house or yard and then bring it back to you. Then ask them to find something else. It could be something like 2 black socks, 1 red ball, 3 pennies, 4 pine cones, 2 green leaves, a flower, an orange crayon, etc. etc.
They have to then walk around your house and/or yard to find these objects (so you'll need to ask for something you know you already have!) They'll stay busy finding their treasures and all you have to do at the end is dump the yard waste and put away a few household objects.
Sometimes, at the end, I'll ask them to get me a cookie or marshmallows, and then they can have that as their snack 🙂
11. Stories:
If they are old enough, just have them read you a story. However, if they can't read yet, ask them to tell you a story — you might be surprised what they come up with and how creative they can be.
Nora loves telling me stories, and they are usually quite imaginative. There will always be a baby and a mom in every story (the baby's name is usually Rose!) Also, it's not uncommon for Daniel Tiger, the Berenstain Bears, and friends from school to make an appearance as well.
Nora can't read yet, but she has many books memorized, so she frequently reads those to Simon and James (and actually gets them almost word-for-word!)
12. Give Them a Bath:
Now that we actually have a real bathtub, giving baths to multiple children at the same time is SO much easier (and actually really fun for them!)
It's a great "activity" to break up the day when the weather is nasty.
Nora and Simon will happily play in the bathtub for at least 30 minutes (or until the water starts to get cold) and since our upstairs bathroom is really big, I can either play with James right in the bathroom, or just sit in a chair and read on my phone while they play (if James is napping).
These are just a few of the non-creative, no-energy-needed ways I keep my kids interested, engaged, and entertained on a very regular basis.
They certainly aren't the most clever or creative ideas out there, but they are simple… and since many of them don't require 100% constant supervision, I can often get a few things accomplished in the process too!
I'd love to know if you have other ideas to add to my list!