A couple weeks ago, I attended the Evernote Conference in San Francisco, CA, and as I shared in my previous post, the conference was awesome and I learned a ton about all the new Evernote features and products!
However, since I was personally sponsored by Post-it Brand, the MAIN reason I attended the conference was to be there when Evernote unveiled their brand new partnership with Post-it Brand.
That's right, the wildly popular Evernote App has partnered with the Post-it Brand we all love to create a seamless bridge between the analog and digital world — and today, my goal is to share exactly how this awesome partnership works and how it can help all of us to simplify and organize our lives on a daily basis.
How does Post-it Brand + Evernote work?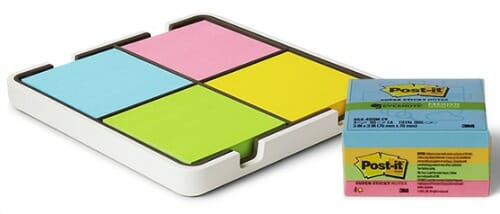 Getting Started with Post-it Notes:
Since I'm assuming you all know how to get out a pen and write something down on a Post-it Note, I'll skip that explanation.
Getting Started with Evernote:
If you aren't completely sure how Evernote works, its basically a super intuitive (and completely free) information organizing tool you can use on any computer — and a free App you can download on any smartphone or tablet device. It's main goal is to help you remember everything!
In my opinion, Evernote is a compilation of the best features of Pinterest, the Neat Receipt digital scanner, your family calendar, and your to-do list… so yeah, it's awesome!
If you still want more information, you can watch this video to learn more in 3 minutes than I could type in a 3 hours!
Just select the device you're using from the drop-down menu at the top of the page and play the video. You can also click on any of the links in the side bar for more device-specific information.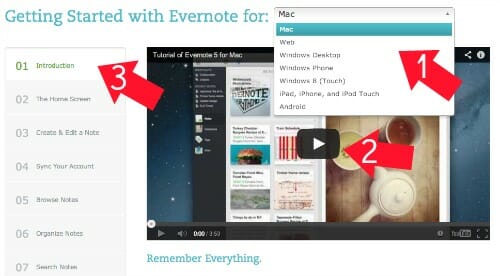 Now that you know a little bit more about how Evernote works, let me share how their new partnership with Post-it Brand works.
The PERFECT Pair!
The latest Evernote update for iPhone and iPad includes a special Post-it Note camera. This camera automatically recognizes pictures of Post-it Notes, immediately extracts the handwriting, deciphers the Post-it Note color, and then files it according to however you've pre-set it to file.
So ALL you need to do is snap a picture of your next Post-it Note message, scribble, recipe, idea, etc… and Evernote does the rest!
Here are a few photos of mine to walk you through the process.
#1 – A list of things I need to buy on my next trip to the store — written on a Post-it Note (this is just taken with the regular camera on my phone)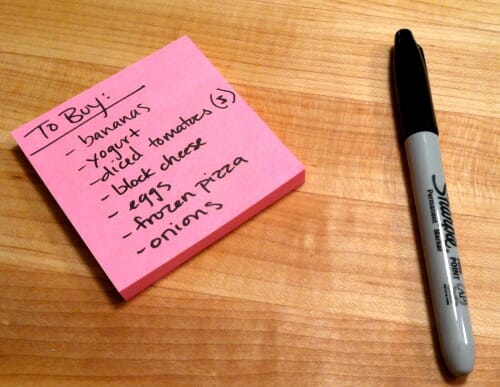 #2 – A screenshot of how the Evernote App extracts my handwriting and enhances the coloring (doesn't it look fabulously bright)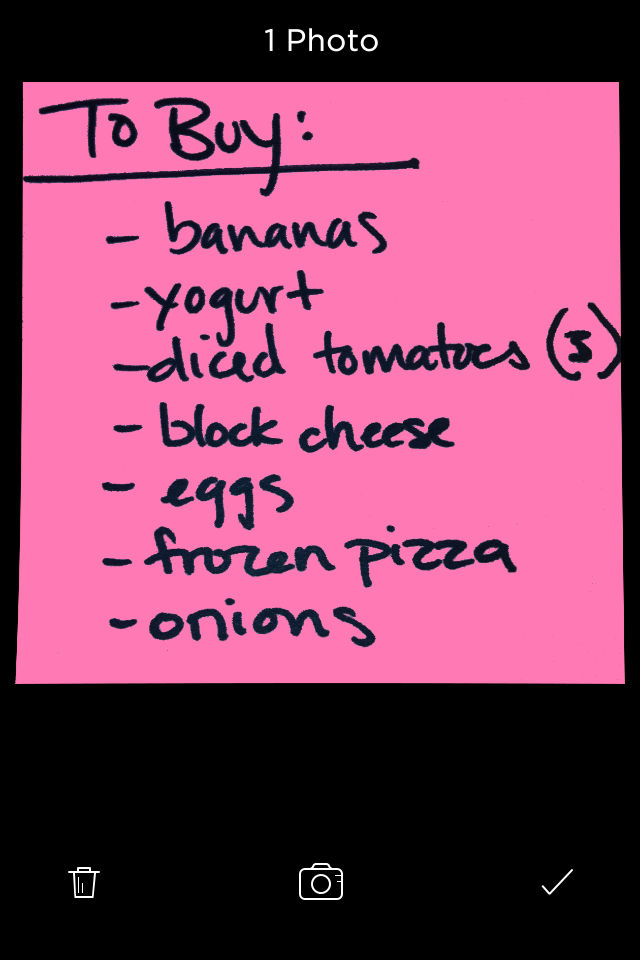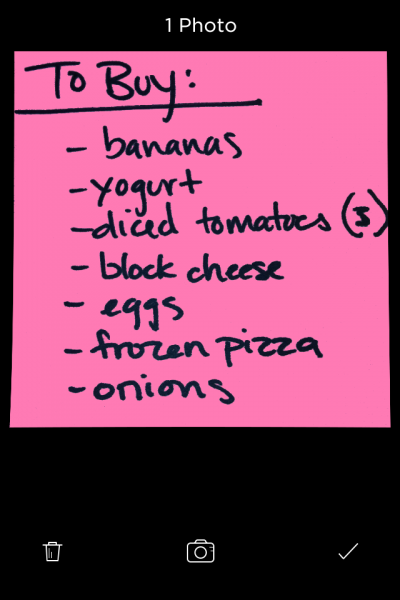 #3 – A screenshot of my Post-it Note automatically uploaded into my Evernote account — ready and waiting for the next time I head to the store.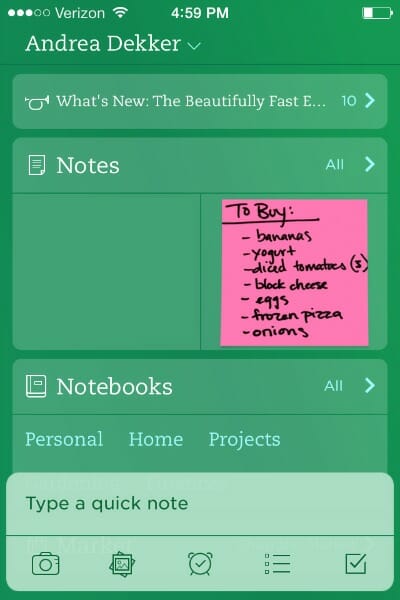 As you can probably imagine, I was super excited about this partnership because I LOVE using Post-it Notes and I LOVE anything that helps to simply my life!
You can find even more information on the Post-it Brand website — but if you're wondering how I benefit from this partnership in my daily life, keep reading!
1. Grocery Shopping, Recipes & Meal Planning:
When it comes to grocery shopping, recipe sharing, and meal planning, I still need to write everything down on paper. However, since I rely on a paper list or a paper recipe, it can be super frustrating for me if/when I accidentally forget to take my list, my recipe, or my weekly menu plan to the grocery store (not that I've ever done that before!)
With the Evernote App Post-it Note feature, I can now jot my recipe, meal plan, or grocery list on a Post-it Note, take a picture of it with the Evernote app, and instantly have access to it from my computer or my phone. Also, Dave can open up the Evernote App on his phone to see my list if I need him to pick up something on his way home from school.
I've also started using the Evernote App to take photos of any recipe cards, cookbooks, newspaper clippings, or even save screen shots of recipes from the internet to create a massive online hub for my favorite tried-and-true recipes.
2. Reminders:
This feature is pretty self-explanatory but it frees up SO much space in my brain that it's definitely worth mentioning as one of my favorite Evernote App uses.
Any time I have a meeting, appointment, or date I need to remember, I just quickly jot the information on a Post-it Note, snap a picture with the Evernote App, and then set a reminder either a few hours or a few days in advance. Simple, but it works!
I've also used this feature to set reminders to change the furnace filter, rotate the mattresses, defrost the freezer, clean out the gutters, pay my quarterly taxes, etc. etc. — all those seasonal things that sometimes get lost in the shuffle!
3. DIY Projects:
Dave and I always have at least one house project on our to-do lists (we have 3 right now!), and I can't tell you how many times we've been at the store, remembered we had to buy "something", but couldn't remember the exact measurements, dimensions, color, size, etc.
Now, we can have a designated folder in our Evernote account just for home DIY projects — we can keep paint colors, notes, measurements, etc. all in that folder and we can BOTH access it from our phones any times we want to!
We can even sketch out a design on a Post-it Note, snap a photo of a diagram, and then pull it up on our phones when we're ready to make our purchase at the store.
4. Passwords and Important Information:
I keep track of a lot of information — some of it passwords and usernames for different online or "in real life" accounts, some of it just random birthdays, pin numbers, or things I don't want to forget. I've tried different systems to store and organize this information over the years — some have worked better than others.
However, with the Evernote App, I can now write that information on a Post-it Note, snap a picture, and have it archived. I've been smart about this — and even though the App is safe, I'm writing and storing the information in a way Dave and I can recognize but probably not anyone else (just in case our computers or phones got into the wrong hands).
5. Calendar Organization:
I'm still a pretty hard-core paper planner girl, but Dave and I have noticed that there are some things that are just A LOT easier if we schedule them on a digital calendar (we use Google Calendar). So since I gave Evernote access to my digital calendar, it will automatically add information I note about a meeting or an appointment directly into my calendar.
For example, I can quickly jot down information for an upcoming meeting, appointment, or other obligation on a Post-it Note, snap a picture with the Evernote App, and bam — it's there in my calendar (and I can even set a reminder for the event as well — see #2 above).
6. Blogging Ideas:
Since I'm ALWAYS thinking up new ideas for blog posts (and since I just so happen to keep my list of ideas on a Post-it Note), I periodically snap a photo of that Post-it Note with my Evernote App so those ideas are with me where ever I go. This makes it really easy to work when I'm "on the go" and it virtually eliminates writer's block.
Also, I can use the different colors of Post-it Notes to represent the different main categories on my blog and keep separate lists for each main category. This method has come in handy many times already and has helped me to keep my ideas organized and all in one place!
As you can see, there are SO many different practical every-day uses for Evernote and Post-it Notes. You can read about LOTS more ideas here.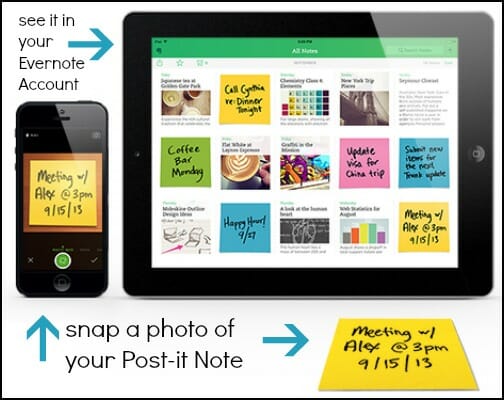 I'm loving the simplicity and ease of snapping photos of my Post-it Notes and having them automatically uploaded (and appropriately filed) into my Evernote account. Even more than snapping the photos, I love that I have access to the information wherever I am.
What do you think? How could you benefit from this partnership?
Learn more about Post-it Brand and Evernote by visiting your local office supply store, visiting Postit.com/Evernote , following Post-it Brand on Twitter, or liking Post-it Brand on Facebook.