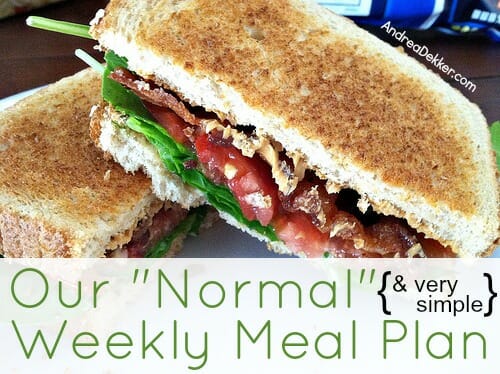 Two years ago, I started posting our meal plans for the week every Monday morning — I cleverly called the series "Menu Plan Mondays". The posts were pretty easy to write and I usually got a decent amount of positive feedback — but then I realized that since we eat really simple foods and we eat the same things on a regular basis, me sharing the same recipes over and over again would probably get old. FAST.
So I quit.
But ever since then, I've gotten a fair number of emails from people asking me to resurrect my Menu Plan Mondays or share a bit more about what meals we eat on a weekly basis.
I've been thinking about this for a bit, and I'm still not sure what I want to do long-term. However, today, I'm sharing little more about what types of VERY SIMPLE meals we eat — mainly because I think it might be nice for you to see just how simple our meals are, and maybe feel a little less overwhelmed by all the blogs out there who are supposedly making gourmet meals for their families every night of the week.
Everything In Moderation – My Theory on Food:
Before we get too far into this post, I should mention that I am most definitely NOT a 'foodie' and my goal in writing this post is not to say you should or should not eat the same foods that we eat. I'm also not looking for advice for how we should change the way we eat — I'm simply sharing how we DO eat.
I freely admit that I don't buy all organic or natural foods.

We eat some processed foods — but we also eat lots of fruits and veggies.

I make a lot of things from scratch, some things from a box, and a good amount are "semi-homemade".

We eat lots of dessert!

Not everything I make is super duper 100% healthy, but it usually tastes really good 🙂

We are not picky eaters (at least not Dave and I) and we don't have any food allergies or sensitivities that we know of — which obviously makes cooking a lot easier around our house.
And also, when I say our "normal" meal plan — I mean "relatively normal" because there really is no completely normal week in our house. Our schedules change at the last minute, we get invited for dinner by friends or family, we have unexpected company, we have a free babysitting offer and use it to have an adult conversation over Culver's burgers and fries, etc. etc.
Although I do draft up a simple weekly meal plan pretty much every week, I don't get too bent out of shape if we end up rearranging meals, skipping meals, or saving them for the next week.
With that said, here is what our "normal" weekly meal plans often look like.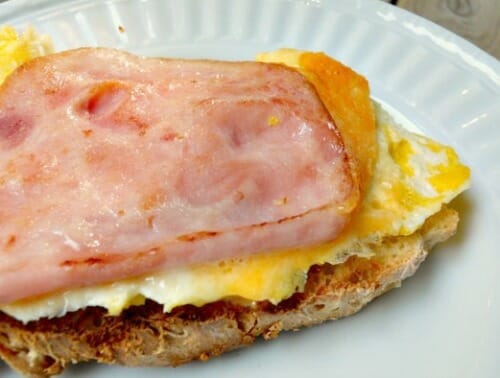 BREAKFASTS:
I don't make a specific meal plan for breakfast, but this is what we usually end up eating…
Cereal (cold or hot)
Toast
English muffin bread or muffins (I often try to have some type of bread or muffins made or in the freezer)
Yogurt and granola (or just yogurt if I don't make/buy granola)
Pop-Tarts — this is all Dave as I detest these things!
On Saturdays, I usually make pancakes, omelets, quiche, or waffles; and on Sundays we almost always have cinnamon rolls — usually from a can 🙂
Here's a link to all my breakfast recipes.

Here's a link to all my bread/muffin recipes.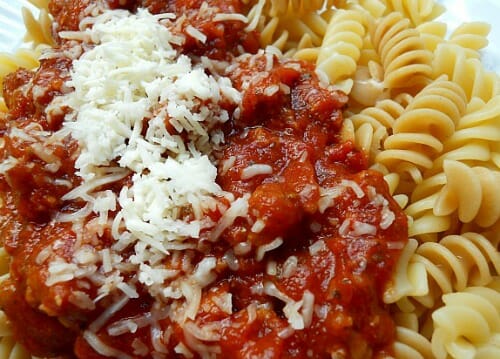 LUNCHES:
We almost always have dinner leftovers from the night before for lunch the following day. Dave has a microwave right in his classroom (and I don't particularly love sandwiches) so this is actually the simplest option for us. We usually prepare our lunches (on a plate for me or in Tupperware for Dave) as we're cleaning up dinner, which saves time too.
If we don't have leftovers, Dave will usually make a sandwich and Nora and I will often have macaroni, spaghetti, soup, grilled cheese, chicken nuggets (I'll put mine on a salad), fruit, raw veggies, or something else VERY simple.
DINNERS:
I've already shared my Themed Weekly Menu Planning "rule of thumb" where I try to plan meals based around certain food themes (a.k.a. breakfast, Mexican, Italian, etc.) and I'm happy to say that over 2 years later, this method is still working really well for me.
Obviously, I don't follow it to the letter every single week, but for the most part, this simple rule of thumb serves as a very helpful guide to assist me in the sometimes overwhelming process of trying to compile 6-7 meals that we didn't just eat last week 🙂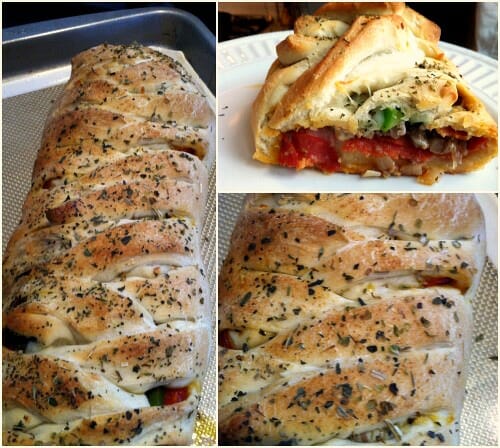 Here's a list of some of our favorite supper dinner ideas:
Sunday nights is almost always frozen pizza and salad at our house.
Also, whenever I cook, I try to make double or triple batches and put some in the freezer for later. This means that I usually only have to cook 2-3 times per week!
Side Dishes:
When it comes to side dishes, I like to keep things pretty simple too. Depending on what the main course is, here are some of our favorite side dishes:
Homemade applesauce — I know this might sound odd to many of you, but Dave and I both grew up with applesauce on the table most nights
Jell-o with fruit
Cold fruit salad — or just a bowl of grapes or cut up apples
Hot fruit salad — this is so yummy, especially for holiday parties or cold times of year
Lettuce Salad
Garlic bread, fresh bread, or rolls (like Pillsbury)
Any type of potato — mashed, fried, baked, oven roasted, or even sweet potatoes
Any type of fresh vegetable (usually steamed), or frozen broccoli or canned corn on busier nights
Dave and I both like variety of foods at each meal so we'll often have 3 or 4 side dishes at dinner — but since at least one of them is applesauce that I always have on hand, and another one is usually some type of bread that I also already have on hand, this really only involves making some type of potato and vegetable — not too bad.
Going Out to Eat:
I don't like spending money going out to eat — but I do enjoy a night away from the kitchen. So we'll often go out to eat (usually something like Culver's or Arby's with coupons) once every other week, and we'll also often have some type of meal with extended family once every other week.
This seems to be a pretty good balance for us right now — especially since Nora is young enough to just share some of our food or we bring along a few snacks for her.
Oh, and one more thing I wanted to mention — when I was pregnant with Nora, I didn't get nauseous at all (seriously) but with this 2nd baby, I felt pretty gross from the middle of July – early September. I could EAT most foods just fine, I just couldn't smell them cooking. So over the summer, we pretty much plowed through any saved up restaurant gift cards and coupons.
I totally realize there are different seasons of life, and if you're in a season of super busy schedules and eating out more than normal — just know that you're not ruining your family and you'll probably hop back on the meal-planning wagon eventually!
.
Told you we ate simply!
I think by keeping my regular routine SO simple, I'm able to get a mostly homemade dinner on the table almost every night without being constantly tempted by fast food or purchasing really expensive frozen meals.
And since I do actually enjoy cooking, the fact that I make simple meals most of the time allows me the energy (once in a great while) to make Thanksgiving dinner or a yummy roast with all the fixings in the middle of the week…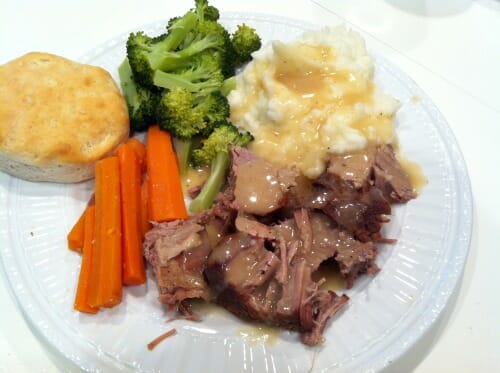 Still looking for more?
Here are links to my recipes in the following categories:
So as you can see, we're not doing much gourmet cooking over here — but no one is complaining either.
In fact, since I make super simple meals, Nora has been able to try and enjoy many of our foods right along with us (even with her eating / sensory issues). This obviously makes things a lot easier for me too since I don't need to make something separate for her to eat.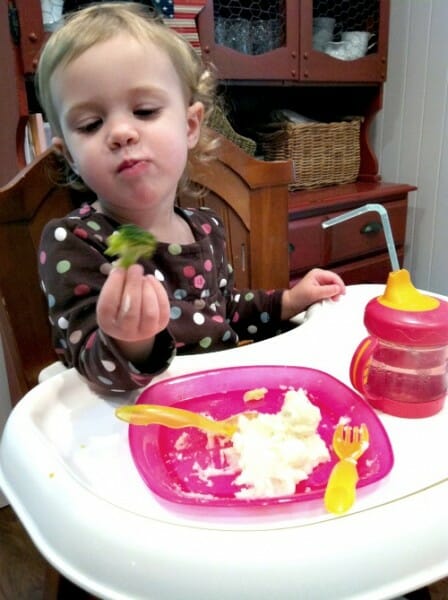 So like I mentioned above, this post might just be a one-time thing, I might start posting sporadically about different simple meals we're eating, or I might turn it into a weekly series — we'll just have to wait and see!
One thing is for sure, I'll keep posting simple, family-friendly recipes on a regular basis!
Happy Simple Meal Planning!