The post is sponsored by Post-it Brand. All opinions are my own.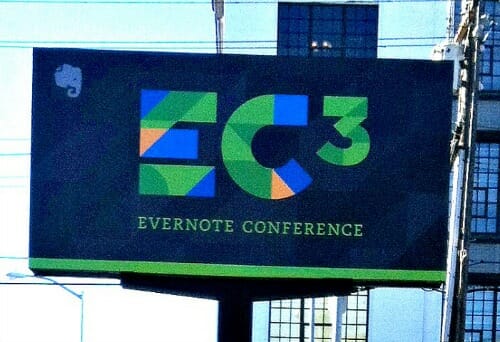 As many of you know, I left my little Nora for the first time last week to go on a mini mama-only "vacation". It was SO hard… and yes, I cried when I left, but it was also SO worth it.
I'm super excited to share that my 2-day blogging trip to San Francisco for the Evernote Conference was amazing, AND that Nora handled my absence MUCH MUCH better than any of us expected!
Besides refusing naps (which isn't that abnormal) and a rough first night away from mom, she hardly even mentioned my name.
And when I excitedly walked through the door on Friday night, she gave me a big hug and immediately had to tell me about how she hurt her chin on her Jack-In-The-Box. Then she marched right back into the living room and started playing with her "boom box" — apparently my mom brought this over while I was gone!
As I mentioned in my post last week, I was so excited to finally do something for myself. Yes, I was super nervous and had a lot of guilt leaving Nora for the first time, but I knew the timing was right.
I also felt this trip would be a great opportunity for me to get away, to network, to learn more about awesome products that will help us get more organized, and (hopefully) to create a good learning experience for Nora.
I think it was a success on all levels — and I can't tell you how happy and relieved that makes me feel. I went with my gut, and I think my gut was right!
Oh, and thanks for all your kind words, well-wishes, and prayers. They were very appreciated (especially the day I left!)
.
More about the conference:
The main purpose of my trip was to attend the Evernote Conference; however, I was personally sponsored by 3M and Post-it Brand — yes, you read that right!
For those of you who use and/or know a little bit about Evernote, you might be wondering why on earth Post-it Brand would want to send me to an Evernote conference.
Well, first of all, I think you all know how much I LOVE Post-it Products 🙂 I'm kind of obsessed!

Second, one of the purposes of the Evernote Conference was to unveil a brand new (and totally amazing) partnership between the Evernote App and Post-it Notes — basically providing a seamless bridge between the analog and digital worlds. A.K.A. even less paper clutter in your life!
Since Post-it Brand and Evernote share a mission to provide people with tools they need to be more productive in their daily lives (a mission I also share), I feel like this partnership is a perfect fit, and I'm so happy to be the one to share it with you.
If you've never used Evernote before, its basically a super intuitive (and completely free) information organizing tool you can use on any computer — and a free App you can download on any smartphone or tablet device. Learn more about Evernote here… or watch some helpful video tutorials here.
And since I'm assuming you are all fully aware of the awesomeness of Post-it Notes, I'll spare you that explanation!
Both products are amazing tools on their own… but the partnership of Evernote and and Post-it Notes takes it to the next level. I'll be going into more detail about exactly how this partnership works (along with how this partnership will help us to all be way more organized), but if you can't wait a few more days for me to explain it all to you, you can read more specifics here.
.
For the time being, any time you buy a specially-marked package of Post-it Notes, you'll see the new partnership information (and the Evernote elephant) on the front and back of the package — and you'll get a coupon code for one free month of Evernote Premium inside (Evernote Basic is totally free all the time).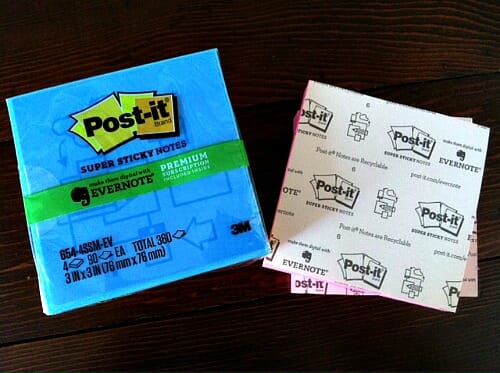 Learn more about Post-it Brand and Evernote by visiting your local office supply store, visiting Postit.com/Evernote , following Post-it Brand on Twitter, or liking Post-it Brand on Facebook.
Evernote and Post-it Note users — you should be very excited!
.
More about my trip:
I'm most definitely NOT a world (or even a state-wide) traveler! But I will say that traveling is always so much more fun and relaxing when someone else does all the planning and leg work! It was so nice to leave my house knowing that everything was already planned out for me and all I had to do was show up at the right places at the right times.
The flights were great and I had almost no layovers or issues. The accommodations were lovely. The food was fantastic. And the company was superb — I met a few other fabulous bloggers "in real life" and had so much fun with the Post-it Brand team!
my new friends: Jen from Tatertots & Jello and Krissy representing 5 Minutes for Moms
We toured a local Staples store with their brand new display of Post-it Products front and center. I posted this picture of myself holding their new Big Pads on Facebook and some people asked what I would do with them.
I honestly wasn't quite sure… until I got home and Nora immediately used them to decorate our non-magnetic refrigerator 🙂
She calls them her "daddy stickers" — which basically means "big" in her language.
I was pretty busy the entire day of the conference but my two 4.5 hours plane rides gave me the opportunity to read this entire book.
As with all parenting or informational books, not every single piece of advice will work or apply to your life. However, I definitely felt like I learned A LOT about Nora and about what we should and should not be doing with her. There are specific age-related sections towards the back of the book so I could focus in on the toddler age bracket for a lot of my information. I'm sure I'll be talking more about some of the parenting books I'm reading in future posts, but just wanted to mention this book today.
Oh, and just for laughs, I stopped at Starbucks to get an ice water because the drinking fountains in my wing of the airport weren't working. So while I can still say I've never PAID for a drink at Starbucks, I now have this picture to make me feel cool!
All in all, this conference was JUST what I needed to get away from my normal life for 2 days and I'm thrilled Nora seemed to handle it so well. For the record, my married but childless sister who watched Nora while I was gone admitted that she now understands why I'm so tired all the time!
While this trip wasn't exactly "restful," it most definitely WAS re-energizing and relaxing just to have a change of pace and to be able to think my own thoughts all day. Also, chatting with real life grown-ups and eating food while it was still hot at fancy restaurants were nice bonuses too.
I'm so thankful to the folks at 3M, Post-it Brand, and Evernote for giving me this awesome opportunity at just the right time!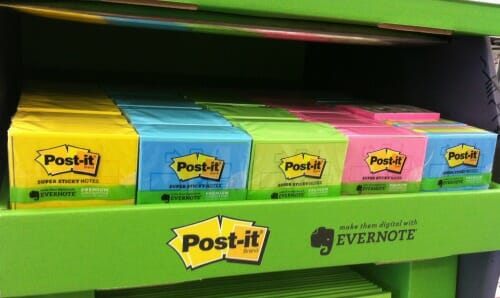 .
So in preparation for my next post about all the cool new Evernote + Post-it Note features, I'd love to know…
What are you most interested in learning about?