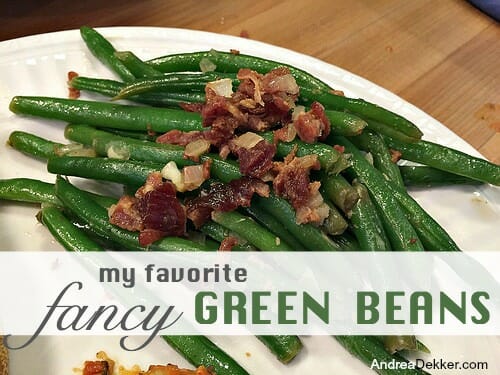 For as long as I can remember, green beans have always been my most favorite vegetable.
My dad grows rows and rows of green (and yellow) beans in his garden every summer… and whenever he picks the first few handfuls of beans, he immediately washes them, boils them, and eats them with anyone else who wants to join him.
I was often asked to wash and snip beans as a "chore" growing up. I didn't really like doing it, but decided it was worth it since I loved eating fresh-from-the-garden beans SOOOOO much.
Fast-forward 20 years and I now enjoy beans from my own garden (Nora has been helping me snip them for a couple years already!)
We are planning and hoping to have a much bigger garden this coming spring… and you better believe I'll plant several rows of green beans.
Until recently my go-to way of cooking green beans was to boil them for 5-10 minutes and serve them with a little salt and butter.
That method is super simple and delicious… especially when the beans are so fresh. However, during winter months when super fresh-from-the-garden beans are not available in Michigan, I've started sauteing them with onions, garlic, and BACON to really amp up the flavor.
Even though Dave doesn't necessarily share my intense love of green beans, he has really enjoyed the beans I've been making lately (I'm sure the bacon doesn't hurt my efforts!)
If you're looking for a new (but extremely simple) way to cook green beans, give this recipe a try!
Recipe for Fancy Green Beans
serves 6-10 depending on how many other sides you offer
INGREDIENTS:
2 T. oil or butter (or reserved bacon grease!)
1 small onion; diced
1 T. minced garlic (about 3 cloves)
2 pounds green beans; washed and trimmed
bacon; cooked and crumbled (add as much or as little as you like — I usually add about 6 strips or 1/2 c.)
salt and pepper to taste
DIRECTIONS:
In a large frying pan, heat oil or butter over medium heat.
Add onions and garlic and saute until onions are soft and translucent (about 2 minutes)
Add all beans into frying pan with 1/2 cup of water. Cover and let simmer for 5 minutes.
Remove cover, add cooked bacon pieces, and stir until the water has evaporated and the beans are tender, but still crispy.
Serve immediately.
A few notes:
I have used fresh green beans from the produce department, the green beans in the microwave package (as shown in the pictures), and frozen green beans — all with fabulous results. I have never tried canned green beans, and personally don't think they would work nearly as well.
I have used both freshly fried bacon, packed bacon pieces, and ready-cooked bacon strips. It all tastes good!
You can certainly leave the bacon out to make this vegetarian — or you could try prosciutto, ham, or spicy sausage for a different flavor combo.
Don't get too hung up on measurements. You can use as much or as little onion, garlic, bacon, salt, pepper, butter, etc. as you like. This recipe is just how I like it… but it's not the only "right way"
You will need a very large frying pan! In the pictures, I'm only frying about 3/4 of a pound of beans since it was just for our family.
This really is not a make-ahead food (bummer) but if you need to make it a bit ahead of time, you can follow the directions through the part where you add the bacon. Then just turn the heat off and keep the beans covered. They will cook much slower this way and if you need to quickly reheat them a bit when it's time to eat, you can turn the burner on for another minute or two. This method should let you make them about 15 minutes in advance 🙂
See… told you it was simple!
This coming summer, there will be plenty of time for straight-from-the-garden green beans with just a little butter and salt — but until then, we'll be enjoying this delicious (and slightly fancy) way of serving green beans!
What are your favorite ways to cook veggies?
Visit my virtual recipe box for more simple, delicious, family friendly recipes!