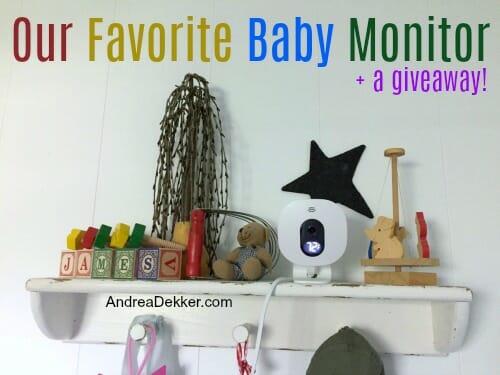 I'm officially in my 3rd trimester now (crazy how fast time goes) but that means I still have roughly 3 more months to be pregnant (which basically sounds like forever right about now!)
When I first found out I was pregnant with Nora, I was initially so scared because it was somewhat of a surprise and I honestly didn't feel "ready" to have a baby (are we ever really ready?!)
I can remember one of my very first thoughts was, "I definitely want to get one of those Angelcare monitors with the sensor pad."
I realize that's a very strange "first thought" after taking a pregnancy test — but I had seen the monitors before and heard so many great reviews that I knew I wanted to get one!
At the time, video monitors were just coming out and they weren't very popular yet because of how expensive they were. So I opted for a (non-video) monitor with the sensor pad. In my new-mom perspective, the sensor pad was the little boost of confidence and reassurance I needed to know my baby would be safe in her crib (which felt SO far away from me at the time!)
We LOVED this monitor for Nora, so when the Angelcare company sent me a video monitor before Simon was born 2 years later, I was elated!
I figured I really didn't NEED a video monitor, but we did want to have 2 monitors since Nora still wasn't even close to sleeping through the night and she would now be sleeping upstairs, much farther away from our room.
The minute I got my hands on the AC-1100 video monitor, I was completely sold.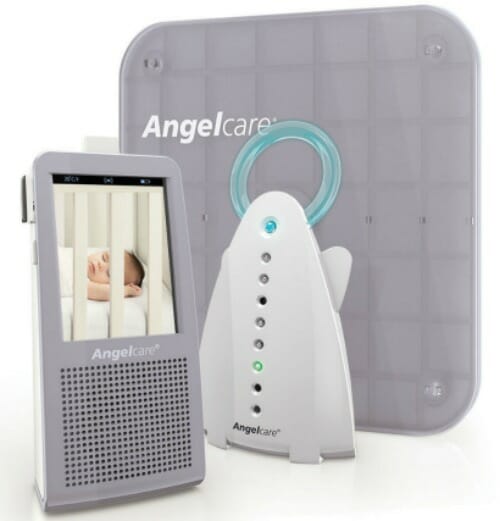 It was so great to be able to SEE what the baby/toddler was doing — if they were sitting up, laying down, trying to climb out, etc. etc. without needing to actually go into the bedroom and "disturb the peace".
And the video monitor still had the same reassuring sensor pad that alerted me if there was no breathing detected for several seconds.
We have enjoyed the convenience of our Angelcare video monitors (we have 2 now) for the last few years. I love that they show the temperature of the room, I love that they have a super clear picture, and I love that they have a walkie-talkie feature which lets us talk to the kids in their room through the monitor.
The only thing I would have changed was for the screen to be bigger and horizontal so I could see more of the room.
Well, much to my surprise, Angelcare came out with new monitors recently — and the screens are horizontal and HUGE!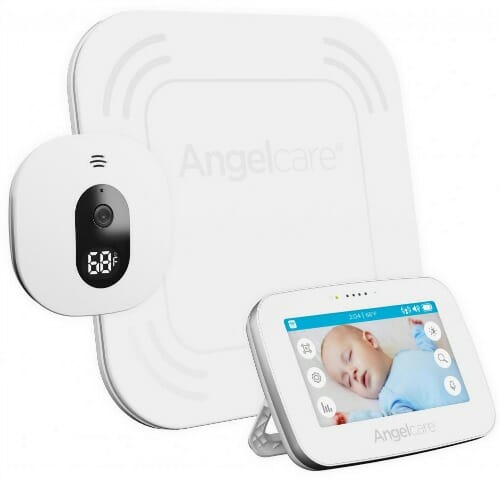 We have been using (and loving) their new AC417 monitor for the past few months, and although we still love our old video monitors, I can't believe how much clearer the picture and the sound are.
Plus, the battery life is amazing (I once left it on for 8 hours before I heard the low battery signal beep) and the range is fantastic — I can do yard work throughout our entire 1 acre property without losing the signal!
A few more added features I love about the new monitor is that the parent unit can view multiple cameras in different rooms (handy for families with multiple children.)
The parent unit also shows the time on the top of the screen, and the screen goes totally dark when it's in "sleep mode" — which is really nice at night when we don't want monitor lights making our own bedroom too bright.
I do love all the fun bells and whistles of the newest monitors, but for me, the reason I continue to love and faithfully use Angelcare monitors for all my babies simply goes back to the sensor pad.
Angelcare is the only brand of baby monitor that offers the movement sensor pad — and the peace of mind I get from knowing my baby is still breathing is truly priceless for me.
I realize that sounds a little intense (especially since I'm not normally a very emotional person) but those first few VERY sleep-deprived weeks and months at home with a tiny new baby who depends on you for everything can make any new parent feel so overwhelmed.
There were nights when Nora would randomly sleep for 3 or 4 hours straight (instead of screaming every 30-45 minutes) and I would initially wake up in a panic thinking something was wrong. But then I'd see the monitor and know it was picking up her breathing movement so everything was OK.
I'm positive Dave and I will continue using our Angelcare monitors for the next few years (at least until all children are fully potty trained at night!) and then I'll pass them along to our younger siblings who will most likely have children by then!
.
If you are currently in the market for a new baby monitor, or if you're a soon-to-be new parent wondering what to add to your registry, I cannot praise the Angelcare monitors enough.
Dave and I have used them every single day for the last 5+ years and we are so thankful for the peace of mind they have given us.
More about Angelcare:
Angelcare was established in 1997 and offers peace of mind to busy parents by building innovative baby care products of the highest quality for everyday life.
Angelcare is renowned for its one-of-a kind patented Sensor Pad, which detects all of baby's slightest movements.
Visit Angelcare on the web:

Website: www.angelcarebaby.com
Facebook: Angelcare
Twitter: @angelcare
Pinterest: Angelcare Baby
Instagram: angelcare
YouTube: Angelcare
A Discount Code!
Angelcare is offering a 25% discount on their AC417 monitor for ALL Andrea Dekker readers from now through July 10, 2017.
Use the code: SIMPLIFY25 at checkout to redeem this fabulous offer!!
Enter To Win This Giveaway!
Also, Angelcare is giving one very lucky reader a FREE Video Movement monitor!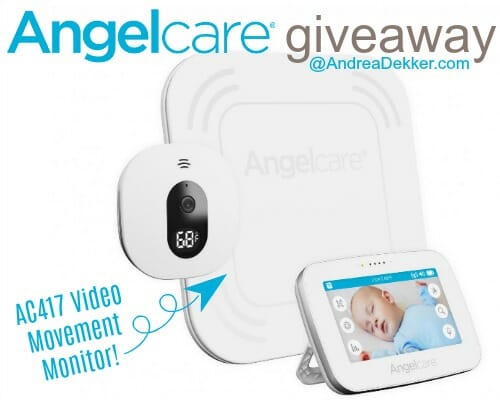 To enter, simply use the Rafflecopter widget below (it might take a second to load).
a Rafflecopter giveaway

This giveaway ends at 11:59 pm EST, Tuesday, 06/27/2017, and is open to anyone 18 years or older. The winners will be randomly selected via Rafflecopter and notified via email. I received a duplicate prize package in exchange for hosting this giveaway — but all opinions are 100% my own. Please see my full disclosure policy and contact me with any questions you have. Good luck!