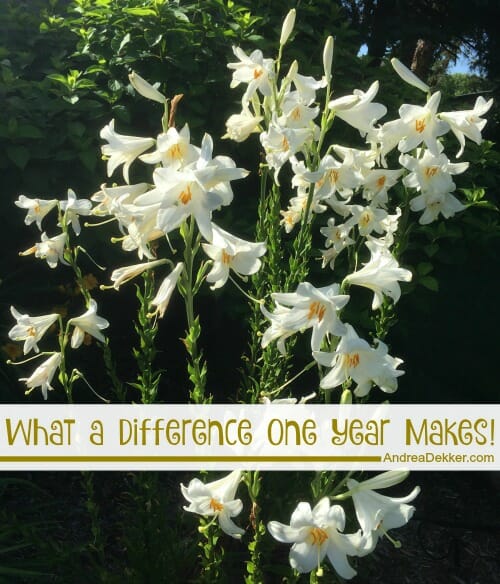 Almost exactly one year ago, I wrote a post entitled "When You Have No Time For Yourself".
The post was written after the nearly-dead, transplanted-too-late-in-the-season lilies from my Great Grandparents' dairy farm actually began to flower.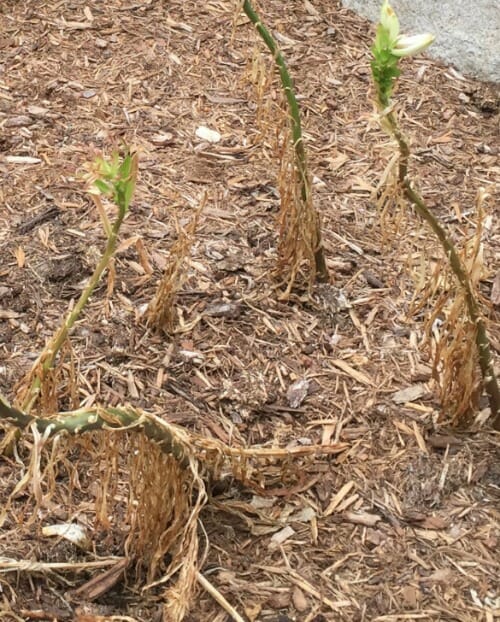 I honestly didn't think the lilies would totally die off, but I was both shocked and amazed that they not only grew to a pretty decent height, but that they flowered too (despite my lack of care or attention)!
I compared these brown, withered, neglected (but still flowering) lilies with myself as a mom. At the time, I had a 4 year old, a 2.5 year old, and a 1 year old and I didn't get a whole lot of time for myself, my own wants and needs, my own hobbies and favorite activities, etc. etc.
The point of that post (you really should read the full post) was that even though we might experience seasons of life when we don't have much time for ourselves, those seasons will NOT last forever… we will survive (just like my neglected lilies) and "bloom" again!
Of course, I'm really not "out of the woods" yet in terms of having lots of extra time for myself.
However, our children are SO much more independent and self-sufficient this summer than they were last summer! They play together quite nicely for extended periods of time, they usually enjoy the same Netflix and PBS shows, they eat the same snacks, and like the same activities and entertainment.
And, as Dave and I recently noted, this is the very first summer since we started having children where ALL of our kids sleep through the night on a regular basis and NONE of our children need me to nurse them (hallelujah!)
This means Dave can take them all for various periods of time while I get the house (and my thoughts) to myself every once in awhile!
What a difference one year makes!
.
I was actually thinking about these lilies while we were on vacation — wondering if they would bloom this year or not. And just look at what we were greeted with when we drove in the driveway after being gone for the week…
My great-grandparents' lilies, in FULL bloom and looking so fabulous!
What a difference one year makes!
Dave and I have often said this during our parenting journey as well — "What a difference one year makes".
It's crazy to think how much more self-sufficient our children are compared to this time last year (James wasn't even walking yet!) and it's even crazier to think about where they'll all be next year at this time — although we'll have another baby by then!
I'm thrilled to witness my Great-Grandparents' lilies blooming in full force this year — and I'm excited to see how they continue to spread and grow over the next few years.
Similarly, I'm even more excited to watch my children grow and "blossom" over the next several years, as well as have just a little bit more time to focus on some of my own "growth" — maybe eventually crossing off a few of my Someday Daydreams!
My, what a difference a year makes!