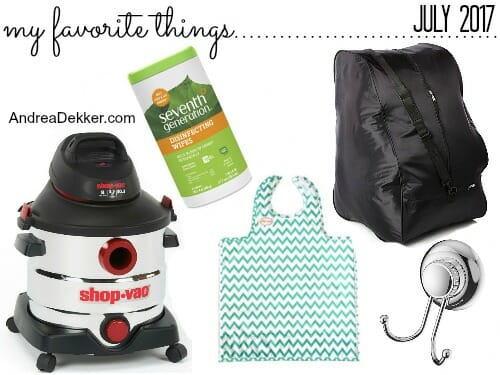 The beginning of July always seems to sneak up on me — and although we're NOT half-way through Dave's summer break yet, the first few days of July always make me wish for summer to slow down just a little bit!
We have been thoroughly enjoying our summer so far, and look forward to several more weeks of down-time at home together — along with 1 more vacation with Dave's family.
In the meantime, here are a few more of My Favorite Things.
DISCLOSURE: None of these products are sponsored; however, some of the links below are affiliate links — which means that at no cost to you, I may get a small commission. Please know that I use these products daily in my own home and life. Read my full disclosure policy for more information.
Car Seat Bag: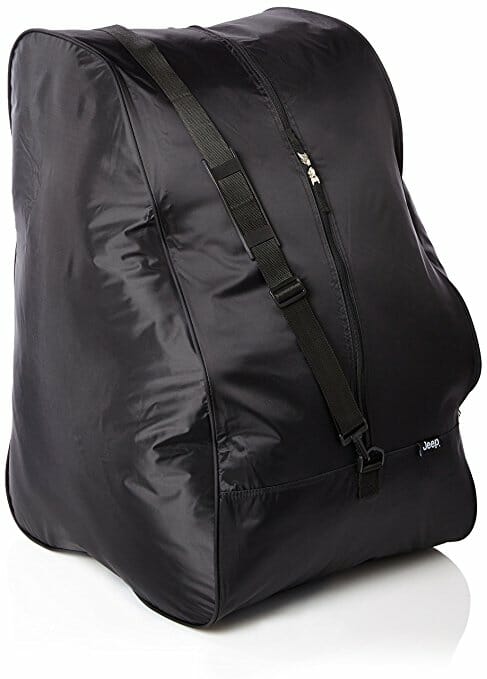 A couple months ago, when we flew to Florida with my family, we borrowed a friend's car seat bag to transport 2 of our 3 car seats (James used the 3rd car seat on the plane).
We were able to fit Simon's car seat, Nora's booster seat, plus a collapsible step stool and puddle jumpers and life jackets ALL inside the car seat bag!
And of course, since it was a car seat, it didn't count towards one of the bags we checked — so it was free.
I was honestly planning to just put our carseats in garbage bags (I know, what was I thinking) until our friend offered to let us borrow her car seat bag. I still can't believe how helpful it was for our trip — and I'll definitely be borrowing (or buying) a car seat bag for any other air travel we do with young children!
.
Gecko-Lock Double Shower Hooks: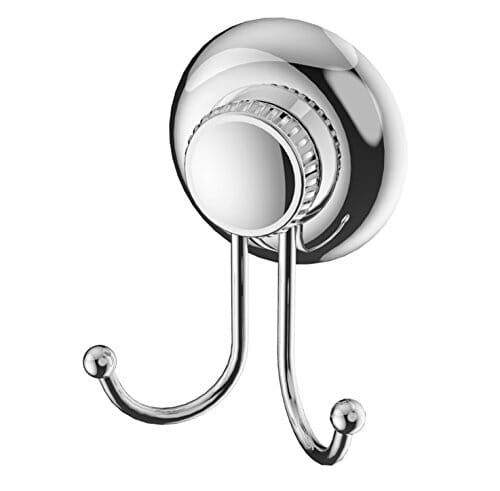 We've always had some sort of suction hooks to hold our luffas in the shower… however, they periodically fall down, lose suction, and need to be replaced.
Recently, I replaced all our suction shower hooks with a new Gecko-Lock Super Suction Stainless Steel Double Hook, and we LOVE them!
They are so easy to install (you just screw the knob until the suction is tight), and VERY strong. Plus, the stainless steel looks so much nicer with our Chrome shower fixtures than the plastic hooks I previously had in our shower.
So far, we haven't had any issues with them losing suction or falling down — and if/when I want to move them, I just unscrew the knob and the hook immediately comes off the shower wall with no pulling or tugging on my part.
We actually like our hooks so much that we brought them on vacation with us so we'd have places to hang extra washcloths. It was a good idea considering the cottage only had 1 towel bar for the entire bathroom!
.
Shop-Vac Wet/Dry Vacuum: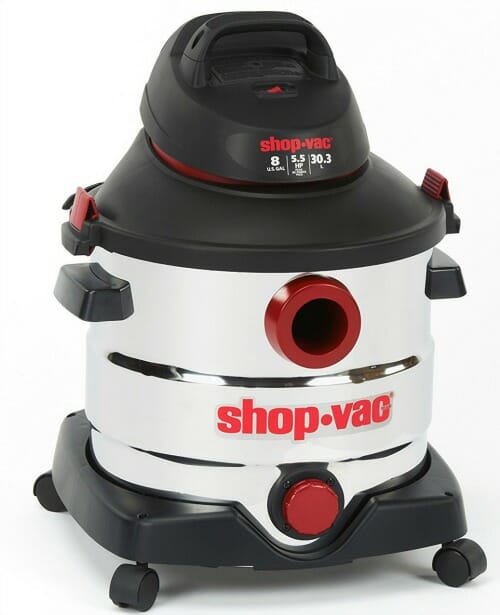 Throughout our many home renovations, we have used and abused a handful of wet/dry vacuums. However, 3 years ago, we got the Shop-Vac brand wet/dry vacuum for Christmas, and it is by-far the nicest wet/dry vacuum we've ever had.
It has such great suction, the filters are fantastic, and it has so many different accessories — there's no excuse for dirt and dust hanging out in small cracks or crevices!
We use our Shop-Vac for everything from cleaning out the crumbs insides of our vehicles to cleaning up HUGE construction messes. Dave's brother recently borrowed it to suck up a bunch of water in their basement — so yes, it's quite versatile!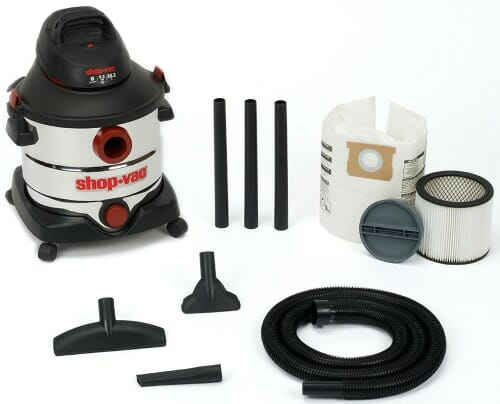 .
Seventh Generation Disinfecting Wipes: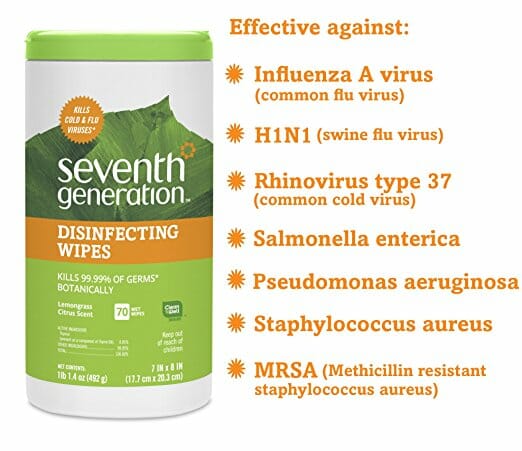 I'm honestly not sure how I missed including the Seventh Generation Disinfecting Wipes in my Favorite Things list for so many years — especially considering I use them almost every single day.
I first ordered these wipes just over 3 years ago, when I started getting monthly shipments from Grove.co. Now, I get one or two 70 ct. wipe canisters in each month's shipment, and they are my go-to product for quickly disinfecting various surfaces throughout our home.
I keep one canister in each bathroom and in the kitchen, and another in the garage for using in the car or outside on patio furniture.
Some people complain about the smell (I think it's vinegar based) but in my opinion (as someone with a very sensitive nose) the slight smell doesn't bother me at all — and it evaporates very quickly.
I love that the Seventh Generation wipes don't need to be rinsed and are safe around food and children (2 places I regularly use these wipes!)
Also, if you want WAY more information about disinfectant wipes than you'll ever need, you can read this massively in-depth report on cleaning products — in which she concludes that the Seventh Generation brand of disinfecting wipes actually performed better than many other brands (including Lysol wipes).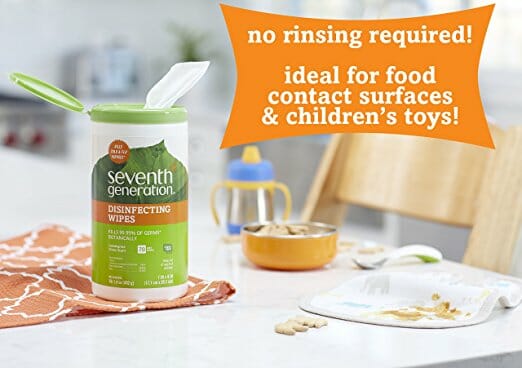 .
Shirt Bibs:
I know I've shared how much we love our BabyBjörn soft bibs and the BabyBjörn smock bibs — but we have one more type of bib that our little kiddos use daily.
Shirt bibs!
They are basically the same thing as the smock bibs we have — but they don't have arms, so they are much cooler for the child to wear (not to mention, easier to get on).
Dave's mom made us 4 of these bibs when Simon was little and they are still going strong almost 3 years later (note, you can buy similar styles online). They are perfect for littler kids who don't sit up high enough in their high chair to use the BabyBjörn soft bib (the bib "cup" hits the tray and doesn't allow the baby to get close enough to the tray).
Also, they are fabulous for taking along in the diaper bag because they hardly take up any room!
.
That's all for me this month.
Make sure you check out my previous month's favorite things — and feel free to share some of YOUR favorite things in the comments below.