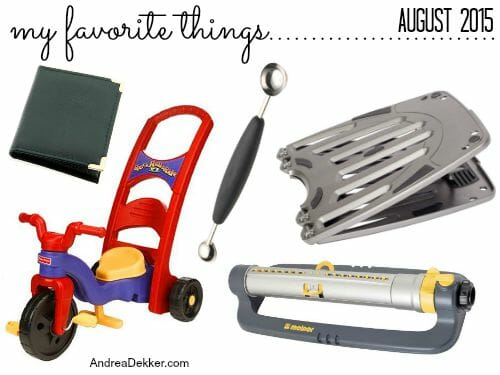 It's August… how did that happen?
I won't lie, I've almost been dreading the beginning of August more than the beginning of September, because ALLLLLL the back-to-school stuff is ramping up this month. Yes, I know I still technically have 4 full weeks with Dave home, BUT he's already had a few meetings, he's starting to work on his lesson planning, organizing his classroom, etc. etc.
I've had a glorious summer with him home helping me… and there are only a few more weeks left until I'm "on my own" with 3 crazy kids to care for all day long!
So in attempts to brighten my mood a bit, I figured I'd share a few more of my favorite things… as always, be sure to check out some of my favorite things from past months and share your favorite things in the comments!
DISCLOSURE: None of these products are sponsored in any way; however, some of the links below are affiliate links — which means that at no cost to you, I may get a VERY small commission. However, I hope you know that I'm only promoting the products below because I use them daily in my own home and life. Read my full disclosure policy for more information.
Targus Portable Laptop Tray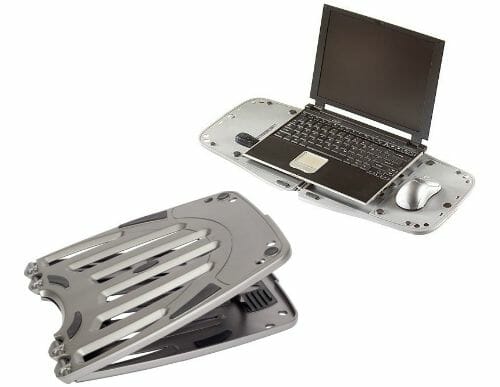 We purchased the Targus laptop tray 7 or 8 years ago already — and have been using it daily ever since.
The purpose of this try is to keep your laptop from overheating when it's sitting on your lap (did you ever notice it gets VERY hot if it's on your skin?). However, this tray is super handy because it folds completely flat for storage and has multiple different positions and angles so you can be sure your computer is "just right" when you're working from the couch (something I've been doing a lot of these days!)
Fisher Price Roll 'n Ride Trike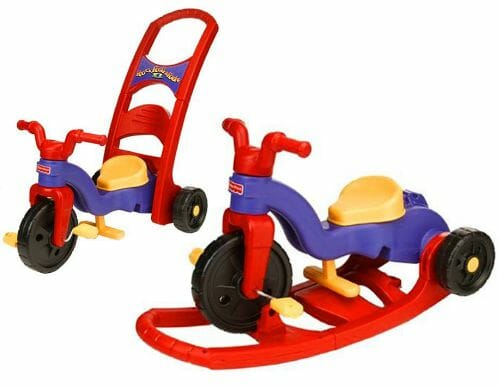 I've shared MANY pictures of our kids playing with our 2nd-hand Fisher Price Trike that I got for $10 on Craigslist 2+ years ago. They LOVE this bike and it's surprisingly useful for many years, thanks to the various different seat and pedal positions.
Nora rides it like a bike, Simon uses the "horse" function, enjoys being pushed, and loves pushing the bike on his own. It's definitely one of our family's FAVORITE outside toys.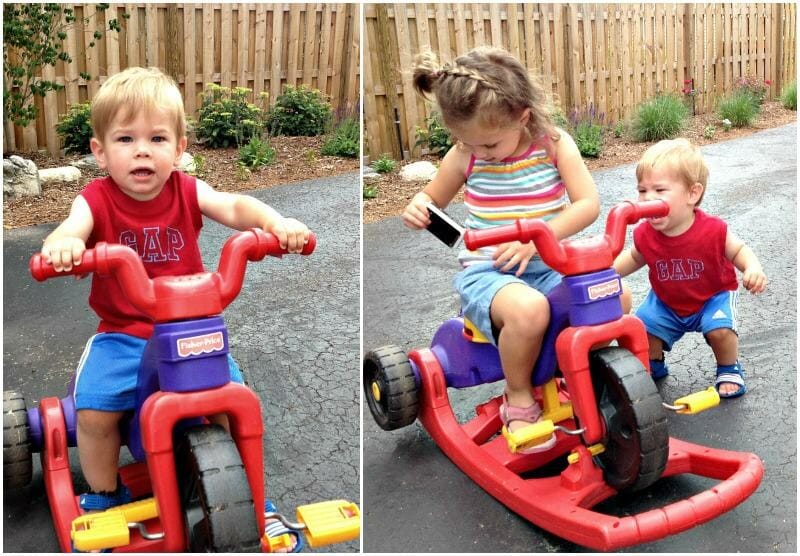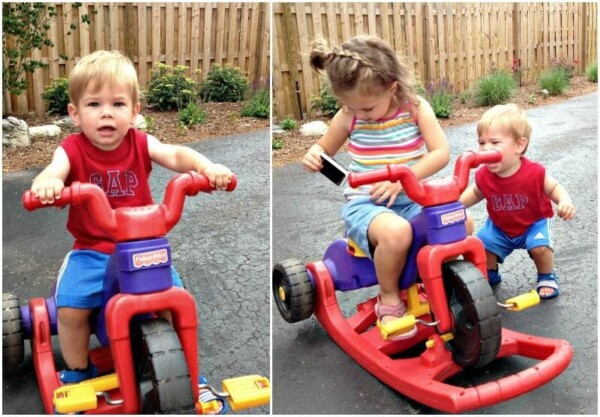 Gift Card Wallet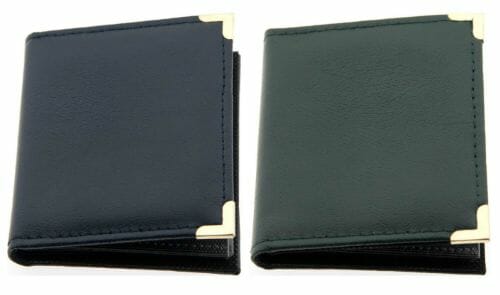 I've already shared how I store and organize all our gift cards — but many of you have questioned where I got my gift card holder.
Well, it's actually just a wallet-size photo holder that I got as a gift YEARS ago. It's the perfect size for all our gift cards and fits nicely in the purse or diaper bag.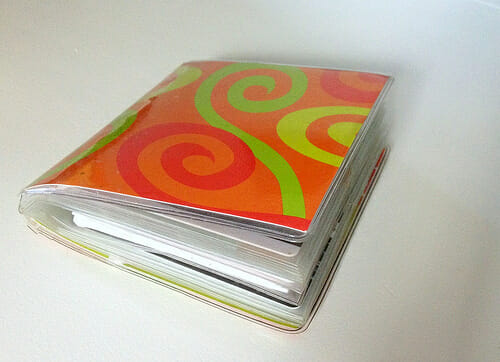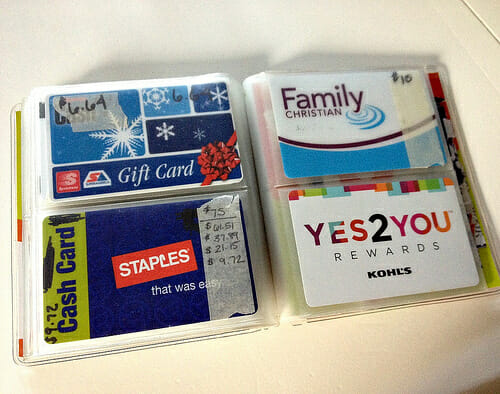 Melon Baller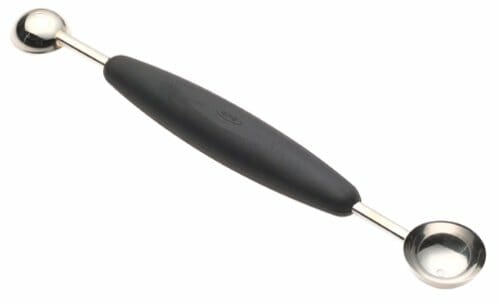 Watermelon is one of my all-time favorite fruits, and I eat as much as I can all summer long.
We're actually growing a bunch of watermelons in our garden this year, and I'm SOOOOOO excited to pick and eat the very first one (hopefully in another couple of weeks!)
I know it might not be the fastest way to cut up a watermelon, but I always use a melon baller instead of a knife. There is just something about little balls of watermelon that I love eating (and I think my kids are more likely to eat it in balls too!)
We have the OXO Good Grips Melon Baller and have been very happy with it over the years. It's super easy to use, has 2 different sizes, and cleans up easily in the dishwasher.
Another thing I love about cutting fruit with a melon baller is that kids can do it without worrying about getting cut with sharp knives — another plus for our independent 3 year old!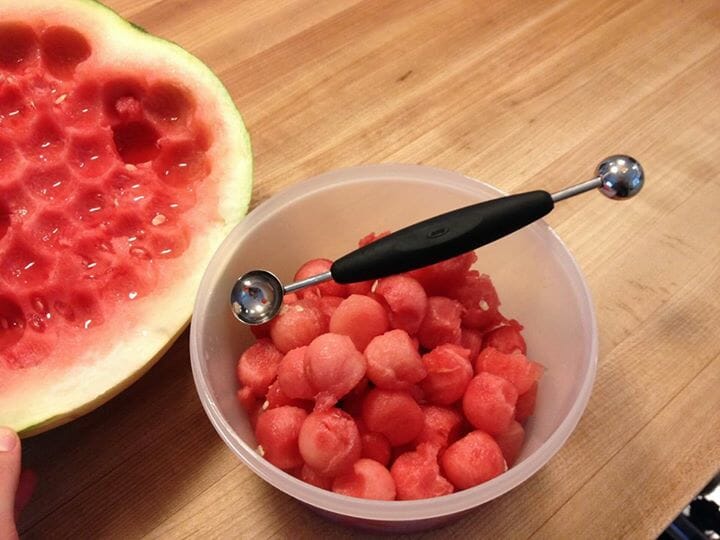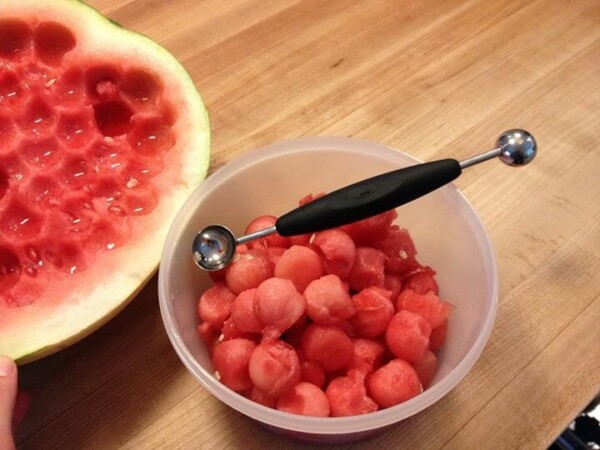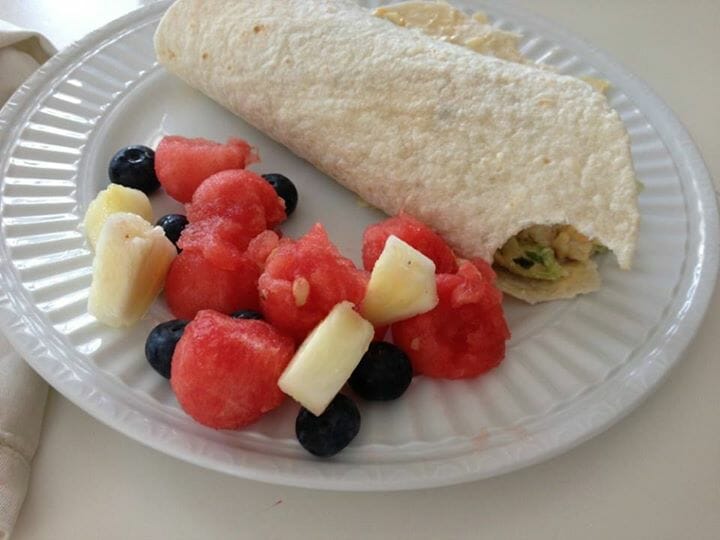 Melnor Oscillating Sprinkler

Dave and I have officially found the world's best oscillating sprinkler 🙂
It only took 9 years of landscaping and grass growing to finally find it — but we did, and we purchased multiples so we're fully stocked just in case one of them breaks at some point!
Believe it or not, I found our Melnor Oscillating Sprinkler for around $15 at our grocery store… and boy is it worth every single penny. Not only is it SUPER DUPER easy to control the water spray (direction, width, height, etc.) it also has a "flow control" option to increase or decrease the water pressure, plus… it does not leak (which is a huge pet peeve of mine).
These sprinklers were quite possibly our best landscaping investment this year!
That's all for me this month.
Make sure you check out my previous months' favorite things — and feel free to share some of YOUR favorite things in the comments below!