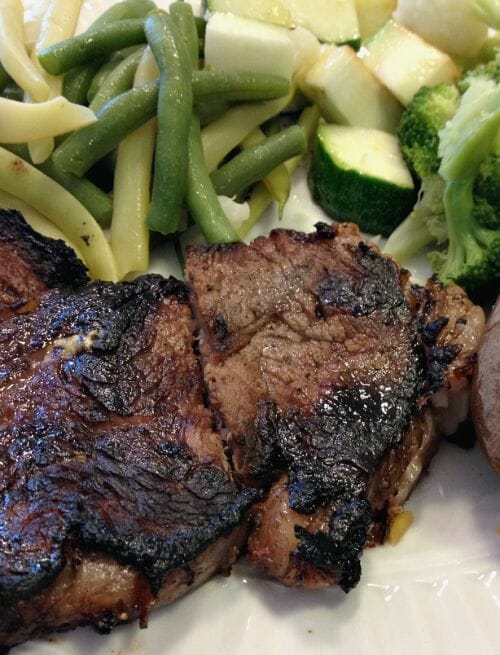 Since it's summer, since Dave has been doing lots of grilling while I'm on "maternity leave", and since we're kicking off another weekend, I thought it was appropriate to share one of my favorite, SUPER simple steak marinades.
It only requires a few very basic ingredients, it tastes great on almost any type of steak, and (best of all) if you're not planning ahead, you only need an hour for this marinade to flavor your meat!
Recipe for Super Simple Steak Marinade:
INGREDIENTS:
Steak (we grilled Ribeye steaks this time)
Salt and Pepper
Garlic Powder
1/4 c. brown sugar
1/2 c. Worcestershire Sauce
DIRECTIONS:
Place steak in a shallow container
Pierce each side several times with a fork
Sprinkle each side with salt, pepper, and garlic powder
Rub brown sugar onto each side
Pour Worcestershire sauce over top of steak
Let marinade for an hour (or more if you have time)
Grill, eat, enjoy!
One of the reasons I love this marinade (besides the fact that it's so quick and easy) is because I love the hint of sweetness from the brown sugar. It makes a crunchy caramelized coating on the outside of the steaks that is so yummy.
I didn't list a grilling time above — and that's because it depends on how thick your meat is and how "done" you like your steak. However, I recently found this handy cheat sheet that has been helpful for us.
Also, if you're looking for a REALLY good, REALLY simple pork marinade, this one is my all-time favorite! And for chicken, my go-to marinades are either Italian dressing or honey mustard.
So what are you waiting for? Pick up a few cuts of your favorite meat from the grocery store and start grilling!
What are your favorite meat marinades?
Visit my virtual recipe box for more simple, delicious, family friendly recipes!