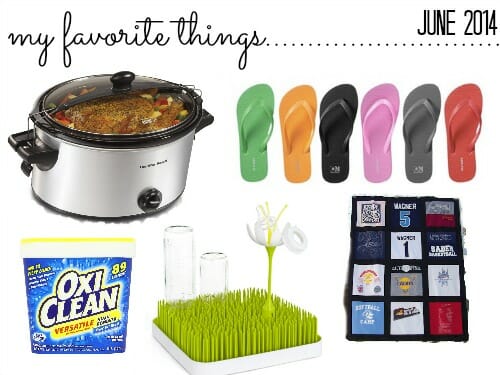 Here are a few of my favorite things for the month of June… and as always, be sure to check out some of my favorite things from past months.
DISCLOSURE: None of these products are sponsored in any way; however, some of the links below are affiliate links — which means I may get a VERY small percentage of the sale if you make a purchase through my links. However, I hope you know that I'm only promoting the products below because I use them EVERY SINGLE DAY in my own home and life! Read my full disclosure policy for more information.
My Slow Cookers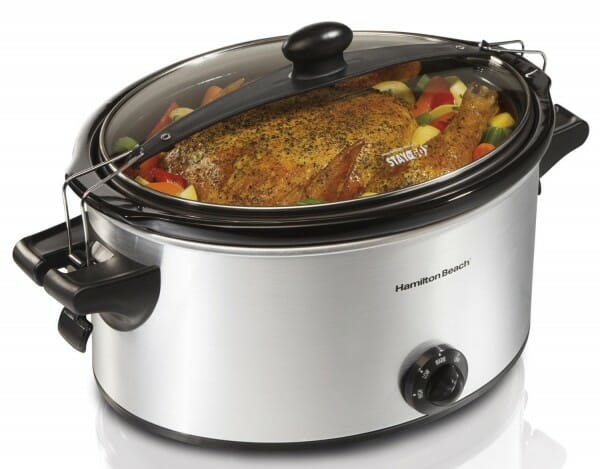 I'll be honest, I have FOUR different slow cookers — but they are all different sizes and work well for different foods. Plus, I use my slow cookers ALL the time, and I have plenty of space to store them in my kitchen, so it really is worth it for me to have so many (how's that for justifying my slow-cooker clutter!)
I have a bunch of slow cooker recipes on my blog already — but most of my other recipes could be tweaked in some way to work in the slow cooker (believe me, I've made most of them in the slow cooker at one time or another).
I am not brand-loyal for slow cookers, but 2 of my 4 are Hamilton Beach brand and I have nothing bad to say about them. In fact, I've found that brand to be less expensive than some of the others. The two feature I always look for are a "warm" setting and a lid that can be secured down some how (this makes traveling with it really easy). Here's the link to my favorite (and largest) slow cooker.
If I did ever get another slow cooker (which probably won't happen unless one of mine dies) I'll probably look for a programable one — but since I'm basically home all day long, it's not a big deal to turn it on or off at various times.
.
OxiClean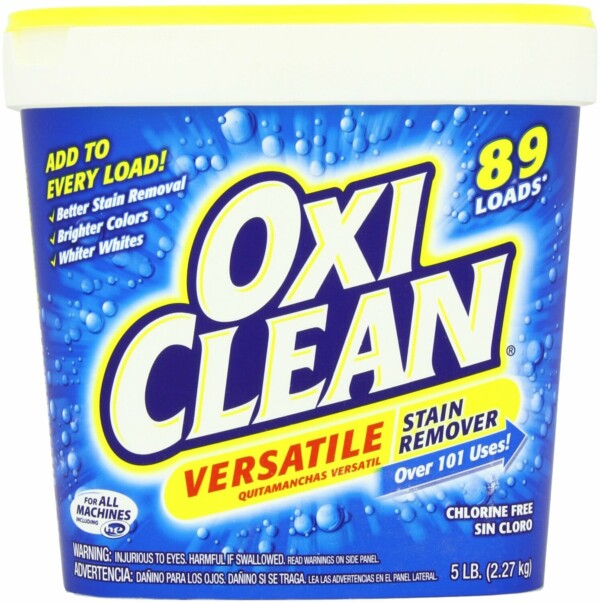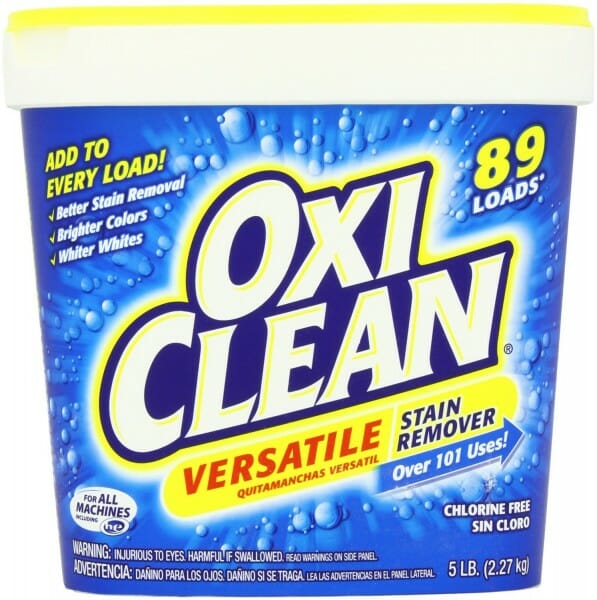 The other day, I was scanning through all my previous months' favorite things to make sure I wasn't repeating myself — and I was downright shocked that I've never included OxiClean in my list of favorite things.
This powder is practically a miracle-worker when it comes to almost any type of stain in almost any type of fabric. I've saved many clothes, car mats, couch cushions, pillows, and more with this amazing product — especially since you all know how much I LOVE white.
I simply dump a scoop or two of OxiClean in almost every load of laundry (along with my regular detergent) and press "start". No need to pre-treat, spot-treat, soak, or scrub anything. The ONLY thing that OxiClean didn't totally remove for me was a bunch of pine sap on Nora's clothing — which I totally forgot about and never did any pre-treating.
If you've never used OxiClean before, let me encourage you to give it a try — I don't think you'll be sorry! It can be a little pricey (but totally worth it for the laundry time it saves me). I've also found that Amazon.com has pretty reasonable prices for OxiClean.
.
Boon Grass Countertop Drying Rack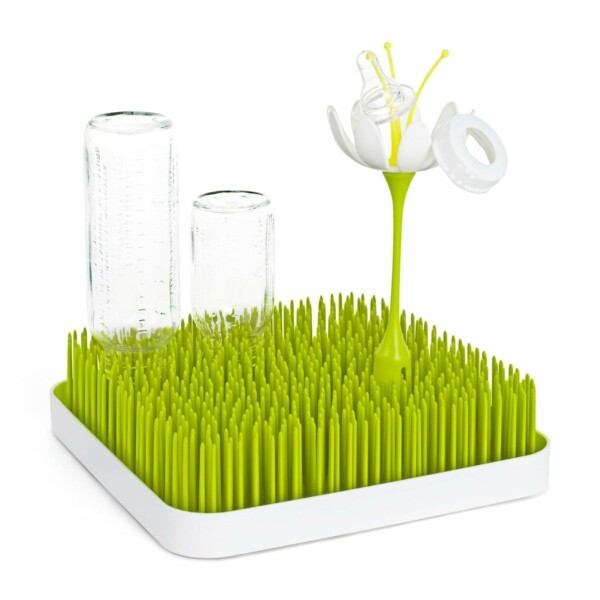 Since Nora never took a bottle, we didn't need to worry about washing or drying bottles. However, Simon is drinking his bottles like a champ so I knew we had to come up with a better system for washing and drying them. I was tired of them laying all over the counter every day, and I wanted them to remain as sanitary as possible.
Thankfully, I remembered seeing the Boon Grass Countertop Drying Rack on a friend's baby registry last year, so I thought I'd check it out.
I used some extra store credit to Buy Buy Baby and purchased the drying rack, the Twig Accessory and the Stem Accessory — and have been using them daily for the past couple of months.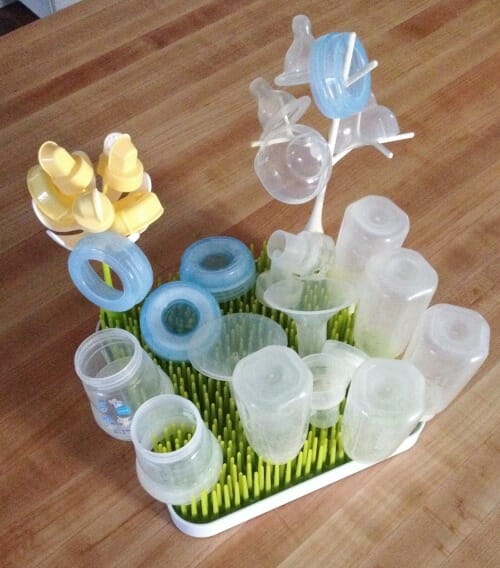 I can not tell you how much I love this thing!
Not only does it allow the water to drain off the bottles really easily (which is great for fast drying), it saves TONS of counter space, prevents them from constantly tipping over, provides ample space for all the tiny bottle parts and pieces… and it looks really cute too 🙂
.
My T-Shirt Quilt
I've blogged about my t-shirt quilt before — but since it's definitely one of MY favorite things, I thought it deserved an official spot on my list.
I had this t-shirt quilt made for me 2 years ago (by Jane from Maiden Jane), and have LOVED using it ever since. I love that it decluttered my t-shirt drawer and that it preserved all those fun t-shirts from my high school and college athletics, musicals, and other special / memorable events.
My quilt is the perfect size for snuggling up on the couch, spreading out on the lawn with the kids, or even to use as an extra blanket for our twin bed.
Not only is my quilt a great conversation piece, it's also extremely functional and practical (win, win, win).
Dave's t-shirt drawer is starting to get quite full now, so we're thinking of having a quilt made with all his school t-shirts (coaching basketball, coaching tennis, leading student council, etc. etc.) We'll see what we come up with — and I'll definitely share the finished product on the blog if/when we ever get around to having Jane make us another one 🙂
.
Old Navy Flip Flops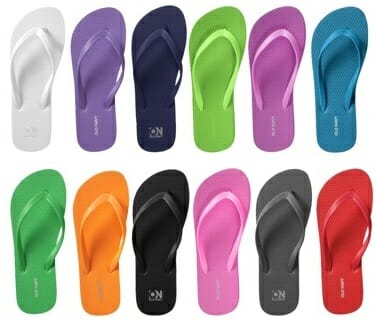 First of all, I definitely realize that flip flops are not the most supportive footwear choice (especially not the cheapy Old Navy ones) but that probably won't stop me from buying a couple new pairs every summer 🙂
Since they are almost always 2 for $5, I don't even wait for the $1 flip flop sale anymore (because I hate dealing with the massive crowd). I buy a new black and white pair every year — and sometimes brown or navy. I'm also planning to get a pair for Nora this year (that girl LOVES flip flops!)
I wear these flip flops everywhere — and I don't care if they get ruined because I just trash them in the fall and get a new pair the next spring.
I realize some of you might be thinking, "why does she need to go to Old Navy for the flip flops?" and my honest answer is because I feel like I really do like their flip flops better than any other cheapy flip flop. I'm not sure if it's just in my imagination or if they really are more comfortable? Either way, you can't really beat the price!
.
That's all for me this month.
Make sure you check out my previous months' favorite things — and feel free to share some of YOUR favorite things in the comments below!