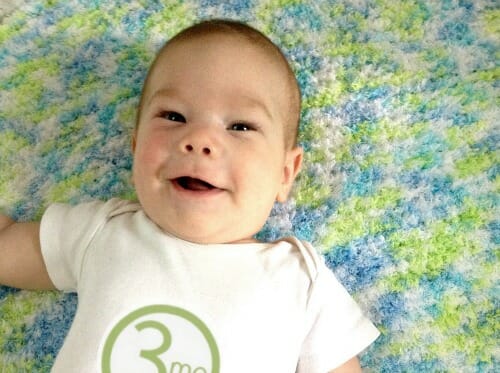 Simon is 3 months old today!
He's growing like a weed, and really starting to show us his personality.
In general, he's pretty laid back (like his daddy) and really doesn't cry much unless he's hungry, tired, or has a poopy diaper — all totally acceptable reasons in my book!
He's drooling like crazy, and basically sucks on his right hand ALL day long (I'm guessing he's teething, but unfortunately I don't expect teeth to pop through any time soon).
He's officially rolling over — which is about a month earlier than Nora. He was proud as a peacock the first time he rolled over after a nap. I saw it over the monitor and then went into his room to seem him smiling up at me from his crib.
"See mom, I don't need your help anymore!"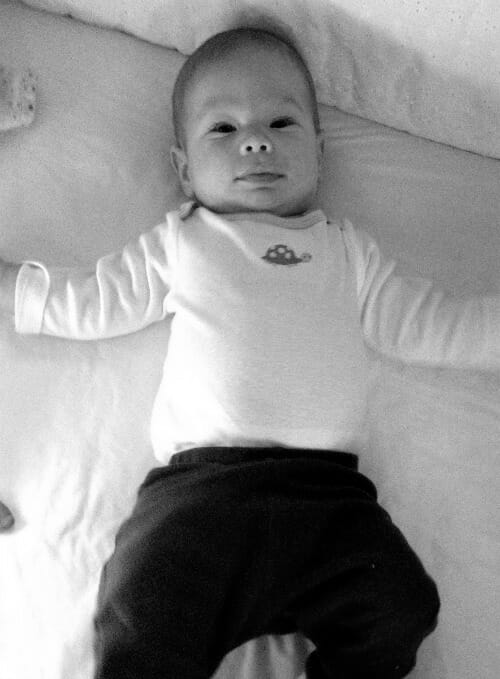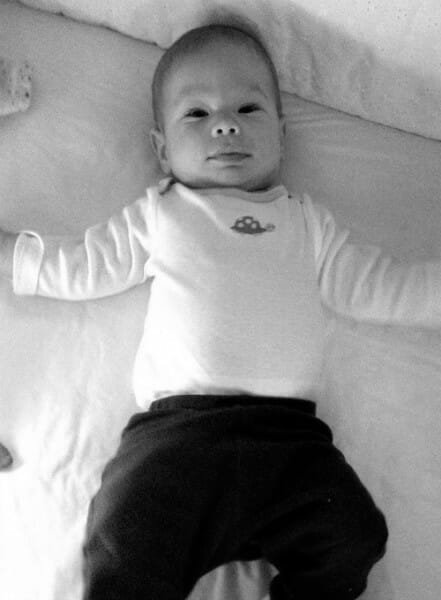 I can get him to smile almost any time, and getting him to giggle is pretty easy too.
He's basically the sweetest baby ever — as long as we stay home ALL day long, feed him every 2 hours, and let him catnap in his crib on his tummy multiple times a day 🙂
Try shoving him into his carseat to go anywhere and he will scream non-stop until you arrive.
Try forcing him to sleep on his back (like if he's tired in the carseat or stroller) and he will scream non-stop until you lay him flat on his tummy.
Try rocking him to sleep or holding him when he's tired and he'll squirm and fuss until you lay him down — and then he instantly relaxes and drifts off to sleep.
Try giving him his pacifier when he's hungry, and you will need ear plugs 🙂
As long as you do these things, he will sit contently in his bouncy seat and stare at you for a LONG LONG time!
Due to his intense hatred of his carseat, we (or at least he) rarely ever goes anywhere. Church is usually the only time he gets out each week — unless it's to drop him off at a relative's house while the rest of us go out. It's just not worth having him scream non-stop.
Thankfully, he will tolerate his carseat for short walks (20 minutes or less) as long as he's not too tired, as long as I keep moving, and as long as I have a noise-making toy along.
We're really hoping he gets over this quickly as we'd like to get out and about more this summer!
.
Simon was baptized on Mother's Day — read more about that here. He was a total stud muffin in the outfit I made out of my wedding dress!
He's sleeping really well at night — going to bed around 7:30 or 8:00 and not waking up until 4:30 or 5:00 on most days. Then he'll eat and go back to sleep until around 8:00 or 8:30am. He doesn't really have a set schedule during the day, but he usually takes a few shorter naps throughout the day with a longer nap in the afternoon.
I'm honestly amazed how quickly he just naturally conformed to a more "normal" baby sleeping schedule with absolutely NO extra effort from us. So totally opposite Nora who never took a nap without at least an hour of rocking, pacing, walking, driving, etc. etc.
Nora, Simon, and I have been spending lots of time outside thanks to the gorgeous Michigan weather (and the fact that I'm doing lots of yard work).
He seems to like being outside (especially in his bouncy seat) and Nora is thrilled to entertain him.
Happy 3 months Simon!