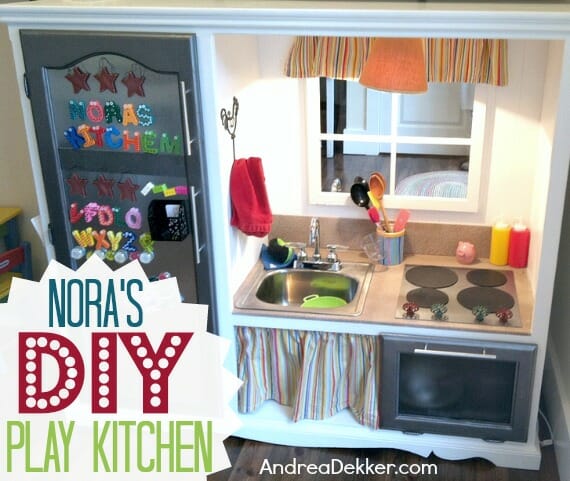 It's official — Nora's new play kitchen is finished!
It was actually finished a couple weeks ago already; I just wanted to wait until her birthday week to share the finished product — since it's technically her birthday present 🙂
We ultimately decided that since the cabinet was fully finished well before her birthday, and since a two-year old has no concept of birthday presents, we would bring the cabinet inside a bit early and let her have 3 extra weeks of kitchen fun.
That was a good decision on our part!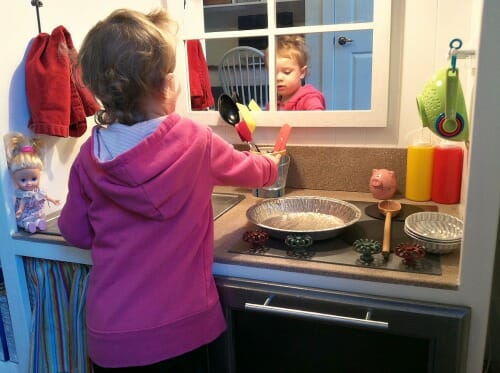 I'm super happy with how the finished product turned out — so much cuter than I ever thought, and so much like a real kitchen. I had a lot of fun with this project!
Oh, this is what it started out like — so a pretty big transformation.
I'll warn you right now, this post is REALLY long. There are just so many pictures to share, plus I wanted to provide a few details about how I did certain parts of the projects, and of course I needed to include the price breakdown at the end of the post.
However, if you don't care about all of that, just scroll through the pictures and enjoy the transformation without all the details. I just know that if I don't provide at least some details, I'll spend the rest of the week answering emails and comments 🙂
So without further adieu, let me share…
Nora's New Play Kitchen!
(yes, I know Kitchen is spelled with an "m" — we only have one of each letter!)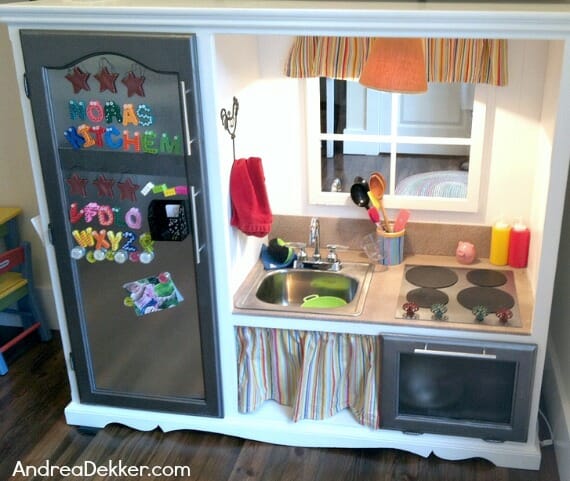 Isn't it cute!
.
A Little More about the Process:
On October 12, I purchased an old-fashioned TV cabinet from a local thrift store. It was EXACTLY the size and type of cabinet I was looking for, solid wood, and still really sturdy!
I immediately removed everything that could be removed (doors, hardware, back, etc.). I did save everything just in case 🙂
I washed the entire cabinet with denatured alcohol, primed it with Kills Primer, and gave it 2 coats of a satin white paint we had extras of. I painted the inside of the oven black — although that's not pictured below.
We cut a hole for the sink (after we purchased the one we wanted from Craigslist) and cut out the middle of the oven door so it would be see-through.
Then I sprayed the counters with "Stone" spray paint — such cool stuff! And the refrigerator door, oven door, and stove top with a metallic dark steel spray paint.
I used plexy-glass for inside the oven door and an aluminum/steel sheet (glued to a piece of scrap wood) for inside the refrigerator door — so yes, her refrigerator is actually magnetic!
I used a piece of 1/8″ thick scrap wood for the stove top and 4 craft circles for the burners. The smaller ones are 4″, the larger ones are 6.5″. The "knobs" for the stove are just drawer pulls — but they actually twist, so she loves that!
I used bead-board for the back of the cabinet (painted white) — and we even had enough left over for another project I had going on inside.
I made the curtains out of an old table cloth and hung them with a wooden dowel (over the window) and a tension rod (under the the sink).
The light is just a small lampshade I already had, attached to a light bulb socket cord kit, which I also already had. I hung it with a hook in the ceiling of the cabinet and then ran the cord out the back (via a tiny cutout in the bead-board).
I found all the other "accessories" via thrift stores and/or around our house.
I was completely finished with the cabinet by November 1, so we surprised Nora by moving it inside the next morning!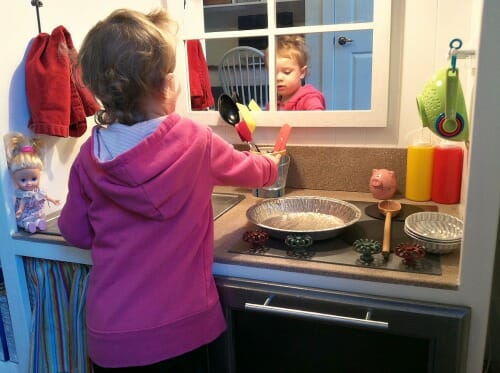 Price Breakdown:
My goal was to spend $100 or less for this kitchen as many of the nicer (but still used) plastic kitchens on Craigslist were running between $75 and $100. The new plastic kitchens were much more than that. So I figured if I kept the cost to around $100, we would definitely be getting a nice kitchen for a great price.
Plus, it's technically Nora's birthday gift, so I could justify the expense a little more 🙂
TV Cabinet = $18 from local thrift store
White / Black Paint for cabinet = FREE — we had left over paint from previous projects
Bar Sink + Faucet = $10 from Craigslist
Small Tension Rod to hold skirt under sink = $2 I had a couple at our house but they just weren't small enough
Bead Board for back of cabinet = $19 (I purchased one 4′ x 8′ sheet from Home Depot and they cut it to the specific sizes I needed on the spot… for free!)
Hardware for refrigerator and oven = $6 (This was a deal of a lifetime at our local Habitat For Humanity Re-Store. Almost the exact same pieces are selling at Home Depot for $12 each!)
Plexy-Glass for inside the oven door = $2.50 (This was also an amazing find by my dad. I had NO idea how expensive plexy-glass was until after we had already cut out the middle of the oven door. The stuff I saw at Home Depot was $20 for a really small piece! Yikes! However, my dad found a big piece on clearance at Menard's because it had a large chip off one corner. It was only $2.50 and we could simply cut off the size we needed and trash the chipped part.)
Magnetic Sheet for inside the refrigerator door = FREE Thanks to knowing someone who works for a heating and cooling place 🙂
Spray Paint = $12 for 4 cans (2 can of "dark steel metallic", 1 can of "stone", and 1 can of white. I was lucky that I found it on sale at Meijer BOGO plus I had a 15% off coupon. Otherwise this would have put me over my proposed $100 budget!)
Burners for stove = $3 from Hobby Lobby
"Knobs" for stove = $4 from a local thrift store
Window and light = FREE — we already had both
Chicken Towel Hook = $4 from Hobby Lobby — this was my little "splurge" as it's a baby version of the chicken towel hook I have next to our sink. Nora LOVES it!
Fabric for curtains = FREE — it was a table cloth for a REALLY small table so I never used it. I gave the extra fabric to Dave's mom and she's making Nora a tiny apron, pot holders, oven mitts, and dish towels!
Random scrap wood for stove and the back of the refrigerator door = FREE
Food = FREE — as you can probably tell, I've been saving our boxes for a while!
Dishes, accessories, pig timer, pans, strainer, etc = $8 (I had a bunch of it, found some at Goodwill, and a few other things at our local dollar store)
Child Size Table and Chairs = $10 on Craigslist — and it came with a matching toy box! I know this isn't really part of the kitchen, but since I was under my budget and I purchased this set just after buying the TV cabinet for the kitchen, I figured I'd lump it in with everything for the grand total.
GRAND TOTAL = $98.50
Not too bad — especially considering this includes ALL the extra accessories, tons of food, the table + chairs, and a toy box!!
Also, as I mentioned above, Dave's mom is making her some fun fabric accessories, and I know a few other family members are getting her mini pots and pans, a mini teapot, some actual "play food", and probably a few other cute play kitchen things. So her kitchen will be FULLY stocked after her birthday party!
I'm simply thrilled with how well this project turned out — and that I was able to make the full transformation in just 3 weeks.
It did take quite a bit of work on my part, but this is the ONE crafty / creative kid's project I've been dying to tackle since even before we had kids. I know Nora and future kids will get lots and lots of use out of this play kitchen for many years to come — so it was most definitely worth 3 weeks of late-night labor… and the $100 bucks!
Oh, and in case you can't already tell, Nora LOVES her kitchen 🙂