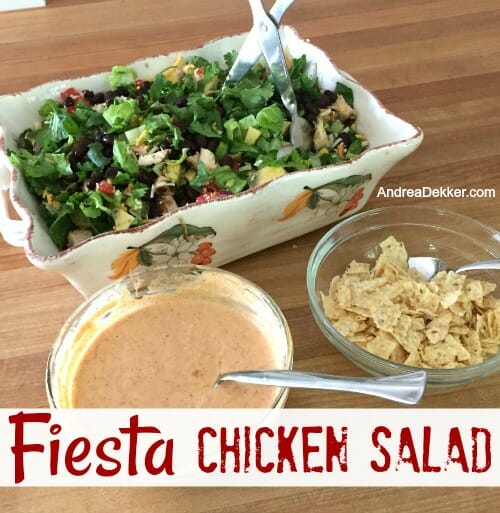 As I've mentioned before, main-dish salads aren't one of Dave's favorite things. He loves salads (on the side) and we're both good about eating lots of veggies with our meal, but Dave definitely isn't a "salad as a main dish" sort of guy.
However, the man LOVES all Mexican foods — so when I served up this Fiesta Chicken Salad earlier this summer, I was not surprised when he had 3 full helpings.
We actually had company over for dinner that night, and everyone kept going back to the salad for "just a little bit more" and then "just a little bit more" until the bowl was basically scraped clean.
I've made this salad a few more times over the summer, and every time, I've been asked for the "recipe" — and it's almost laughable, but there's hardly a "recipe" to follow!
I think the reason everyone seemed to enjoy this salad so much is because it's more of a "stuff salad" than a more traditional "lettuce salad". There is so much extra stuff and toppings that the lettuce is more of an afterthought. And the homemade dressing is fantastic! Definitely the perfect finishing touch to this simple salad.
I serve this salad with extra tortilla chips and salsa — so simple!
I know the summer is quickly winding down, but with fresh produce still readily available… there's still time to enjoy those delicious farm-fresh veggies (and yummy grilled chicken) in this fantastic Fiesta Chicken Salad!
Recipe for Fiesta Chicken Salad
serves 6
INGREDIENTS FOR THE DRESSING:
1/2 c. plain yogurt (I use Greek)
1 T. taco seasoning (I use mild)
3 T. extra virgin olive oil
1 t. minced garlic
2 t. honey
2 t. apple cider vinegar
1 Jalapeño pepper (seeded and finely diced)
juice of 1 lime
salt, to taste
**If you don't have the time or ingredients to make this homemade dressing, another REALLY tasty option is to simply mix already-prepared ranch dressing with taco seasoning and/or salsa. You can make it as mild or as spicy as you want!
Also, you can make the dressing well in advance if you want — it's amazing on other salads too!
.
INGREDIENTS FOR THE SALAD:
6 c. chopped lettuce (I use Romaine)
6 cups cubed cooked chicken (I always use grilled chicken, but other types would work)
1 can (15 oz.) corn; drained and patted dry (or cut fresh off the cob)
1 can (15 oz.) black beans; drained, rinsed, and patted dry
2-3 tomatoes; diced (I usually use Roma so they aren't as juicy)
1 avocado; diced
1/2 red onion; diced
1 c. shredded cheddar cheese
a handful of chopped cilantro
crushed tortilla chips (for garnish)
** I just want to be super clear that this salad will most likely taste fabulous even if you make lots of substitutions — so please don't shy away from making it just because you're missing out on a few ingredients.
Also, the measurements above are just suggestions — feel free to add less or more of any of the ingredients based on what you have on hand!
For example:
sub in taco meat for the grilled chicken and make more of a taco salad — or omit the meat altogether (probably adding more beans, avocado, and cheese instead) for a vegetarian option
white or yellow onion would be perfectly acceptable — and if you don't like onion, leave that out too
pepper jack cheese would probably taste really good with this dish — or any type of Mexican shredded cheese blend.
you can leave out the cilantro if you hate it (but it does give a really great flavor!)
Just use what you have in the house and give it a try!
.
DIRECTIONS:
In a medium bowl, combine all ingredients for the dressing, mix well and refrigerate until ready to eat.
In a large bowl/platter/serving dish, layer lettuce and all toppings EXCEPT tortilla chips.
Cover and refrigerate until ready to serve.
Serve with dressing and crushed chips on the side.
Obviously, all the flavors, textures, and colors in this dish make it a huge hit — not to mention all the "stuff" that is packed into this yummy main-dish salad. However, my favorite part is that it can easily be made ahead of time!
I've even made it up to a full day ahead (adding the avocado in about an hour before).
As long as you don't put the chips or the dressing on, this salad stays super fresh for several hours — making it a great dish to bring to one of your end-of-summer BBQ's or even a holiday party later this year!
What are your favorite "stuff salads"?
Visit my virtual recipe box for more simple, delicious, family friendly recipes!