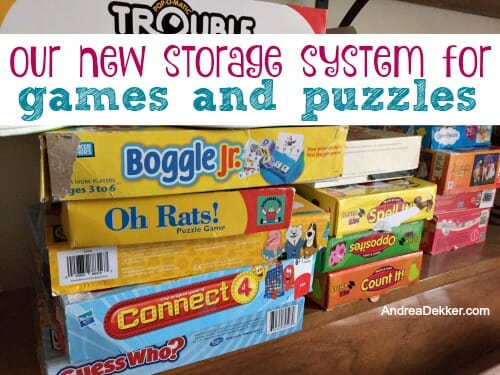 About a month ago, I shared the mini-makeover we gave to the landing area at the top of our stairs. The landing area was one of the areas I was so fascinated with when we first walked through our house before making an offer to buy it. There were so many fun ways I could envision to use that space… and after 7 years, we've utilized many of my ideas already!
The OTHER area I was very excited about was the large walk-in closet in our main-floor office.
This closet is a bit awkward because it goes under the stairs and has a really sloped ceiling… but similar to the landing area, it has such great potential for a variety of storage needs and fun kids' things!
I just knew we'd be able to do something fabulous with this area.
Back when we first moved in, we used this closet as a "catch-all" for all sorts of office supplies, sewing supplies, gift wrap, household tools, extra storage, etc.
Then, when Nora was around 1 year old, we turned it into a teeny-tiny play area for her.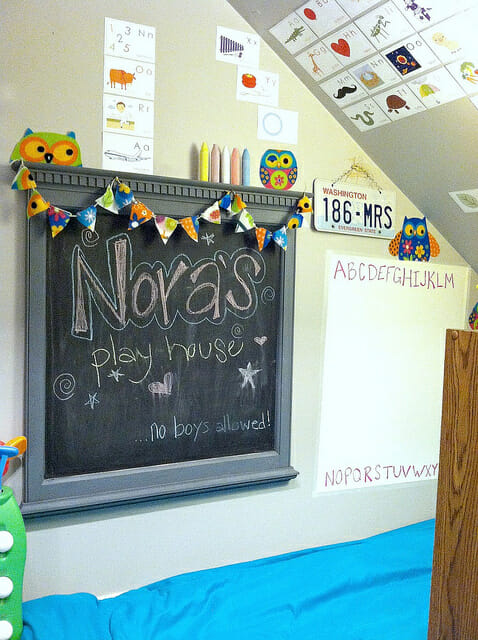 After Simon came along and we created a much larger playroom upstairs, we turned this closet into more of a craft/school/desk area. Both kids LOVED coloring or doing little projects in this closet — and we taped up all their artwork so they could look at it every day.
More recently, after realizing our 3 bigger kids can't all fit super comfortably in this closet anymore, we transformed it into much-needed storage for our rapidly-growing collection of games, puzzles, DVD's, CD's, photo albums, and other things the kids want access to on a regular basis. I also have some of our baby gear tucked away in here (bouncy seat, play mat, etc.)
This space is PERFECT for our current storage needs. It's tucked away and out of site so I don't care if it gets messy; however, it's also RIGHT off the living room — which is where we do the majority of our games and puzzles right now, since the kids always need our help or want to play with us.
Eventually, once the kids are more independent, I can see moving all the games and puzzles upstairs (probably to the landing area) and then using this closet for something different — but right now, this closet fits our game and puzzle storage needs so well!
Here's a look inside this awkward (but totally awesome) closet!
Looking through the door of the closet — this shelving unit holds all our DVD's, CD's, photo books, Nora's "school supplies" for her pretend school, and a few games.
This stickable white board was a fun addition to the space — I don't care if the kids make a mess of it in here and they LOVE using the whiteboard.
And all the ABC and 123 posters came from my mom's school — teachers who were apparently purging at the end of last year!
When you turn the corner, you see the shelves we put up in the sloped part of the closet.
The bottom 2 shelves are very deep so we can easily fit 2 "layers" of games and puzzles — one behind the other.
The floor space is great for really long items — oh, and we're LOVING this puzzle rack for all our chunky board puzzles. It makes it SO much easier for James to get the one puzzle he wants without knocking over the entire stack.
I'm sure we will continue to tweak this storage system as our kids get older and as we amass more games and puzzles — but I just love how out-of-the-way, yet still easily-accessible, this storage solution is right now.
All 3 of our kids can reach anything in this closet — which means a few less things I need to do each day.
.
And would you believe this entire makeover was FREE!!
We used leftover paint, trim, and carpet from Nora's bedroom renovation.
We used an old bookcase I was going to sell on Craigslist.
We used several mismatched and chipped shelves my dad randomly got for free from Menards earlier this summer.
We used a stick-on whiteboard I had originally purchased for a different purpose but ended up changing my mind and never returned. It fits PERFECTLY in this space.
We used freebie school-themed decorations my mom snagged from teachers who were cleaning out their classrooms last spring.
Our only "expense" was paying the carpet guy a little extra to install leftover carpet form Nora's bedroom in this closet… not too bad!
I love how this space has morphed to meet the changing needs of our family.
It continues to be a super useful and functional space — which is how I like all my spaces to be 🙂