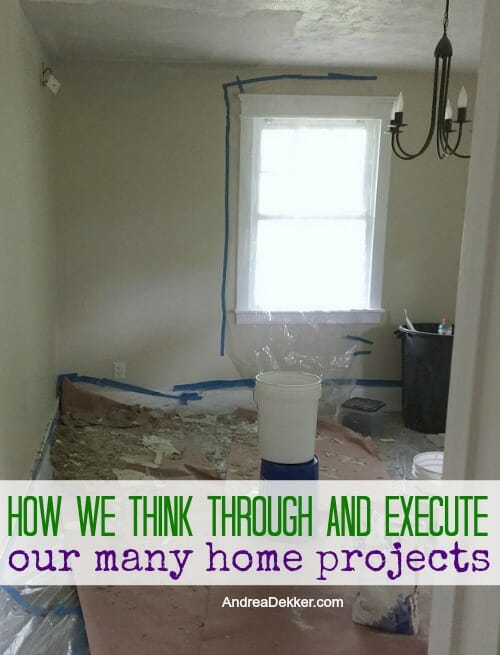 After the summer of 2015, when James was born and we didn't tackle many home or yard projects in July or August… and then the summer of 2016, when we did absolutely ZERO home or yard projects all summer long, Dave and I knew we'd need to tackle quite a few projects this summer — especially since we wanted (and needed) to get a bunch done before the baby arrived.
This was our summer project list:
Transplant and split many shrubs and perennials that were getting way too big
Have a few larger trees planted along our driveway
Completely gut and renovate the 2nd upstairs bedroom (now Nora's new room)
Add shelving to an awkward closet under our stairs (more on this later)
Rework the boy's bedroom and move James upstairs to share with Simon
Clean out the basement (we really don't store much down there, but it just gets gross after a while)
Powerwash and stain the shed
Clean, repaint, and redecorate the nursery (I'll share the full tour after she's born)
And then there's all the regular lawn/landscape maintenance that I'm SO thankful Dave took charge of this summer!
I did the bulk of the yardwork from April through mid June, at which point, he was finished with school and essentially "took the reigns" from me so I didn't have to do as much bending, pulling, and squatting with my big belly in the high heat and humidity.
I realize this might sound like an overwhelming list to accomplish in 10 weeks with 3 young children and being pregnant — BUT keep in mind that Dave is home full-time for those 10 weeks, I work from home with a very flexible schedule, I've always had a lot of energy while pregnant, and our kids are almost always sleeping by 7:00pm every night.
Plus, after 7 years of regular home renovations, we have a pretty good plan-of-action for the best and most logical way to tackle our laundry list of house projects… and I'm happy to say that we completed every single thing on this list by Labor Day (which is always our summer project deadline).
I often get questions about how we do so much, how we stay on budget, how we meet our deadlines, and how we do it all without going crazy or filing for divorce!
I talked more about the budgeting aspect in this post… but I figured today I'd tackle the "how we meet our deadlines and do it all without going crazy or filing for divorce".
We might be crazy (in a good way) to do everything we do, but we LOVE dreaming up our project list every spring, we (almost always) have fun working on the projects together, and we thoroughly enjoy the end results and the fruits of our labor — so we just keep on going!
If I had to break it down into manageable pieces, here are the steps we take when we think through and execute our many home projects.
1. We make a list.
I know — another list 🙂
Sometimes, we actually write the list out — but often, it's just a mental list that we talk through and hash out the details (usually around Spring Break time so we're ready to go when warmer weather and summer vacation finally arrive).
Truthfully, we often talk about our "someday list of house projects" all year long — we just don't get serious about it until spring, when we actually decide what will make the "cut" this year and what will be tabled for later.
.
2. We decide what order makes the most sense for our projects.
We usually don't like to start many inside projects before the weather is nice (so the kids can play outside while the mess stays inside). Also, if possible, we like to wait to do inside projects until Dave is finished with school for the year — just so we have an extra set of hands around all day long, either to play with kids or work on the project.
We also don't love doing big landscaping projects in the middle of summer, when the heat and humidity is at an all-time high here in Michigan. And of course, our goal is to always be finished with all home and yard projects before Labor Day — just because Dave doesn't want the added stress of trying to finish a project while starting a new school year.
And finally, we try to keep our messes contained as much as possible — so if we're working on a project upstairs, we'll continue working on upstairs projects until we're finished. Then we'll clean everything up before moving to another area of the house. This helps preserve my sanity!
.
3. We work through our list in order… and we just keep going and going until it's finished.
Once we know what we want to accomplish, how much time we have to accomplish it, and what order we feel makes the most sense, we just start at the beginning of our list and keep plugging away until we're finished!
We usually try to tackle the majority of our landscaping projects from mid April through early June. The weather is finally nice enough to be outside (and we ALL want to be outside as much as possible), it doesn't make a big mess that we need to clean up inside, and we can enjoy working in the cool evenings, after the kids are in bed, without any heat or humidity. Plus, it's better for the plants if we split, transplant, or prune them before the hot summer heat.
Then, we start house projects at the beginning of June — working in, what we feel is, the most logical order.
This year, we started with Nora's new bedroom because we knew it would be the most time-intensive project. My dad did a massive amount of work for us — which made it possible for us to start almost a month before Dave finished school AND finish before our first family vacation at the end of June (this was our tentative deadline for Nora's bedroom and we made it!)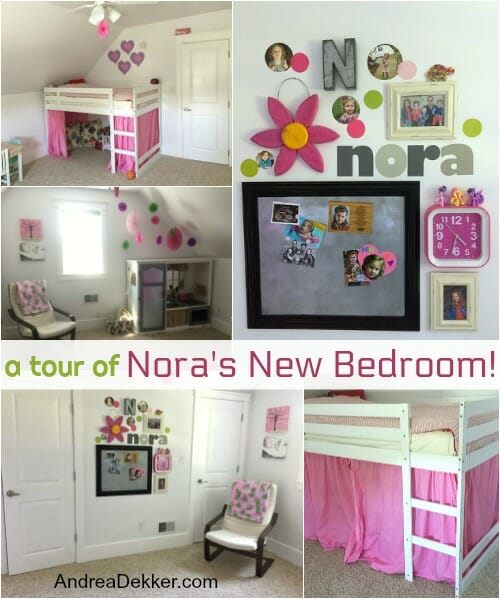 Once Nora was all moved into her bedroom (and James was still sleeping downstairs in the nursery), we tackled the mini renovation on the boy's new shared bedroom.
Our goal was to finish their room AND have James moved upstairs before our 2nd family vacation in mid July. We figured since there was only 2 week weeks between our 2 vacations, the kid's sleeping schedules would be all messed up anyway, so it would be the perfect time to play "musical bedrooms" — and we were right!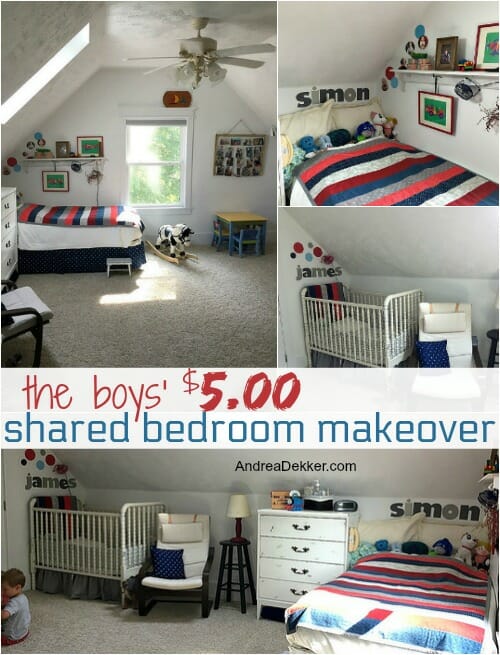 After James was completely moved out of the nursery, we moved all OUR bedroom furniture into the nursery so we could tackle a little drywall project we procrastinated on for OVER 3 YEARS!
It really wasn't a huge project — just super messy. We fit everything but our mattress into the nursery, and our mattress went up to the landing area, where we slept for the week!
Once our bedroom was put back together, we turned our attention to the landing area for a complete overhaul of that space (something I've wanted to do for a while now, but couldn't until the kids' bedrooms were finished!)
After I crossed the landing area off my list, I finally allowed myself to work on the nursery — something I have been looking forward to doing all summer!
I knew it wouldn't make sense to waste any time on the nursery until our bedroom was finished, and my desire to tackle that space motivated me to quickly finish the landing area too!
I'll be sharing the full nursery tour after the baby is born… but here's one more little peek at the room (yes, there are family stories and LOTS of history behind each one of those pieces!)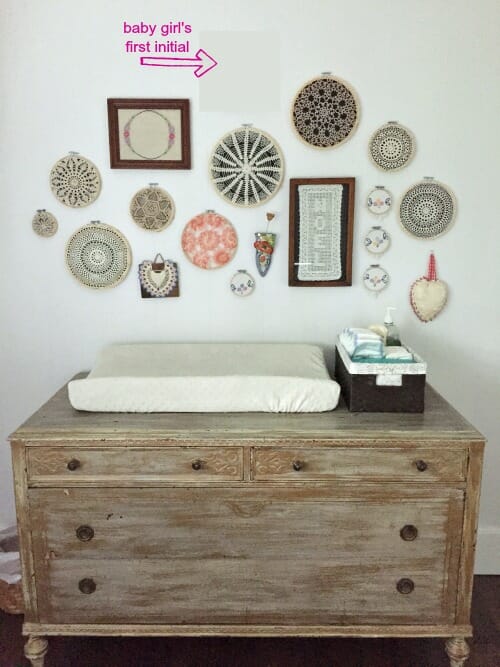 Dave helped me with the basement (and defrosting the freezer in the basement) one afternoon while our kids were playing with neighbor kids. It only took a few hours but was one of those things I knew I wouldn't get around to after school started and the baby arrived, so I just wanted it done this summer!
And once we were finished with all those projects, the weather was turning a bit cooler — making it the perfect time to head back outside to power-wash and stain the shed, clean out the garage, and do a bit more yard work.
.
4. We set self-imposed deadlines for all our projects.
Our final summer-project-deadline is almost always Labor Day — but within that large deadline, we also set self-imposed deadlines for each individual project.
For example, our goal for the majority of our yard work is to be finished before Dave is done with school for the summer. We usually offer to host his staff party the first week in June as extra incentive to finish our yard work!
Then, our goal for Nora's bedroom was to be finished before our first summer vacation — and I was literally hanging the last pictures and sewing the bedspread 2 days before we left! I was NOT stressed in any way, more just highly motivated to reach my goal — and I did!
These self-imposed deadlines can get trickier when outside contractors are involved (carpet, drywall, landscapers, etc.) but we were lucky this summer that we planned far enough ahead, ordered all our materials on time, and almost everything stayed on schedule!
.
5. We try not to add in extra projects.
As many of you know, there are always little "extra projects" that come up while working on other projects. Sometimes, you HAVE to tackle the extra project because it's necessary to complete the current project (like when we figured out we could raise the ceilings in Nora's room by 14 inches — we knew we HAD to do it now or never).
However, for the most part, Dave and I try really hard not to get sidetracked by adding in little projects here and there. Not only does this cut into our budget, it also cuts into our time and energy — which usually means we end up scratching one of the projects we wanted to accomplish off our list.
This summer, we ALMOST got sidetracked by an unplanned bathroom renovation in the kids' bathroom upstairs. It all started when we purchased a new faucet (which was something we originally wanted to replace this summer). The new faucet made me want to get a new sink, which got us thinking about a new vanity… until we realized a new vanity would mean replacing the entire floor. So we took a step back, nixed the bathroom project, and just put in the new faucet like we originally planned to do.
I can't even imagine how expensive and time-consuming this bathroom project could have been if we let ourselves get sidetracked. Thankfully, we stuck to our "list" and keep plugging away at our originally intended projects for this summer!
.
6. We keep each other motivated, but take breaks when we need them.
There were many times this summer when either Dave or I wanted to cut corners, skip an extra coat of paint, skimp on one part of a project, or rush through another part — but the other person always talked them out of it and encouraged them to just keep going and get it done correctly (otherwise, we know we'll regret it later).
Also, we both seem to pick up the slack when the other person is extra tired or has just had enough. There were many times when I kept painting late night night after Dave was too tired from working outside during the day and playing with the kids all day. And there were many times when Dave let me sit by the kiddie pool with the kids while he pulled just a few more weeds, brought one more load of junk to the dumpster, or worked on another project I was just too tired to do.
I would say that Dave and I are both very energetic and "do it now" type of people. That said, we are also not afraid to take a break when we really need it. There were several nights this summer when Dave went for a run, I worked on my photo books, and then we watched a Netflix movie while eating cheesecake or ice cream sundaes.
Dave did things with his friends, I did things with my friends, we hung out with our "couples friends", we did things with family, neighbors, and (of course) our children… and we enjoyed LOTS of down-time.
There was even a solid week in late July (after our vacation with Dave's family) that we really did nothing around the house at all — besides basic cleaning and yard maintenance. It was super hot and humid, I was feeling huge and not sleeping well, the kids were crabby and on a weird schedule after vacation, and neither Dave nor I felt like starting something new.
We knew we had time, so we took a week off and jumped back into "project mode" the next week — feeling much more refreshed and relaxed.
.
7. We take ALL school year off to regroup and prepare for another round of summer projects.
Yes, we often try to pack a bunch of projects into our 10-12 weeks of summer… BUT we almost always take the entire school year off from projects.
So there's always an end in sight.
We know we'll be busier working on all our house projects during the summer (while still doing lots of fun things with the kids and enjoying a few family vacations). However, we also know we'll stop when school starts and enjoy a nice 9-month break.
This realization allows us to put up with a little extra work, stress, mess, and craziness during our summer projects because it's just for a short time. We don't (and won't) live like that all the time.
.
I realize our way of tackling multiple house projects in short consecutive order won't work for all families (especially if you and your spouse don't have 10 weeks off together in the summer!) but since I get SO many questions about this, and since we just finished the last project right before Labor Day, I figured now was a good time to share what seems to work well for us.
House projects can be a HUGE pain in the butt — believe me, we know! But they are also SO rewarding when they're finished (especially if you do some of the work yourself).
Dave and I are nearing the end of our huge master project list (we have 1 bathroom, a laundry room, and a pool to go) but even then, I doubt we'll ever fully be "finished" with summer projects. We both love working on our house and the summer provides such a great opportunity for us to do just that.
At least we stay home a lot to enjoy all our work!