When it comes to seasonal household maintenance, I've always been relatively on top of things like cleaning out the gutters, washing windows, taking care of yard tools, deadheading plants, raking leaves, shoveling snow, and changing our furnace filters.
However, after Nora was born (in November of 2011) it took me about 6 months to realize that I had completely forgotten to change our furnace filter ALL WINTER LONG (probably over 8 months without changing!)
In case you didn't know, we live in Michigan, and it's freezing here all winter. That means that our furnace basically runs all day long from October through April. And when you live in a very old house with very old ductwork, forgetting to change a furnace filter for over half the year is a pretty big deal (we normally change them every 1-3 months depending on the time of year).
I wish I had a picture of my face when I first realized how long it had been since I changed the filter… at least I got a picture of the filter!
Pretty bad, huh?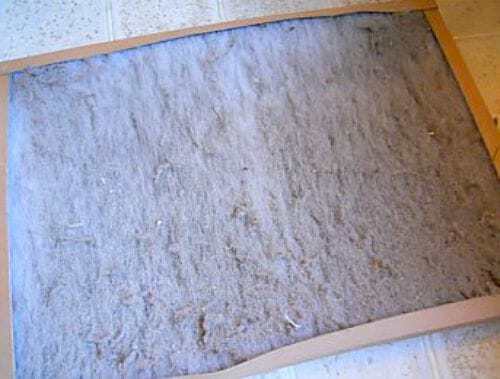 4 years and 2 more children later, changing our furnace filters has continued to be a seasonal task that I either forget to do for months at a time, or put off doing because our furnace requires a really random size filter that is not readily available at most home improvement stores.
I know that having a dirty furnace filter negatively affects the air quality in our home, as well as our gas and energy bills; but for some reason, I just can't find a good system for remembering to have the proper sized filters on hand AND changing them out at appropriate times throughout the year.
However, all that changed a few months ago when I stumbled upon FilterEasy.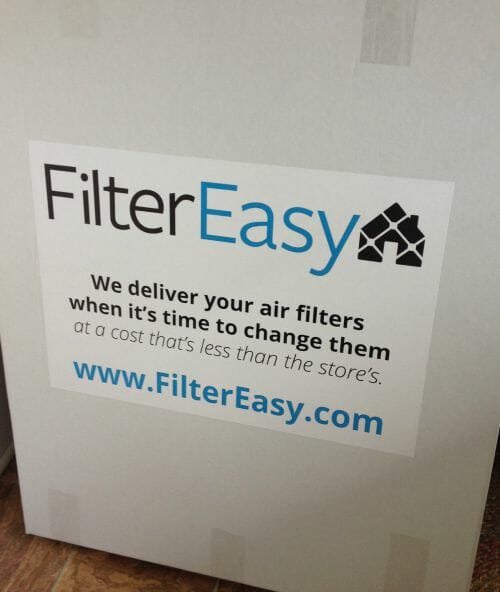 FilterEasy is an online air filter delivery service that is smart and simple.
They deliver furnace filters directly to your doorstep at specified times throughout the year (you can choose how often you want the filters delivered) so you'll never forget to change your filter again.
The best part (at least for me) is that the filters from FilterEasy are actually LESS expensive than what I was paying to buy filters from the store. So not only am I saving a bunch of time and energy loading 3 kids into the car, I'm also saving money!
.
The Simple 3-Step Process:
Since I'm not into complicated or elaborate systems, I'm happy to report that FilterEasy's 3-step ordering process is extremely simple.
You literally just select how many filters your home needs (ours only needs 1), then select the size of your filter (they can do ANY size), then choose the grade of filter you'd like.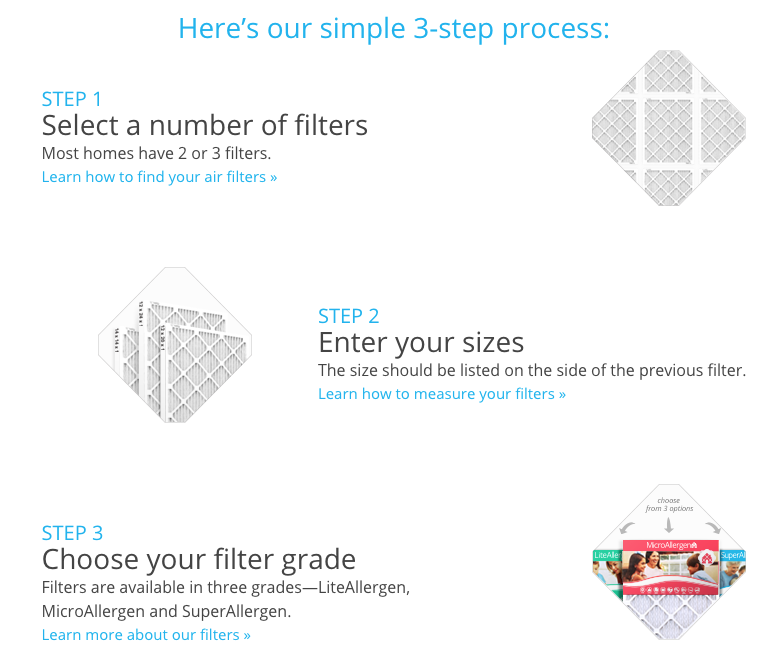 FilterEasy has 3 different grades of filters, depending on your needs. This is especially nice for anyone with allergy problems because the SuperAllergen grade filters out microscopic allergens that could easily pass through other filters.
Dave and I use the LiteAllergen grade filters as we have no known allergies in our house and want the maximum air flow for our old house!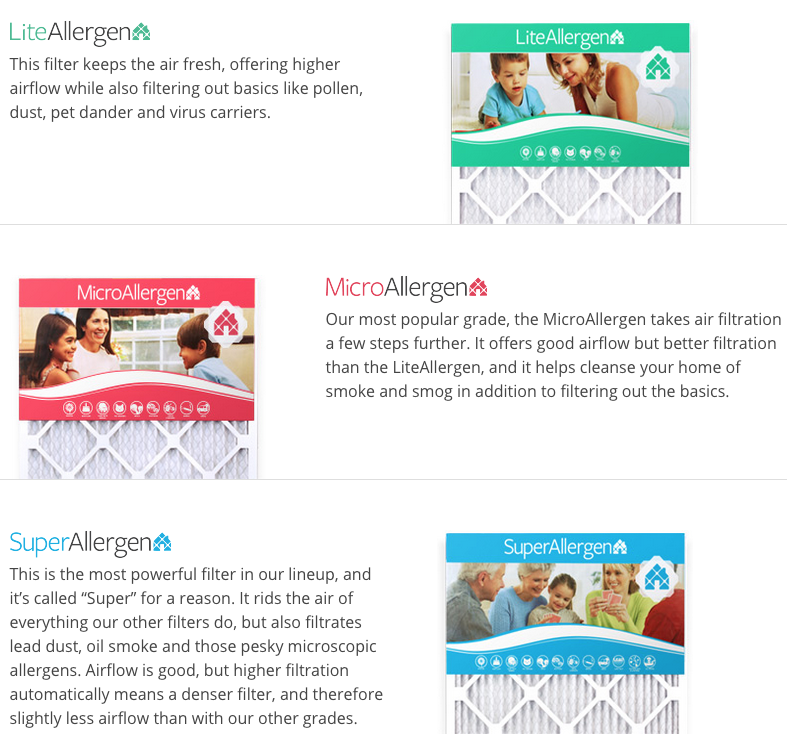 .
The FilterEasy process was so quick and simple to set up… and now that it's set up, there is nothing more for me to think about. When the new filter arrives, I can run down to the basement and swap out the old filter in seconds. No more forgetting or putting it off forever and ever!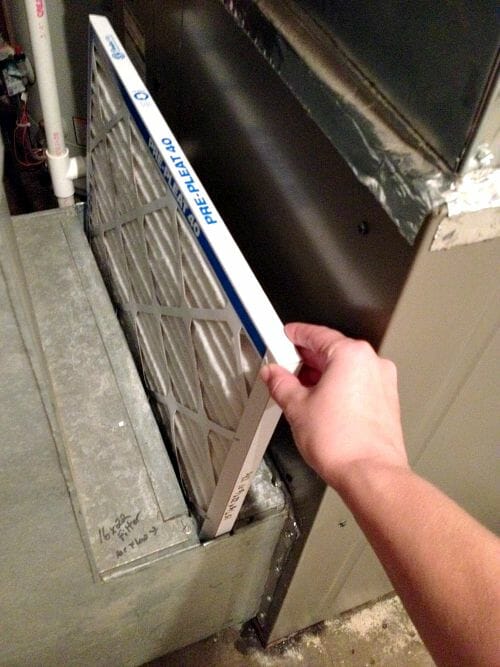 Isn't it fabulous when things run so smoothly?!
With cooler weather just around the corner here in West Michigan, this was perfect timing for me to jump on board with FilterEasy… and I figured you'd all like to know about it as well!
Yes, There's a Giveaway!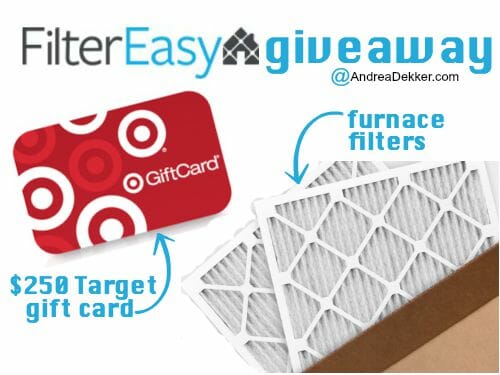 Today, FilterEasy is giving all AndreaDekker.com readers their first order of FilterEasy filters completely free!
Also, one lucky reader will win a $250 Target gift card!
Simply type your email address in the space provided and the free filter code will automatically be applied to your shopping cart — meaning FilterEasy will replace all the filters in your home for free! The Target gift card winner will be chosen at random and contacted after the week-long giveaway process is over.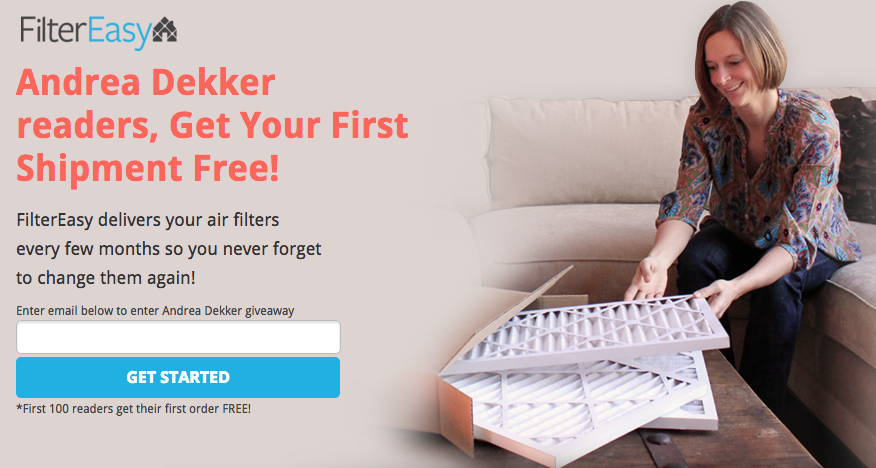 Also, just for fun, I'd love to know when you last changed your furnace filter!
Hopefully it wasn't as dirty as mine!!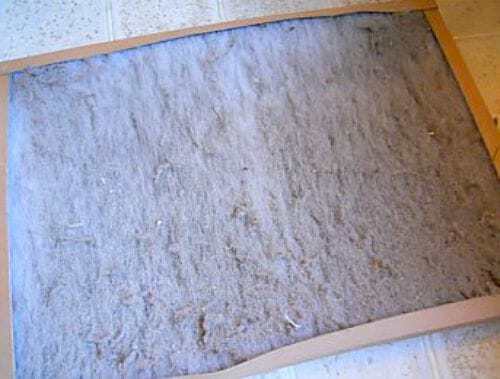 This giveaways ends at 11:59 pm EST, 9/16/2015 and is open to US residents, 18 years or older. The gift card winner will be randomly selected and notified via email. I received compensation from EasyFilter in exchange for hosting this giveaway — all opinions are 100% my own. Please see my full disclosure policy and contact me with any questions you have. Good luck!