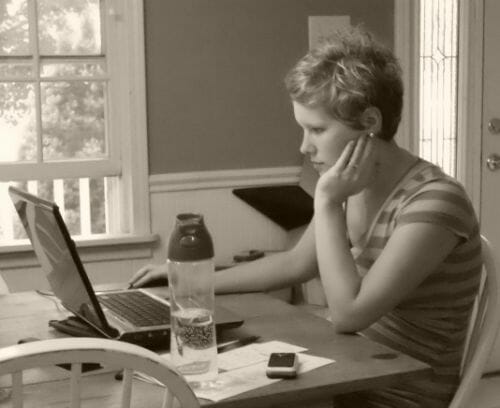 Oddly enough, one of the questions I'm asked most often (even more than if I color-code my closet) is, "How do you come up with enough ideas for all your blog posts?"
My short and somewhat silly answer is: "I take a shower every night before I go to bed!"
Yes, you read that right!
I don't know about you, but I get some of my best ideas when I'm in the shower — not only for blog content but also for house projects, decorating tips, recipe ideas, meal plans, craft projects for the kids, and pretty much anything I've been thinking about during the day.
Ironically enough, I actually came up with the floor plan for our master bathroom renovation while I was showering in another bathroom 🙂
I suppose I do get quite a few blog post ideas from readers asking questions on various topics, but outside of those questions, most of my blog posts are mentally drafted in the shower, while my children are soundly sleeping and Dave is "manning the monitors".
I'm not exactly sure how or why showering helps to spark so many ideas in my brain — but it is very common for me to finish my shower, dry off, and quickly grab a pen and paper to write several thoughts or ideas down before I forget them again.
Aside from the shower, I'm also able to do some quality thinking when I walk or drive ALONE — however, with 3 kids, I rarely walk or drive anywhere alone these days!
How about you?
When and where do you do your best thinking?
Oh, and in case you're wondering, I don't color-code my closet 🙂