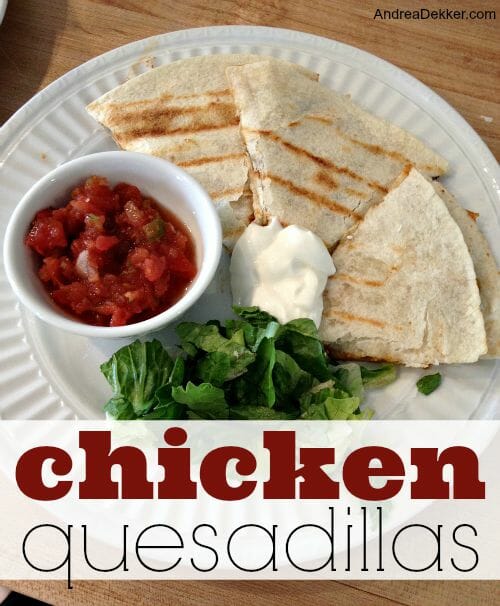 Yesterday was Dave's first official day of school… which means no more leisurely summer afternoons spent cooking in the kitchen while Dave plays with the kids outside. I'm now cooking with all 3 kids vying for my attention… and yes, that makes things a little more challenging (especially since James still isn't on a super predictable schedule yet and likes to be held A LOT).
I know dinner time isn't going anywhere and my family will still be hungry come 5:30pm, so I've resurrected my arsenal of super-simple weeknight meals that can easily be made ahead of time — either the night before, during naptime, or even stored in the freezer for several months.
These chicken quesadillas are one of our family's favorite quick, go-to meal options for busy nights when Dave needs to stay late at school for a meeting, get back to school for something at night, or when I just didn't find the time during the day to make anything else 🙂
Since I always have containers of cooked chicken, chopped peppers, and corn in the freezer, this meal literally takes less than 10 minutes to whip up. Just dump a handful of ingredients into a frying pan, simmer, spread onto tortillas, and serve.
Of course, almost any of your favorite Mexican ingredients would work well in this recipe — and yes, you could make it with beef or even vegetarian if you'd like.
The possibilities are endless!
However, for the sake of this post (and because I know there are people who won't make something unless they have a detailed recipe to follow) I'm sharing the rough estimates of ingredients we use for our favorite chicken quesadillas.
Recipe for Chicken Quesadillas
makes about 4 cups of filling
INGREDIENTS:
1 T. oil
1 T. minced garlic
1 small onion; diced
1/2 c. peppers; diced
1 c. chicken; cooked and diced
1 c. black beans; rinsed and drained
1 c. tomatoes; diced
1 c. frozen or canned corn (drained)
1 (1 ounce) packet taco seasoning (or make your own)
2/3 c. water called for on packet of seasoning
tortillas (we used four 9″ burrito-size flour tortillas)
2 T. sour cream
1-2 c. shredded cheese
DIRECTIONS:
In a medium-size frying pan, heat oil over medium heat.
Add garlic, onions, and peppers. Cook for a couple of minutes, or until soft and fragrant.
Add in chicken, beans, tomatoes, corn, taco seasoning, and water. Stir and simmer over low heat until thickened.
Scoop filling onto tortillas, top with shredded cheese.
Spread sour creams over 2nd tortilla and place on top of chicken and cheese mixture.
Place on a hot George Foreman grill, panini maker, or griddle and cook until cheese is melted (flipping if necessary).
Cut with a pizza cutter and serve with additional sour cream, salsa, lettuce, and any of your other favorite Mexican toppings.
This recipe is more than our family can eat for one meal. We usually make 2 large quesadillas for all 4 of us (obviously, James isn't eating this yet!) and we still have leftover filling.
However, these leftovers are amazing, so we never complain. Sometimes we'll make another quesadilla or 2 for lunch the next day, or we'll warm up the filling and eat it with chips and salsa. Either way, it's delicious!
Also, the filling freezes well if you'd like to make a double or triple batch for later. It could make a great afterschool snack or quick meal for busy school nights.
This is such a simple recipe… hopefully it will satisfy your hungry family!
What are your favorite meals for busy weeknights?
Visit my virtual recipe box for more simple, delicious, family friendly recipes!