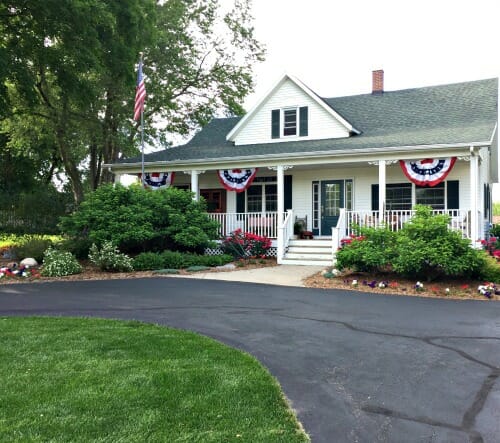 Happy 4th of July!
We don't have huge plans for today — so instead of a normal post, I wanted to simply pop in to share a few pictures of our landscape today.
It's been 5 years since we started our long landscape renovation journey — and aside from a few trees we're going to plant later this fall, we're pretty much "finished". Yippee!
Of course, I say "finished" in quotation marks because there will ALWAYS be more to do — splitting perennials, rearranging shrubs, planting annuals, weeding, mowing, picking veggies, etc. etc. Thankfully, Dave and I both enjoy doing yard work, and we both have plenty of time in the summer to devote to this hobby.
It's hard to see the details in this picture, but I planted red, white, and dark purple Petunias around the 3 ornamental pear trees for a big pop of color from the road. I LOVE seeing these from our front windows too!
I planted almost 700 annuals this year — yes, it took forever! Dave kept encouraging me by saying "you'll be able to enjoy them for the next 5 months." I know he's right!
Here are a couple closer pictures of the front of the house — keep in mind most of our perennials aren't blooming yet.
We have pretty good color in the spring, and then again mid summer through late fall… but there's a little bit of a lull in color right now.
The roses are blooming well, and we have a handful of lilies, but other than that, the annuals are the only color — so yes, Dave, I'm glad I stuck with it and planted all 700 annuals!
And a couple of the back yard area…
We have a super small vegetable garden this year (with an even smaller herb garden to the side). Just a few cherry tomatoes, zucchini, spaghetti squash, and cucumbers. The straw makes it look larger — but that's just to keep the weeds down!
I'm sure we'll have a bigger garden again in future years, but this is better than not even planting a garden (which is what happened last year!)
Pictures truly don't do justice to how fantastic our yard looks compared to just 5 years ago — of course, there's always more we COULD do, but right now, Dave and I are super happy with how our landscaping efforts have paid off.
So today, we're going to watch the kids play in the pool (it's warming up again after a COLD week last week) and hopefully take it easy. Tomorrow, it's back to yard work, house work, blog work, etc.