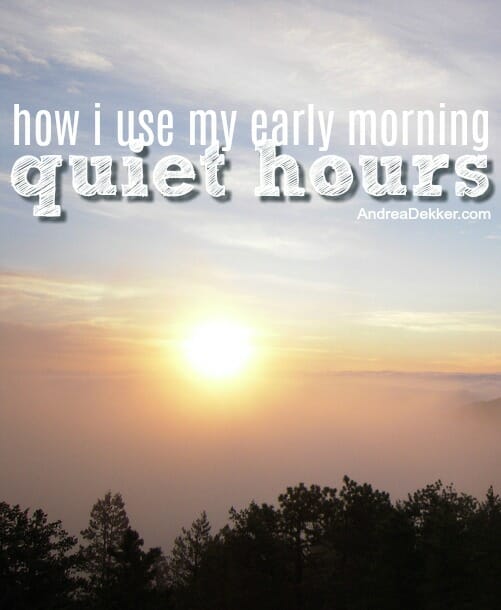 I've always been a morning person — even back in high school and college when NO ONE ELSE was a morning person!
I love waking up early, I love having the house to myself, I love crossing things off my to-do list before anyone wakes up, and I love feeling completely "ready to go" by the time my kids wake up at 7:00am.
It might sound like an over-exaggeration, but every single aspect of my day runs smoother when I wake up early.
That said, there were many years of my life when I did NOT wake up early — basically the 6 years from when Nora was born until just this past winter when Clara magically started sleeping through the night!
During those LONG years, I was beyond exhausted, and the thought of waking up even 10 minutes earlier than I absolutely had to was more than I could handle.
Instead of waking up early, I forced myself to learn how to be productive in the evenings so that I could sleep in as long as possible in the mornings.
However, since our kids are now in bed around 7:00pm every night, and since they all (usually) sleep through the night, I'm getting really good sleep, which means I have a ridiculous amount of energy in the morning.
FINALLY!
Earlier this spring, I started waking up at 6:00am so I could get dressed and ready before waking Nora up at 6:30 for school. I wasn't exactly accomplishing much from my to-do list, but I was fully dress and ready for the day, with the bed made, emails checked, kitchen cleaned up, and breakfast for Nora around 6:45 after she got dressed and ready.
I sat with her while she ate (I often read her a book), and was ready with a second round of breakfast for the boys at 7:00 when they woke up.
I felt SO much more "with it" and put together, and our mornings flowed even more smoothly than they had before.
When summer break began for Dave, I decided I would wake up at 5:15 in an effort to cross several items off my to-do list before any of the kids came downstairs (they are supposed to stay in bed until 7:00 in the summer).
This means I have almost 2 full hours to get ready, start my day, cross a few things off my to-do list, get breakfast going, run errands (thanks to so many places that are open 24-hours a day!) or just relax and enjoy the peace and quiet!
Dave has been getting up early with me too. He goes for a run every other day, and reads or tackles a few smaller projects the other days. Oh, the life of a teacher on summer break! 🙂
I've mentioned my earlier mornings a few times already this summer, and several of you have asked what I do during these early morning quiet hours.
That's what I'm sharing today!
How I Use My Early Morning Quiet Hours
1. I make the bed and do a quick house pickup.
Assuming Dave is also awake, I quickly make the bed, open our curtains, change out kitchen and bathroom hand towels, put any dishes away that were drying over night, and pick up anything that didn't get put away the night before.
2. I stretch and "get moving".
If Dave is still sleeping, I head out to the living room and do a bunch of stretching (and a few jumping jacks) to get my blood flowing! I find that even just 5-10 minutes of movement in the morning helps make wake up and clears my brain.
I also use this time to do a few of my exercises for my Diastasis recti. I'll be honest, I'm not really sure they are helping at all, but I'm told it takes time to heal, so I keep doing them for now!
3. I get dressed and completely ready for the day.
Although it only takes me 15 minutes to get dressed, do my hair, and do my makeup, I still like being completely ready to go before anyone else wakes up.
I also make sure my to-do list is ready to go, my bags are packed for anything we are doing that day, and my van is ready for anywhere we might be going that day (stroller, park bag, pool toys, items to return, library books, etc.)
4. I do a couple small to-dos.
There is nothing more motivating for me than quickly crossing a few short, small to-dos off my list FIRST THING in the morning.
I might need to send a couple emails or respond to a few comments. Sometimes I make my grocery list, renew library books, or make an appointment online. Often I'll even clean a bathroom, dust, start the laundry, or sweep the floors — anything I can do relatively quickly with very little noise.
5. I make food.
We almost always (95% of the time) have a hot breakfast. During the school year, we eat in shifts — first Dave, then Nora, then the boys and myself — but during the summer, we all eat together shortly after 7:00am.
In order to accomplish this with relatively little stress or mess, I have most of the meal made the night before. I almost always have a food storage container with already cooked bacon and sausage in the fridge ready to go. I also mix up pancake, waffle, or muffin batter the night before. And I always have lots of pre-washed, pre-sliced fruits and veggies ready to go.
All I need to do in the morning is cook the pancake, waffle, or muffin batter accordingly, fry up a bunch of eggs, re-heat the meat, and dish everything onto plates. It honestly takes minutes to do this all (mini muffins take the longest at roughly 15 minutes), so I have until roughly 6:45 to continue plugging away at my to-do list before I start breakfast.
If need be, I also use this time to pack lunches, do a little baking, and/or get started on dinner prep — depending on what we're eating that day and what our schedule looks like.
When my kids come downstairs, I'm alert, I'm focused, I'm ready to give them my attention, and I'm SO much happier than I would have been if I had slept until they woke me up.
True Story: The kids wanted to make me "breakfast in bed" for Mother's Day this year… but I wanted to get up early. So I got up early, got all dressed and ready, crossed off a bunch of my to-dos, then put my robe over my clothes and crawled back into bed 5 minutes before they came down to make breakfast with Dave! They never suspected a thing!
Like I mentioned above, I KNOW THIS WILL NOT WORK FOR EVERYONE!
If you are in a sleepless period of life, for whatever reason, just get as much sleep as you can. Seriously, it's most likely better for your health and well being to sleep right now.
However, if you are simply staying up late so it feels too difficult to wake up any earlier, I would highly encourage you to try waking up early for a full week (maybe 2 weeks!) Commit to getting out of bed at least 30 minutes before anyone else in your home, have your clothes set out ahead of time so you can get dressed and ready without disturbing others, and have your to-do list ready to go the night before so you can immediately get to work.
You might hate it and decide to go back to sleeping in — but you might find that you absolutely LOVE this little window of time in the mornings!
I know I sure do!
What about you?
Are you a wake-up-before-everyone-else type of person?
Or are you a sleep-in-until-the-very-last-second type of person?
Either way, what are the best and worst parts of your current morning routine?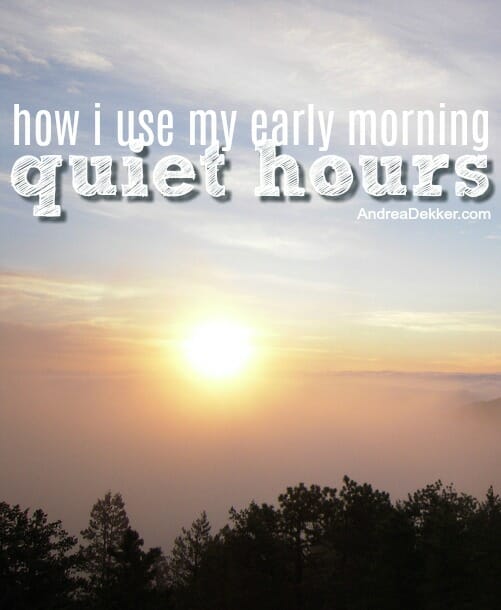 .