Right around the middle of August, I start to feel "done" with summer… this year is no exception. We've had a record-breaking hot summer and I'm DONE with the heat, DONE with the humidity, and ready for the cooler fall temperatures to arrive.
On a more positive note… we picked an awesome summer to get a brand new air conditioning unit installed! And I'm SO glad we finally purchased a portable AC unit for Simon's bedroom as his room has always been much hotter than the rest of the house, even with the whole-house air running.
With his new portable AC unit, his room stays nice and cool for naps and sleeping at night — no more sweaty Simon (at least not when he's sleeping!)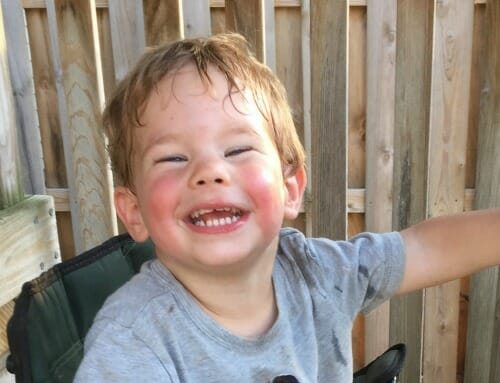 Most years, we can use the same air filter from late spring through early fall because we rarely run our HVAC system from May through October… but this summer, I've been faithfully changing out our filters on a regular basis because the AC has been running constantly!
In most homes, changing your air filters is an important chore that's easy to forget about. This chore is even more difficult for me due to the fact that our HVAC system requires a very odd-sized filter, making it hard to find the right filters. In fact, I only know of ONE place in town to buy the filters we need, and they are expensive.
I understand that changing the filters regularly can help extend the life of our furnace and air conditioner, and it can reduce the amount of dust and allergens in our home… but my frugal personality just hates spending so much on furnace filters!
NOTE: did you know that if you can see a big difference between your clean and dirty filters, you've actually waited too long to change the filter? I didn't realize this — but when we got our new AC unit installed, the guy said we really should change our filters BEFORE they look dirty and dusty, because by the time they actually look dirty, they are forcing the HVAC system to work much harder.
Anyway, we spent a lot of money on our new air conditioning unit, so I'm willing to change out the filters more often… especially since I've been using the super convenient FilterEasy filter delivery service for the past year!
FilterEasy can make almost any size filter (even our crazy size filters), and they are the cheapest place I've found to buy our filters.
Plus, since FilterEasy is an automatic online process (with free shipping) I never need to remember to change my filters — I just put the new filter in whenever it arrives on my front porch!
One less thing I need to worry about forgetting these days (and I'm so thankful for that!)
Thanks to the very simple FilterEasy ordering process, it's easy to choose the quantity, type, and size of filter I need… and then I can forget all about it! When it shows up on my front porch, I know it's time to change my filter. Other than that, I never ever need to think about it.
.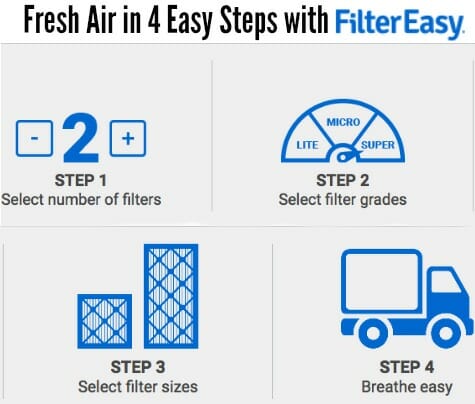 If you'd like to automate one more thing in your life, I'd encourage YOU to jump on board with FilterEasy. There's no long-term commitment, there's no charge for shipping, there's no lengthy sign-up process, and you can change or cancel your account at any time.
Plus, for a limited time, you can get your first order of FilterEasy filters completely FREE!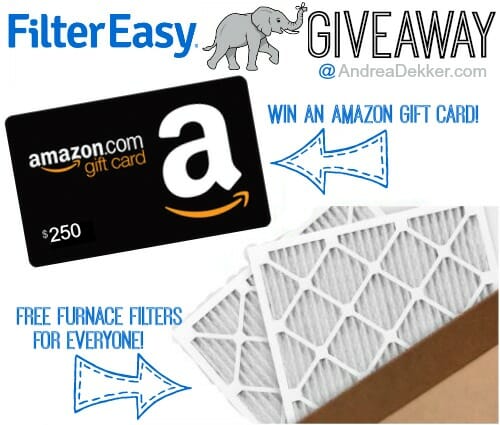 Yup, you read that right… today, FilterEasy is giving ALL Andrea Dekker readers their first order of filters completely free!
Also, one lucky reader will win a $250 Amazon gift card!
Here's how to get your free filters and enter the giveaway:

Click through to the FilterEasy website here.

Submit your email address in the blank provided (this will automatically enter you in the giveaway for the Amazon gift card).

After entering your email address, you'll be directed to FilterEasy's homepage with your free filter promo code automatically applied.

Sign up for the service and get your first set of filters for free!

Note: If you don't see your filter size listed on their website, simply email Hello@FilterEasy.com with your filter size… and if you mention this blog post, you'll get your first order FREE!
.
Although we've heard rumors that fall temperatures will be unseasonably warm this year, I'm prepared to turn on the heat whenever cold temperatures arrive — thanks to my automatic FilterEasy deliveries!
I'd love to know… when was the last time YOU changed your furnace filter??
This giveaways ends at 11:59 pm EST, 9/26/2016 and is open to US residents, 18 years or older. The gift card winner will be randomly selected and notified via email. I received compensation from EasyFilter in exchange for hosting this giveaway — all opinions are 100% my own. Please see my full disclosure policy and contact me with any questions you have. Good luck!