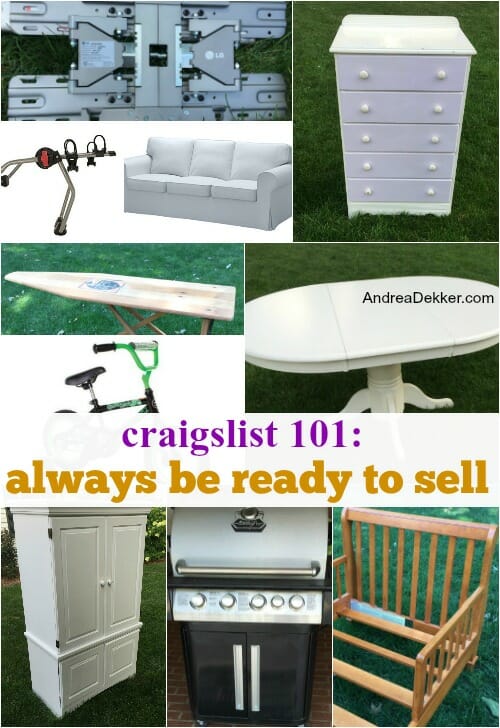 Over the past few weeks, Dave and I have purged SOOOOO much stuff from our home!
I've already shared about how we revamped all four of our bedrooms — and along with the "revamping" came purging, donating, and selling many items we no longer want, use, need or love.
The vast majority of our cast-offs were donated to the local thrift store (the photo above is just one of our trips to the donation drop off!) However, we had a handful of items that were worth enough money to sell on Craigslist (at least in my opinion).
Some of these items were:
New TV wall mount
Gas grill
New IKEA slipcover
Furniture (dresser, table, armoire, bed)
A few brand name baby items (not clothes)
A bike rack that no longer fits on our van
Kid's bike
A few antiques I no longer wanted
We ended up selling everything in less than a week and made almost $500 for a very small amount of effort on my part (not too bad!)
As I was emailing potential buyers and selling off our items, I thought of one more Craigslist tip that has helped me sell more items and sell them faster… and I figured it would be a great addition to the Craigslist 101 Series I've been running on my blog for several years now! (read all the posts here)
The tip?

I always make sure I'm ready to sell by keeping smaller items in the back of my van!
Obviously, the furniture and the grill would not fit in the back of my van — but everything else fit just fine and was easy enough to carry with me for a few days before it sold.
.
If you're wondering why on earth I would put the items I'm selling in the back of my van, it's because that way, I can easily meet up with a potential buyer whenever I get an email from them — even if I'm already out and about running errands or bringing kids somewhere.
Now to be clear, I have NO issue with people coming to my home — in fact, I prefer people drive to my home to buy the items. However, there have been many times over the years when someone emails or texts me about an item and asks if I'd be willing to meet them at a specified location. If I happen to be running errands close to that location (or close to their home or work), I will gladly meet them since all my sale items are already in the back of my van!
This might sound kind of weird for some of you… but I know I'm not the only crazy person who does this! On many occasions, I have emailed other sellers to buy things on Craigslist and they'll respond with something like, "yes, it's in the back of my van/truck/car, so I'll meet you ______ on my way home from work."
It really takes no extra effort on my part, and since we keep the driver's side bucket seat "stowed", we have plenty of room to put groceries or other items in the main part of the van for the few days my trunk is loaded with Craigslist items.
Please keep in mind that if my Craigslist items don't sell within a few days, I immediately lower the price and relist them. And if they don't sell within 2 weeks, I either list them for free or donate them — so I never have "junk" sitting in the back of my van for months on end.
Also, this tip won't be nearly as helpful or useful if you don't have a smartphone to check email when you're away from home.
That said, the majority of people I know these days have the ability to check email pretty much anywhere and anytime — so the next time you're selling smaller items on Craigslist (or selling on a Facebook garage sale), I would highly recommend giving this tip a try.
Have you ever tried this and had success?