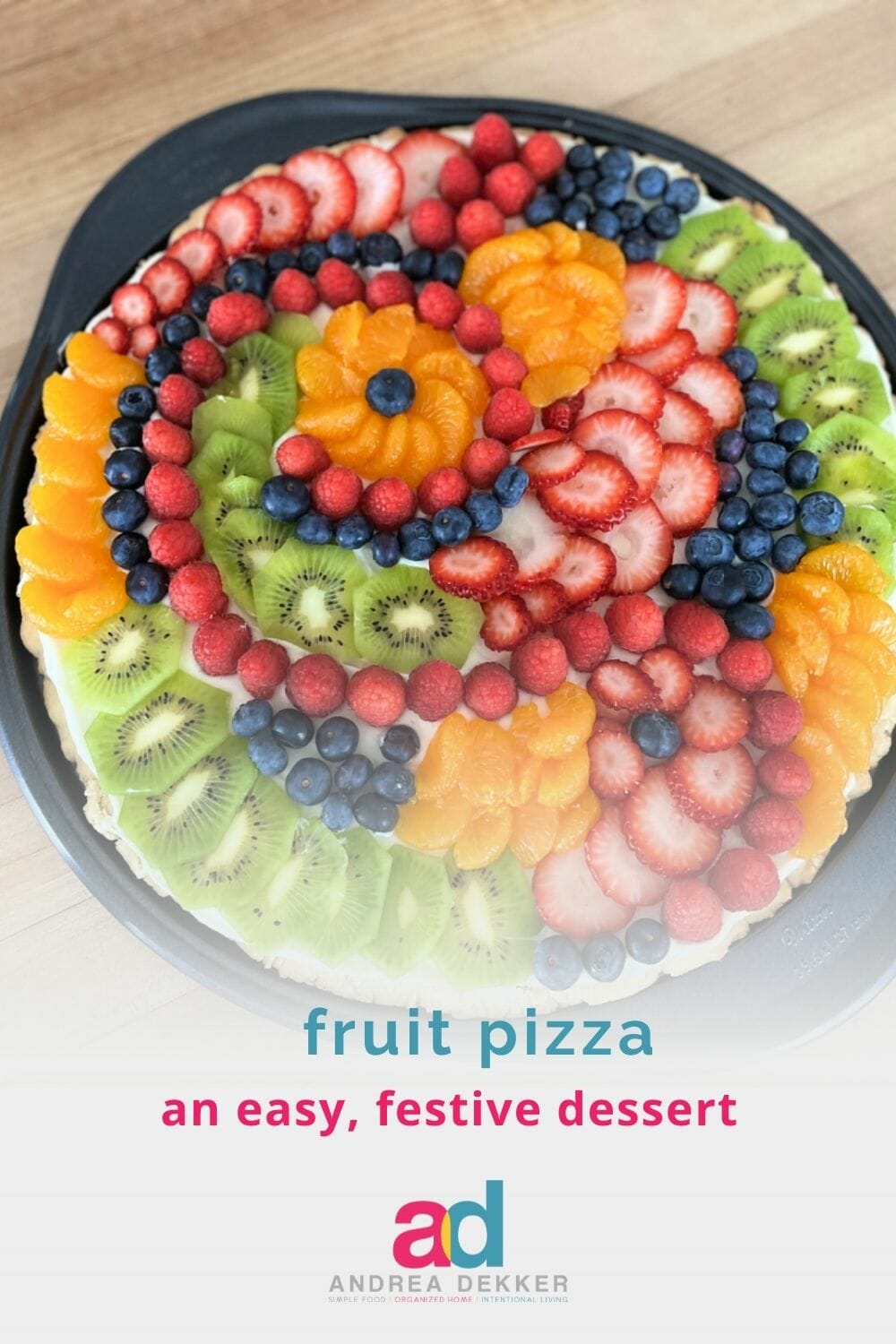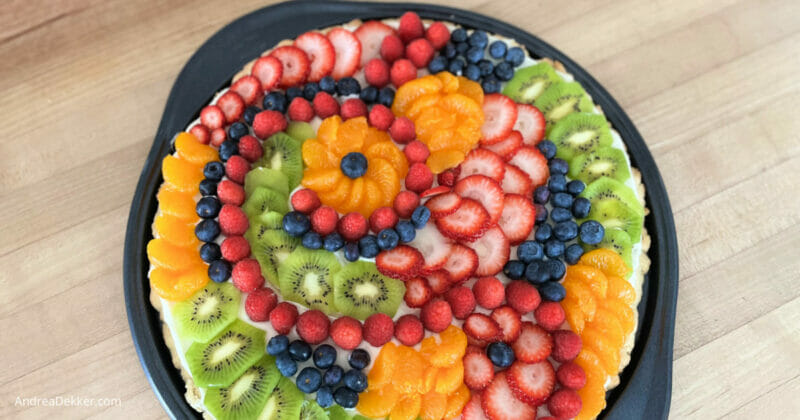 Our family loves pizza, we love sugar cookies, and we love fruit, so I knew everyone would be excited to have fruit pizza again last week.
It's such a yummy treat when delicious berries are in-season, but it can be especially yummy (although slightly more expensive) during "off-season" when fresh fruit isn't as plentiful in our meal plan.
I made this fruit pizza for a birthday celebration for my family, and it was a big hit.
Then, we indulged in it again for breakfast the next morning (I figure it's not any worse than cinnamon rolls or donuts!)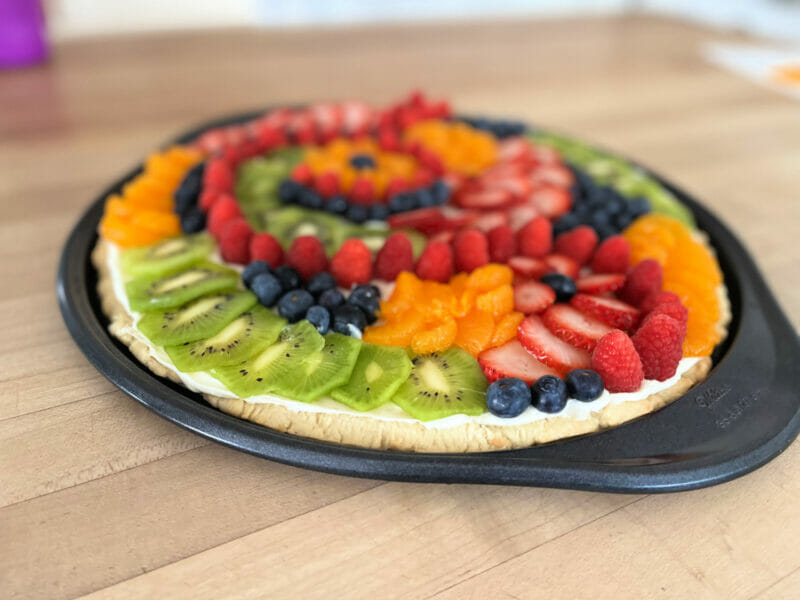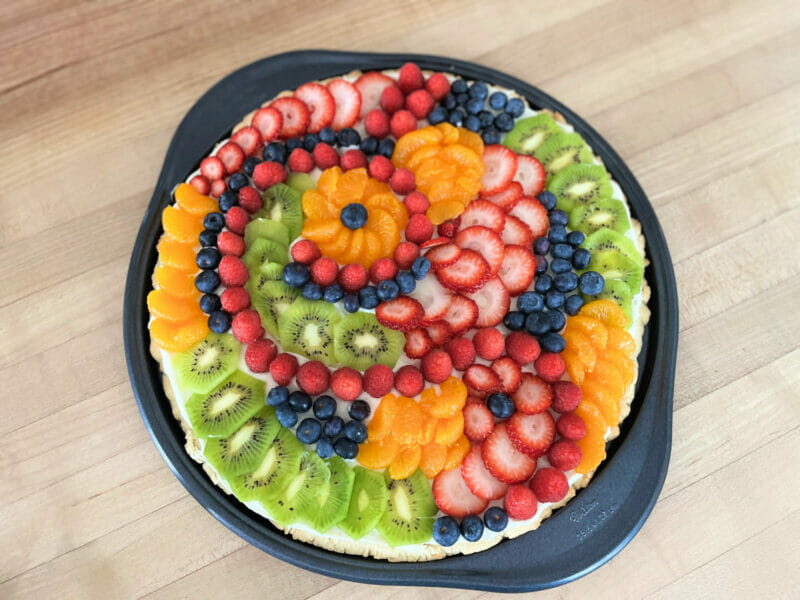 My fruit pizza recipe is extremely versatile… so my measurements are not exact. However, if you can bake a cookie and slice fruit, you can make fruit pizza!
When deciding on what pan to use, simply consider the size of the group you're feeding.
If you're feeding a crowd, go with a pizza pan. For a smaller group, you could use a tart pan, a traditional pie plate, or a 9″ x 13″ pan. Or you could make individual cookie fruit pizzas and let everyone decorate their own (this is especially fun for kids.)
As for fruit topping, use what you have in the house, what's in season, or simply whatever your favorite fruits are.
We love berries — and berries work well because they aren't overly juicy or liquidy.
We do also really like mandarine oranges and kiwi, but those need to drain on paper towels to prevent excess liquid from making the pizza soggy.
As a general rule-of-thumb, any canned fruit should first be drained over the sink and then spread out on paper towels for a few minutes before adding it to the pizza. This extra step will keep the pizza fresher longer.
Our kids love helping with the decorating process, so I always bake them a few of their own "cookie pizzas"… which keeps them busy while I decorate the large pizza.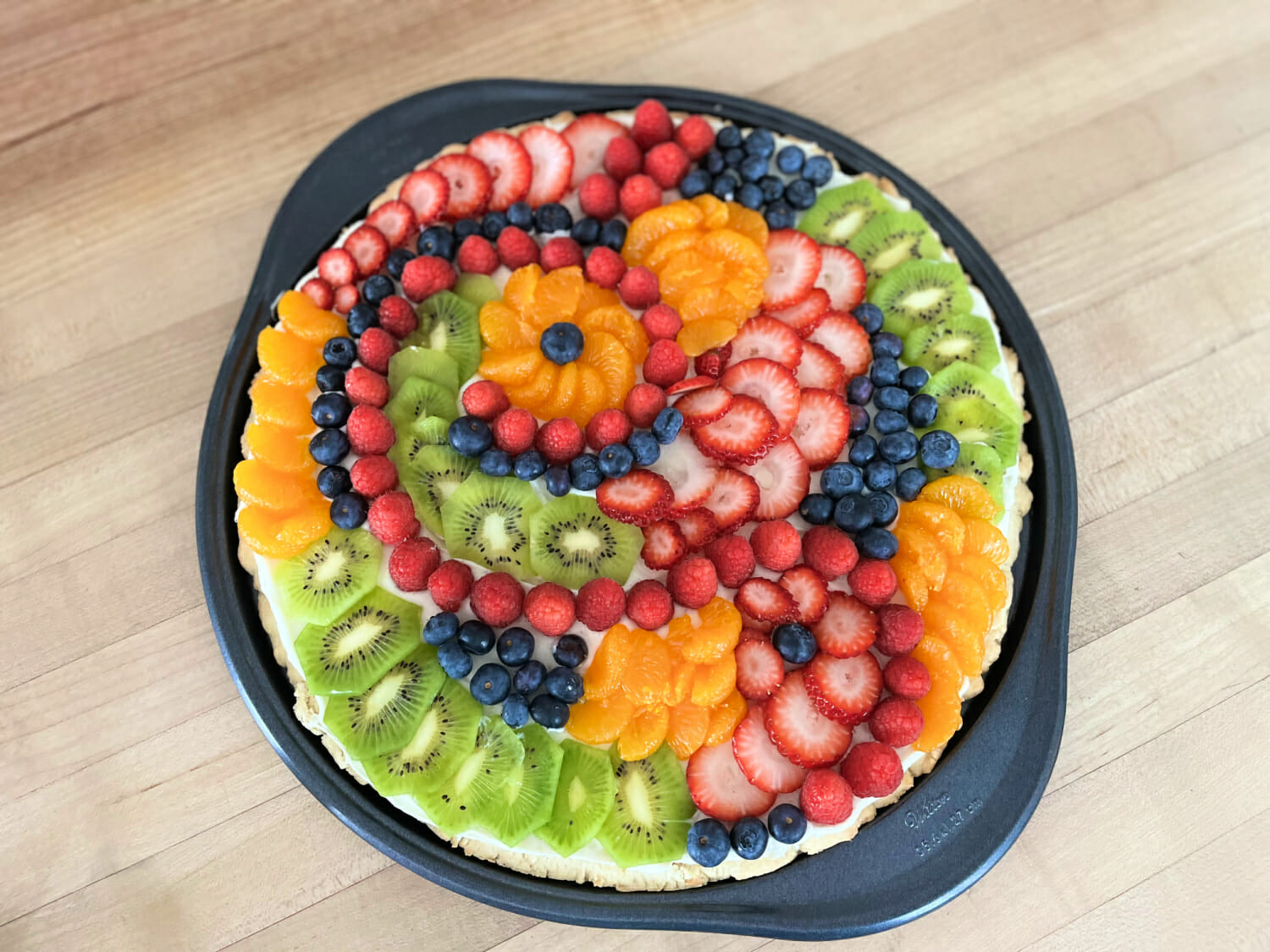 This yummy dessert is so easy to whip up with whatever fruits you have in the house... now you can enjoy a little taste of summer no matter what season it is!
Additional Time
10 minutes
Ingredients
Sugar cookie dough (a 16 oz. package or half of my recipe -- linked below)
1 package (8 oz.) cream cheese, softened
1/2 c. granulated sugar
1 tsp. vanilla
an assortment of fresh or canned fruit (frozen doesn't work well in my opinion)
Instructions
Press cookie dough into a pizza pan, tart pan, pie plate, or even a 9" x 13" pan (you can also make individual cookies with some of the dough)
Bake at 350 for 8-12 minutes, depending on the size of your pan (you don't want it overdone)
Let the crust cool completely
While the crust cools, wash and slice up your favorite fruits and lay on paper towels to remove excess liquid
In a small bowl, mix softened cream cheese, sugar, and vanilla.
Spread over cooled cookies
Top with fruit
Serve or refrigerate until ready to eat.
Notes
Here's my delicious recipe for sugar cookies... you can use half this recipe for a pizza pan or a third of the recipe for a smaller tart pan. I usually make a big batch of cookie dough, divide it up, and freeze it for whenever I want to make fruit pizza (or sugar cookies).
Also, our favorite fruits for fruit pizza are berries, mandarin oranges, and kiwi, but many other fruits will work.
Recommended Products
As an Amazon Associate and member of other affiliate programs, I earn from qualifying purchases.
Nutrition Information
Yield
18
Serving Size
1
Amount Per Serving
Calories

140
Total Fat

1g
Saturated Fat

0g
Trans Fat

0g
Unsaturated Fat

0g
Cholesterol

2mg
Sodium

15mg
Carbohydrates

8g
Fiber

0g
Sugar

7g
Protein

1g
Nutritional information is approximate and does not account for additional ingredients or added toppings.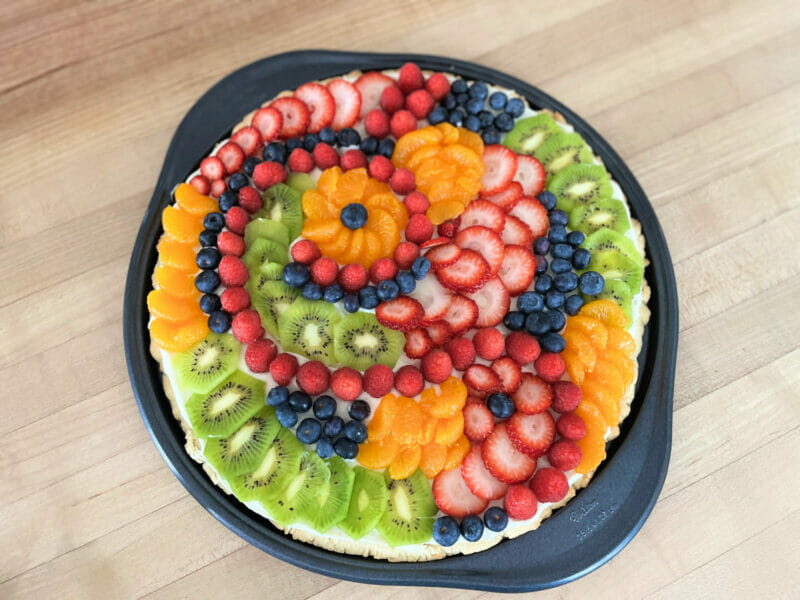 Aside from being slightly addictive, the only bad thing about this recipe is that it's not a great "make-ahead" recipe (it's certainly not freezer-friendly either).
I usually make our pizza the day we're going to eat it. And we try to finish up any leftovers within 36 hours — otherwise, it tends to get a bit soggy.
If you're short on time, you can bake the crust, make the frosting, and slice up the fruit in advance… then simply assemble the pizza shortly before serving.
It will be hit!
.
Want more fruit pizzas?
Try these recipes from around the web…
Do you make fruit pizza? What's your favorite fruit combo?
Visit my virtual recipe box for more simple, delicious, family-friendly recipes!