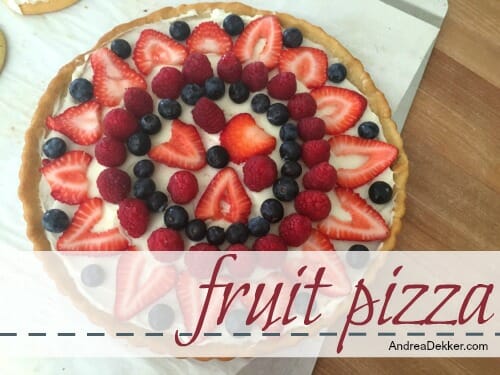 Our family loves pizza and we love fruit, so I knew everyone would be excited to have fruit pizza again last week.
It's such a yummy treat — especially this time of year when the weather is warming up and berry season is right around the corner.
I was feeling brave when I decided to let Nora and Simon "help" with this dessert — and to my surprise, they actually did really well! Nora's favorite part was using a knife… Simon's favorite part was licking up the extra frosting.
As you'll see by the photos below, we pressed some of the cookie dough into a 10″ tart pan and use the rest to make mini fruit pizzas (a.k.a. sugar cookies!)
The ingredients are VERY simple (it starts with a package of sugar cookie dough), and it's SO easy. If you can bake cookies and cut up fruit, you can make this dessert!
You can use a variety of different fruit depending on what you have in the house. I usually stick with berries and mandarin oranges for my kids, but kiwi, mango, cherries, peaches, pineapple, and even bananas work well. Basically, feel free to use whatever fruit your family likes!
And if you're doing it with kids, I would definitely suggest letting them decorate their own cookies (it will save you so many fights as they can customize the fruit topping based on their individual preferences).
Plus, then you can decorate the larger pizza to look a little nicer 🙂
Recipe for Fruit Pizza:
serves 12-18
INGREDIENTS:
1 package (16oz.) sugar cookie dough (or make your own)
1 package (8 oz.) cream cheese
1/2 c. granulated sugar
1 tsp. vanilla
an assortment of fresh or canned fruit (frozen doesn't work well in my opinion)
DIRECTIONS:
Press cookie dough into a 9″ x 13″ pan (or press part of it in a pie/tart pan and make cookies with the rest)
Bake at 350 for 8-10 minutes (you do NOT want it over done)
Cool cookie crust completely
In a small bowl, mix cream cheese, sugar, and vanilla.
Spread over cooled cookies
Top with fruit
Serve or refrigerate until ready to eat.
Aside from being slightly addictive, the only "bad" things about this recipe is it's not freezer-friendly, and you really can't even make it far in advance.
You could make the crust and frosting (separately) ahead of time, but I would wait to frost the crust and add the fruit until the day you plan to eat it. The frosting and fruit will eventually make the crust somewhat soggy so this is one of those "best fresh" recipes that should be eaten within 24-36 hours.
I've made this several times for group meals, potlucks, and parties and am ALWAYS asked for the recipe. Also, I don't think I've ever taken even one crumb back home again!
Just for fun, I timed myself when I made the fruit pizza for this post. It only took me 4 minutes to decorate the top with fruit (and I tried to do it a little extra fancy for you guys!) So don't let yourself be intimidated by this recipe — if my kids can do it, you can too!
.
Want more fruit pizzas?
Try these recipes…
So many options… I might need to make one a week all summer long!
Do you make fruit pizza? What's your favorite fruit combo?
Visit my virtual recipe box for more simple, delicious, family friendly recipes!