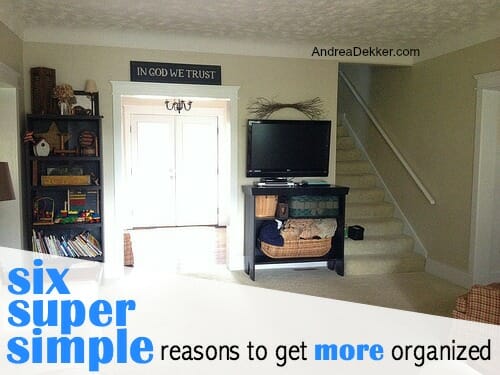 My 2018 "summer vacation from blogging" is sharing one week of reposts each month… this week is my July repost week.

Today's repost is an updated version of one I originally shared back in October of 2015 — but boy are these reasons still relevant in my life now!
When it comes to the physical, mental, and emotional benefits of organizing your home, life, work, schedule, family, etc. I think I could talk until I was blue in the face. There is no end to the number of blog posts I could write on organization!
However, even if I had unlimited hours to devote to writing content for my blog, I probably wouldn't do it — because often times "less is more" when it comes to tips and ideas to get (and stay) more organized. Plus, you already KNOW most of what I write… it's the implementation where some of us fall short. 🙂
Right?
If you have put off your decluttering and organizing, I hope the SIX SUPER SIMPLE reasons in today's post will motivate you to get a little more organized!
1. You'll save SPACE
Would you like to gain a little space in your home? Maybe make a bit more room for the things you love and use on a regular basis?
Getting more organized will help you do just that!
I'd like to challenge you to spend 20 minutes TODAY, walking around your home with 2 trash bags — one for items to give away, and the other for trash. See how many things you can remove from your home in that short amount of time, and then enjoy the small amount of extra space you've created!
If you do this on a regular basis, you'll be surprised how much space you can free up!
2. You'll save TIME
It's rare that I hear anyone complain about having "too much time." Instead, I often hear people lament the fact that they never have enough time.
If you fall in the "short on time" camp with the majority of people I know, I think you'll be amazed how much time you can save by developing a few new organizational habits.
Yes, you will probably spend MORE time up-front, but once your systems and routines are in place, you'll SAVE SO MUCH TIME looking for things you've misplace or lost in your home, office, closet, drawers, purse, etc.
3. You'll save MONEY
Have you ever purchased something because you couldn't find the one you already had in your home? It's probably happened to all of us at some point — but it's still a waste of money.
By getting more organized, you're less likely to lose or break things, which means no more replacing (which will also save you time driving to the store or shopping online!)
4. You'll save ENERGY
The beauty of purging is that you will no longer need to clean or care for the items you removed from your home.
Fewer clothing means less laundry. Fewer decorations means less to dust and clean around. Fewer books and toys means less to pick up. Fewer papers means less to file (or at least smaller piles!)
5. You'll save STRESS
A more organized home feels peaceful and calming to me — and I have a feeling most of you would prefer to spend your days in a peaceful calming place versus a crazy hectic place. Right?
With more space to enjoy the things you love, more time and energy to do the things you love, and more money to spend on the things you love, your stress levels are almost guaranteed to be down!
Plus, if you're crazy like me, the act of organizing and decluttering will instantly lower your stress levels 🙂
6. You'll save your SANITY
As someone who chases 4 young kids around every day, I can't say enough about how important some form of organization is for my sanity.
Creating a designated spot for all the toys and books means that my kids can help put them away. Keeping the main living areas of the house relatively picked up throughout the day means I'm not constantly tripping over toys. Implementing our "nightly routine" means that I wake up to a clean and organized home every morning (which does wonders for my overall mood).
For me, getting my house "back to normal" every night after the kids go to bed is one thing I can control. It does wonders for my sanity and my overall mood to know that even if the house feels crazy, cluttered, and chaotic during the day, I'll have some peace once everything is reorganized and put away at the end of the day.
Clearly, there are many MANY benefits to getting more organized and creating more order in your life.
Please keep in mind that the point of this post is to get MORE organized — not to get completely organized or go crazy decluttering every single nook and cranny in your home. Progress is key, because progress means you're moving forward — even if you're moving slowly.
Pick one small area of your home and work on it for 15 or 20 minutes.
Get it MORE organized and you'll be in better shape than you were before!
What are your favorite reasons to get more organized?