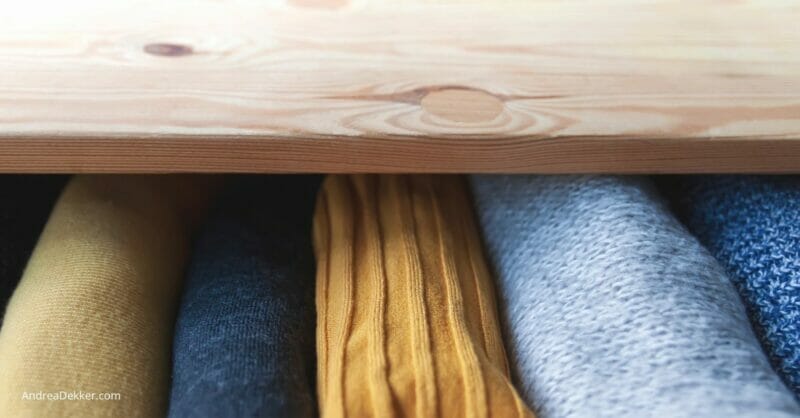 The concept of getting "more" organized is often thought of as a long-term "someday" project that we'll get to when we have a free weekend (which never happens) or when our spouse is ready to help us (also unlikely to happen soon) or when we finally take a week off of work (yeah, like you're going to organize on your vacation!)
When, in reality, getting "more" organized could be something you do RIGHT NOW… in the next 20 minutes… and then immediately enjoy the benefits!
Don't believe me?
Keep reading!
If you've put off decluttering and organizing a bit too long, I hope I can encourage you to give it another try.
If these 6 immediate benefits don't inspire you, I'm not sure what will!
1. You'll save space.
Chances are you've probably wished for "more space" — no matter how large your home is. Maybe an extra closet, an extra bedroom, another stall on the garage, a useable basement, a larger pantry, etc.
I might not be able to magically add more square footage to your home, but getting more organized will help you add more usable space!
Here are a few quick space-saving ideas to get you thinking:
Toss food storage containers without matching lids (that should free up some space!)
Give yourself (or your kids) a "hanger limit" for your closet and get rid of the rest. Enjoy the extra breathing room.
Remove all expired items from your pantry, fridge, and freezer.
Fold clothing neatly in drawers and enjoy so much extra space versus just shoving it in.
Purge doubles and triples of things if one will suffice.
Start training yourself to notice when spaces look and feel crowded and then use a few organizing tips to free up some extra space.
2. You'll save time.
These days, it's rare that I hear anyone complain about having "too much time" — the opposite is usually the lament I hear.
If you currently find yourself in the "short on time" camp, I think you'll be amazed how much time you can actually save by getting more organized.
For example, you could speed up your weekly cleaning routine or implement a laundry system to save time on these necessary tasks.
Make a simple meal plan for the week and enjoy the huge time savings of wondering "what's for dinner" every night and making several extra trips to the store for items you forgot.
Declutter a heavily-used area in your home and enjoy being able to quickly find everything you need without searching through piles of stuff.
Then, enjoy your extra time doing whatever you'd like to do!
3. You'll save money.
With prices rising on pretty much everything these days, finances are definitely a hot topic for many households.
Interestingly enough, getting more organized will often SAVE you a whole bunch of money without costing anything in return.
For example, think of how many times you've purchased something again because you can't find the one you already have. Or what about times when you've waited until the last minute and rush out to buy something instead of making something or shopping the sales (this can apply to dinner, birthday treats, clothing for special occasions, gifts, etc.)
You might also consider selling some of your cast-offs on Facebook Marketplace as a small extra income (and then enjoy the extra space — see #1 above!)
4. You'll save energy.
Cleaning and caring for a more organized space requires significantly less energy than cleaning and caring for a cluttered, messy space. It's also less overwhelming to get started when your spaces are more organized, so you're less likely to waste energy motivating yourself (or procrastinating and then constantly feeling that weight).
Practically speaking, less clothing means less laundry to wash. Fewer decorations mean less to dust and clean around. Fewer books and toys mean less to pick up at the end of the day. Fewer papers mean less to file.
All of this is great, but one of my favorite energy-saving benefits of living a more organized life is the mental energy I save each day wondering where things are, what I should make for dinner, if I should throw another load of laundry in, if I remembered to RSVP for the event at school, etc.
I'm not perfect by any means, but keeping my home and life more organized affords me more physical and mental energy each day — definitely a bonus for my entire family.
5. You'll save stress.
I hate that feeling when I'm running late, rushing the kids, frantically searching for something I can't find, or apologizing for forgetting something really important… don't you!?
I don't enjoy living in a cluttered home or with a chaotic schedule.
Thankfully, I've learned first-hand that getting more organized alleviates many of these negative feelings and results in a much less stressful home and life.
With more space, time, energy, and money to enjoy the things, people, hobbies, and places you love, it's only natural that your stress levels will be way down.
6. You'll save your sanity.
With 6 active people in our home, it doesn't take long for things to get chaotic and cluttered… which is not a great combo for this mom!
Anything I can do to help the kids get involved in the organizational process does wonders for my sanity and the overall health and happiness of our home.
Creating a designated spot for all the toys and books means that my kids can help put them away.
Keeping the main living areas of the house relatively picked up throughout the day means I'm not constantly tripping over toys.
Getting our house "back to normal" every night (a.k.a. hushing the house) after the kids go to bed means we all wake up to a neat and tidy home every day.
It's amazing how just a few minutes spent tidying up and getting more organized gives me an entirely new perspective on the day and a renewed energy to tackle whatever else comes my way!
Have I convinced you yet?
Throughout this post, I've intentionally used the phrase "get more organized" to highlight the fact that perfection has no place in this process.
Just keep aiming for progress… no matter how slowly you move! Pick one small area of your home or life and work on it for 15 or 20 minutes TODAY.
Get more organized and enjoy some of these immediate benefits in your own home, family, and life!
What are your favorite benefits to getting more organized?