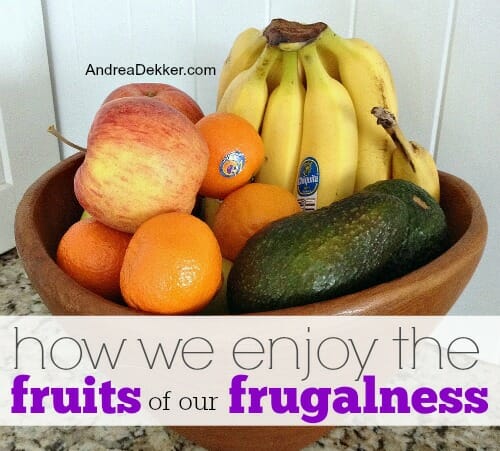 For my entire life (even back in middle school and high school) I have always been VERY frugal — almost to a fault.
I did without something I really wanted (and could easily afford) simply because I didn't 100% need it to survive.
I drove out of my way to save a few cents on gas.
I went to multiple different stores to save a few dollars a week on groceries.
I refused to withdraw money out of my bank account for anything that wasn't a basic necessity.
I purchased cheaply-made, low-quality products to save money up-front.
I questioned every purchase and played a mental tug-of-war game any time I wasn't 100% certain about a purchase.
I made "finding the best deal" my main priority over almost everything else.
I honestly felt guilty, or like I needed to offer an explanation, if I splurged even a teeny tiny bit on something for myself.
I have always been very good at saving money, living frugally, and making the most of our MONETARY resources.
In those early years, Dave and I were padding our savings account, funding our investments, and paying off our student loans and our mortgage insanely fast — all very good things in my opinion.
However, in many ways, my quest to properly steward our monetary resources forced me to squander my resources of time and energy (sometimes my sanity too!) Plus,we weren't really enjoying any tangible benefits from all my frugal habits.
Yes, it was fun to see our savings and investments grow while our mortgage decreased… but those were all long-term financial goals, not something we could enjoy that week or even that month.
Of course, I would rather fall more on the "too frugal" side of the money-spending spectrum than get super close to the "over spending" side; but in my opinion, there has to be more of a happy medium… and more (wait for it) MODERATION!
In general, Dave and I are not (and never have been) big spenders in any way.
We don't love traveling or doing anything "touristy".
We don't get super excited about going out to eat (especially not with kids).
We don't enjoy going out with friends and would much rather host people at our house for a night in.
We're DEFINITELY not "party people".
We rarely have the desire to go shopping for anything unless we REALLY need it, and even then I try to find a deal online.
We aren't fashionistas or foodies.
We don't get excited about cars or fancy "toys".
We don't have any expensive hobbies or pass-times.
We aren't big gift-givers.
Our lack of spending, combined with the fact that we are both quite frugal-minded, makes it VERY easy for us to save, save, save, save… without ever feeling deprived or wanting to splurge.
However, all of this changed about 4-5 years ago.
Maybe it was because we were more overwhelmed and sleep-deprived due to Nora's challenging baby antics and lack of sleep. Maybe it was because we were finally living in our "dream house" and wanted to make sure we renovated it with high-quality materials that would last through the years. Or maybe it was simply because we were a few years older, a little wiser, and more confident in our own decisions.
Whatever the case, we started to enjoy little splurges on a more regular basis. Nothing major, but it was actually a lot more fun than I realized!
Of course, I would never encourage someone to splurge outside of their means, spend unwisely, or do something just because they feel pressured into it by others. However, since I always preach "moderation", I figured it might be interesting to know some of the ways we splurge on things we don't really NEED, but that we definitely ENJOY!
1. Regular Haircuts for Me:
I cannot tell you how many emails I get, asking why I have short hair — considering it's so much more expensive to pay for regular haircuts throughout the year. Some people assume Dave cuts my hair (wouldn't that be great if he could!) and other assume I just cut it myself.
No, and no!
I definitely pay to get my hair cut every 4ish weeks — yes, that's very frequent, but it's 100% worth it in my opinion.
I LOOOOOOOVE having short hair. It takes me 3-4 minutes to do my hair everyday, I use almost no shampoo (hair wash) or conditioner (hair rinse), I get compliments on my haircut ALL the time, and (most importantly) I love how I look with short hair.
As an added bonus, I get my hair cut by either my cousin ($20) or my neighbor ($14) and it takes about 20 minutes because I just go home with wet hair.
I also never pay for haircuts for Dave or the kids because I do those myself, so spending $14 – $20 per month on a hairstyle I feel great about every time I look in the mirror seems like a really great use of our monetary resources.
2. Annuals in our garden:
This is another one I'm often questioned about or given the guilt trip for — especially since we live in Michigan where the annuals can only survive from mid May through late October.
I used to be super frugal with this and only buy a few annuals in mid June (once they were on the discount racks) but I never really loved how they looked because I didn't get the types of annuals I wanted and there just weren't enough of them to make a statement in our huge yard.
Last year was the first year I decided to really splurge on annuals for our yard — and WOW did it make a huge difference! There was color everywhere all spring, summer, and fall — even if some of the surrounding perennials weren't in bloom at the time.
Dave and I have spent a lot of money on our landscaping (more on that below) so tacking on another $100 for annuals we enjoy every single day from May through October really seems like pennies to us.
In fact, if I do the math, it works out to roughly $0.60 per day to enjoy glorious pops of color everywhere in our yard for almost 6 months of the year.
3. Beverages for Dave:
I'll be honest, I almost never ever ever drink any type of fancy or expensive beverage. I never drink coffee, tea, lattes, etc, I rarely ever drink anything alcoholic, and I can't stand the taste of energy drinks, fizzy waters, or specialty juices.
I drink ice water, milk, Country Time lemonade, and Diet Dr. Pepper (in that order of preference) and I could easily live on just water for the majority of my life if I had to.
Dave, on the other hand, really enjoys occasional fancier beverages as special treats — and that's totally fine.
We try to keep a selection of specialty beers and adult beverages in our extra fridge for him (and for guests), he occasionally stops by Biggby when he gets gift cards (and uses coupons), and he enjoys ordering a drink at restaurants — although he definitely doesn't do it all the time.
For a few bucks every now and then, he adds a considerable amount of enjoyment to his life — the perfect little splurge if you ask me!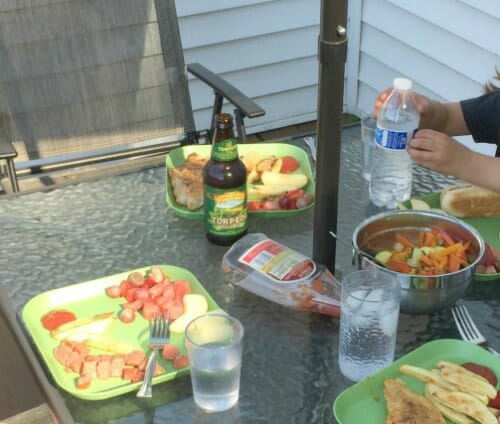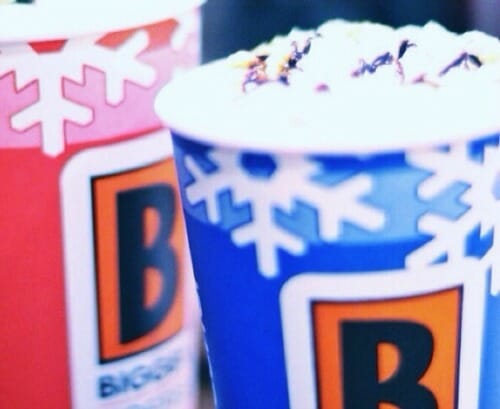 4. House/Yard Projects:
I still can't believe it's been exactly SEVEN years since I first saw our current home for sale on Craigslist. It was much more expensive than anything we wanted to buy at the time… but it was the PERFECT layout, the PERFECT location, the PERFECT setting, and it had the most beautiful front porch I'd ever seen.
It was THE house for us and I knew it. The trouble was, I was much too frugal to ever spend more than our budgeted amount for a house — especially a house that would need TONS of work.
So we waited… and (long story short) we eventually got the house PLUS an extra lot for $60,000 less than their asking price. Yay us!
Since then, we have put much more than $60,000 into the house and the yard, but we have paid cash for every single project, we have enjoyed (almost) every single project, and we now have our house set up exactly how WE want it for our lifestyles.
I'm certain we spend considerably more than most people on house and yard projects — but if we didn't enjoy the process, we would have never purchased this house in the first place. And, as I mentioned above, we don't have any other expensive hobbies — we just fix up our house!
We have friends who choose to live in a very small apartment because they'd rather spend their money traveling around the world and love the low-maintenance aspect of apartment living. They have experienced amazing things and have put their money to good use… but so have we — just in a different way.
5. Entertaining:
As I've mentioned so many times already, Dave and I would MUCH MUCH MUCH rather have people over to our house than go anywhere else — especially in the summertime when we can enjoy all our outdoor space.
I won't say we are the best hosts in the world (although we are getting better all the time) but we do enjoy planning events and hosting parties, and we don't mind spending extra to feed and entertain our friends and family.
During the summer months especially, I keep our extra fridge stocked with juice boxes, bottled water, several varieties of soda, and adult beverages. We keep the freezer stocked with popsicles, fudgesicles, freeze pops, ice cream sandwiches, and other frozen treats for special summer-time snacks when friends are over.
I also stock up on paper products, easy appetizer foods, and frozen burger patties so I'm almost always ready for a quick cookout with friends.
I'm often asked for tips to entertain on a budget — and while I do always try to find deals and plan frugal meals, I also don't worry about spending quite a bit of extra money on food and beverages for various parties and events we offer to host.
That said, I almost never spend any money on party 'decorations' — just food and drink because I feel that's what people enjoy more than a few cute Pinterest-y decorations 🙂
6. Special Food Treats:
One of my most favorite ways to splurge just a little is to stop and get the kids lunch at Arby's totally out of the blue, or buy them special juice boxes at the grocery store "just because".
Sometimes I'll just let them pick whatever they want as a special treat — sometimes it's raspberries and mangos, sometimes it's a package of candy or fruit snacks. I definitely don't do this every time we head to the store, but boy do the kids love it!
And speaking of food treats, I'm certain we go out to eat far less often than most people; however, we have actually been going "out to eat" more over the past couple of years than ever before. We get Arby's and Culver's once a month and often get pizza a couple times a month. We almost always eat it at home, but if we bring the kids to the restaurant, they get so excited 🙂
We still always use coupons and it's rarely more than $15 for our entire family to enjoy a special treat (and for me to enjoy the night off of cooking) so I'd say that's worth the splurge!
Dave and I rarely ever go out (anywhere) just the two of us… we'd much rather stay home. However, we sometimes order curbside to-go from Applebees or On The Border for a special treat, or sometimes I'll bring home Culver's custard when I get free text message coupons and we'll eat it after the kids are in bed.
I realize the splurges I listed above wouldn't be "worthwhile" splurges for some of you — but you might also choose to splurge on completely different things than we would.
The point is, we're splurging on things that are enjoyable for US, for our family, for our current state of life, for our current preferences… and things that fit our budget.
Of course, paying down debt, building our investments, and padding our savings are all worthwhile reasons to be frugal as well… but being frugal is a lot more fun when we are able to regularly enjoy the "fruits of our frugalness"!
I have a feeling we will always live fairly frugal lives. However, I'm glad we figured out a way to do it with a little more MODERATION!