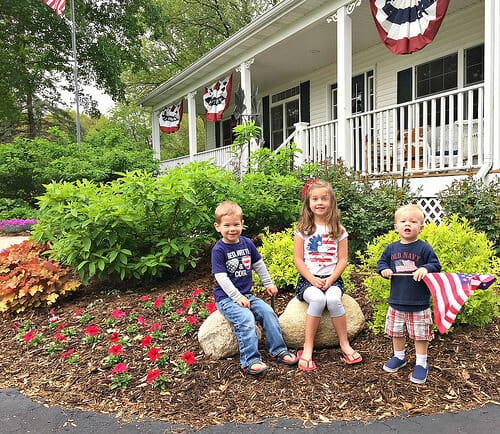 I usually don't share many photos of our yard in the spring because everything is just starting to come up and most of the perennials aren't blooming yet.
However, after planting a bunch of annuals 2 weeks ago, so many of you have asked for pictures!
Although the plants are all still very small and the annuals need to fill in A LOT, I figured it might be fun to share a handful of spring pictures — and then follow up with the same areas later this summer or fall to see how much bigger everything got!
As you can see, the only blooming plants right now are Bleeding Hearts, Salvia, Deutzia, Azaleas, Rhododendrons, and Dianthus. Our Roses, Iris, Astilbe, Lilies, and Peonies are SOOOOO close to popping open and then our yard will be filled with color.
Of course, we have other summer and fall blooming flowers too — but I'm anxious for all the spring blooms to actually start blooming. I'm sure it doesn't help that last week's weather was unseasonably cold.
Oh, and some of you asked for the types of annuals I plant… I usually stick with Begonias (the kind that can tolerate full sun), Vinca (sun), Impatiens (shade), and some Petunias (sun to shade). We also usually plant Marigolds (sun) around our vegetable garden and I always "splurge" on a few bright red Geraniums to add little pops of color throughout our various planting beds.
So far, we've had pretty good luck with all of these annuals as I read they are resistant to rabbits and woodchucks (which are our biggest threats!)
Happy Memorial Day!