What We Decided For The Landing Area!
posted by Andrea | 08/21/2017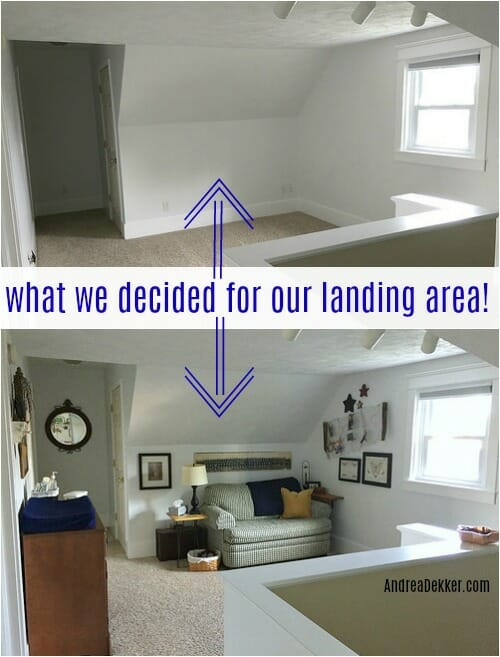 I'm back with the finished landing area — and I'm so happy with how it turned out!
In case you missed it, here's the post I wrote 2 weeks ago — asking for opinions as to what we should/could do with this wide open space.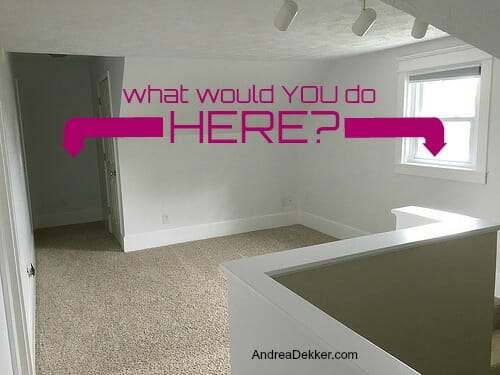 After reading through ALLLLLLLLL your suggestions, Dave and I totally changed our minds as to what we wanted to do with this space.
We decided that we really did need a place for adults to sit comfortably while kids played (especially if I'll be holding, feeding, and changing a new baby up here).
There's a good chance this space will continue to change and evolve over the next several years… but I honestly think this mini makeover fits our family's needs perfectly right now!
Here's the video tour:
If you're reading this via email or feed reader, click here to watch the video. 
Here are a few more pictures:
The view when you walk up the stairs.
Our new little sitting area.
As I mentioned in the video, we found this cute little "mini loveseat" on Craigslist last week and it just fits our space perfectly. I knew I didn't want to waste time putting a single chair up here — because with 4 kids, I'll always have someone who wants to sit next to me, sit on my lap, etc. etc. However, we didn't really have room for a traditional loveseat if we wanted to have a little table on each side.
So this "mini loveseat", as we're calling it, is just the perfect fit. I can easily sit here with all 3 kids and a new baby in my lap 🙂
Here's a look out over the entire landing area.
I'm standing in the boy's bedroom doorway looking back towards the bathroom area (by the circle mirror).
Standing at the opposite end of the room (by the bathroom), looking out over the landing area and down the stairs.
We could eventually see mounting a smaller TV on the half wall where the magnet board is, but not for a few more years.
Here's a closer look at the photo collage wall over the stairs.
And here's the changing table area.
As I mentioned in the video, the needlepoint work is from my Grandma who passed away several years ago. I found frames for a few of her pieces at our local thrift store last week (only $1.50 each!)
We're currently storing diapers, wipes, and James' pjs in the top drawers — with plenty of room left for tiny newborn diapers soon enough!
We have blocks, legos, and stuffed animals in the cabinets below.
A few before/after photos:
As with most of the rooms and spaces in our home, this space has come A LONG way since we first purchased the house almost 7 years ago!
Below, I shared a sequence of 4 before — progress — progress — after photos:
the original photos from the day we moved in (brown sponge paint)
the pictures of our playroom (blue walls)
the current "after" photos from just a few days ago.
Standing at the top of the stairs, looking back towards the bathroom area. 
.
Standing by the bathroom, looking back towards the stairs and the boy's bedroom. 
.
Standing by the boy's bedroom, looking out over the entire landing area. 
.
As I mentioned above, I'm sure this space will continue to evolve and change as our family needs evolve and change — but for now, it seems to be functioning very well for our needs!
And yes, I'll keep you posted if we decide to change it up again!