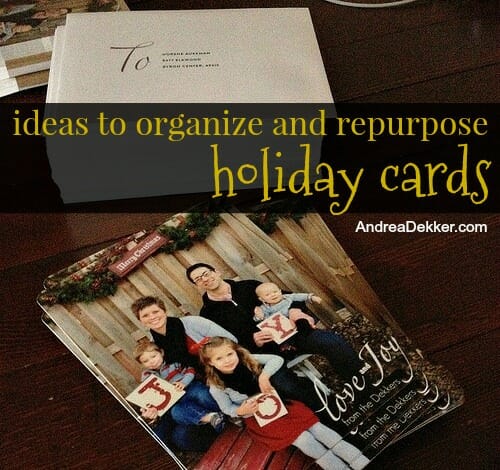 Dave and I just got our first holiday card in the mail last week (it was a Thanksgiving card) and I know Christmas and New Year's cards will be making their way into our mailbox soon enough.
As I've mentioned before, I really enjoy the whole process of sending out holiday cards — and of course, I love receiving holiday cards from other too. However, there is always the question of what to do with all those cards AFTER the holiday season is over.
I personally don't want extra paper 'clutter' in my home, but at the same time, I often feel guilty throwing out cute pictures and thoughtful holiday cards. If you can relate, I hope today's post offers a few ideas to help you organize and repurpose your old holiday cards!
What I Do With OUR Own Family Cards:
Ever since Dave and I have been married, I've saved one copy of each Christmas/New Year's/Holiday card I sent out. I keep them filed in our filing cabinet. I also take pictures of the fronts and backs of the cards and put them into our yearly digital photo albums.
I definitely don't think it's necessary to keep a copy of your own family's cards each year, but our kids do really like looking back at the old photos, and I like being able to quickly reference old designs and layouts I used.
What I Do With Cards We Receive:
We LOOOOOVE getting holiday cards in the mail… and we display them all on the large white post in the middle of our kitchen.
It's the PERFECT spot to display our cards because we see them all season long, all our guests can look through them, and our friends and family get to see their cards on display whenever they come over.
Eventually, we take the cards down and make a big pile. We look through them together one last time, and then I let Nora (and now Simon) practice cutting out all the individual people and pictures on each card.
They thoroughly enjoy this process and often save some of the pictures of their cousins or friends.
Then we recycle the "scraps".
I know this might seem a bit wasteful, but I promise, we really DO enjoy the cards all season long — I just don't want to keep them forever!
That said, I don't think it's the worst use of space to hold onto old holiday cards, especially if you're more of a sentimental person.
A Few Creative Ways to Organize and Repurpose Old Cards:
Take pictures of all your holiday cards (or scan them in) and incorporate them into a digital photo book.
Punch a hole in the cards, put them on a ring, and label each ring by year. Then get out all your cards every holiday season and have fun looking back on past years' cards.
Put all the cards in a large basket/box/container, pull one card out every day (or every week), and pray for that person, family, or organization.
Cut the fronts off of decorative cards and reuse them to make other cards or gift tags (if you're crafty)
String them together to form a "Christmas Card Garland" and hang it around a doorframe, your fireplace mantle, or up a stair banister.
Cut out individual pictures from photo cards and use them as gift tags (so you know who each gift is for).
I'm sure there are SO many other ways to organize and repurpose old cards — and I'd love it if you shared any of your ideas in the comments!
What do you do with your old cards?