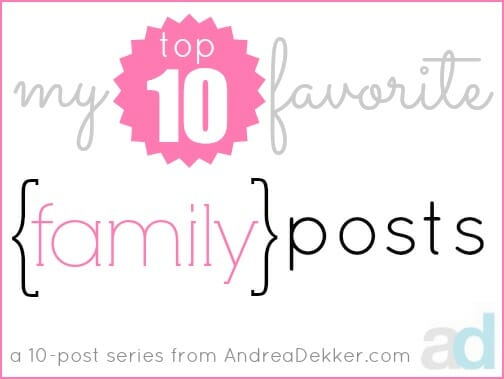 As I planned ahead for the arrival of baby Simon, I thought it might be fun to resurrect some of MY favorite posts from the past 3.5 years of blogging. I'll be publishing this 10-post series during the 4 weeks after his birth (read all the posts here).

I hope you enjoy reading (or re-reading) these posts as much as I'll be enjoying the extra snuggles, books, smiles, and naps with Nora and Simon!
The Family category of my blog has quickly grown to be my favorite category to write for — probably because everything I write is so personal.
It was actually REALLY hard for me to narrow down my top 10 Favorite Family Posts — so I did include a few extra links if posts were related 🙂
Here are my Top 10 Favorite Family posts — in no particular order.
I wrote this post less than 3 months after becoming a mother — and little did I know how much harder it would get! However, at the time, I also didn't realize how truly difficult Nora was as a baby. I also didn't have a whole lot of confidence in my mothering abilities and I was just SO overwhelmed.
Related posts:
.
This post is a year old now — so obviously things have changed a bit since I first wrote it — but it's still fun to get a little peek into our every-day life!
I'm guessing that in a few more months I'll need to write an updated "day in the Dekker house" post documenting our life with 2 kiddos!
.
I couldn't make a Favorite Family Posts list without including Nora's birth announcement post, her birth story post, and her 12 months of growth photos.
You can also read my post for Nora's first birthday and my post for her 2nd birthday.
And because I already finished Simon's birth story, I'll include that link too 🙂
.
This post was really difficult for me to write — or maybe just difficult to publish. However, the overwhelming positive responses and support I received from so many people I've never met was totally worth it!
We have made SO much progress with Nora's eating, sleeping, and over-all super sensitivity that it was very gratifying for me to read back over this and see just how far we've come in the past 6 months.
.
For Nora's baptism, she wore the same dress I had worn 26 years earlier. We were also able to get a "replica" 4-generation picture on the same day. It was a really special memory which is why this post made my list!
.
Seriously… this post is SO good, you just have to read it!
Dave totally surprised me (probably one of the only times I've truly been 100% surprised in my entire life thus far) and it was an awesome proposal all captured on film!
.
I was an EXTREMELY involved and active person before we had kids — in school, church, community organizations, family, friends, etc. I was busy and I loved it. Then we had Nora and I had to start turning down awesome opportunities, saying no to worth-while causes, and putting aside all those fun things I liked doing just for me.
It didn't take long for motherhood to start making me feel like a failure as a person.
If you can relate, I hope this post will lift those feelings of failure and help you realize that what you are doing is so SO important!
Related posts:
.
Who knew parenting would be so much work! Seriously 🙂
If you've ever felt completely run-down, discouraged, worn-out, or like you simply can't make it another day… read this post!
Related post = Don't Forget the Big Picture

.
This post was SO fun for me to write — and is honestly one of my favorite posts ever! It's not every day that I shower Dave with praises, so this post was definitely a well-deserved gift for the man I've loved for a decade already!
.
This is the most recent post on my list — but it's one of the most honest posts I've ever written here on the blog — and I really couldn't make my Favorite Family Posts list without including this post.
.
So that's my list…
Which family posts are your favorites?