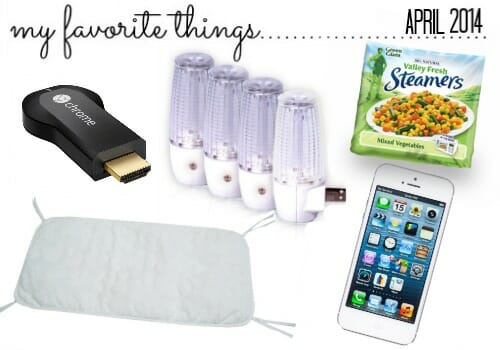 Here are a few of my favorite things for the Month of April — it's a REALLY random list, but all things I'm totally loving right now!
As always, be sure to check out some of my favorite things from past months.
DISCLOSURE: None of these products are sponsored in any way; however, some of the links below are affiliate links — which means I may get a VERY small percentage of the sale if you make a purchase through my links. However, I hope you know that I'm only promoting the products below because I use them EVERY SINGLE DAY in my own home and life! Read my full disclosure policy for more information.
ChromeCast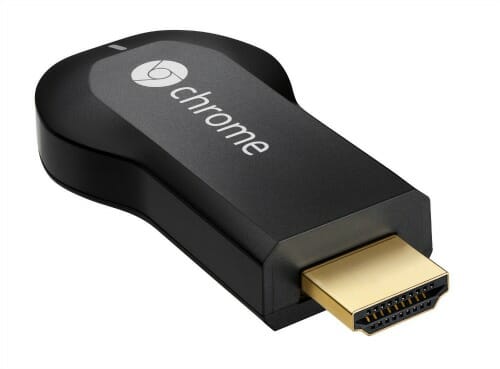 Dave and I purchased ChromeCast about a month ago, and I can't tell you how much that $35 purchase has revolutionized the way we watch TV.
To be perfectly honest, we DON'T watch a whole lot of TV — just a few PBS programs for Nora in the morning, maybe part of a Rachel Ray episode for me if one (or both) of the kids are sleeping on me during the afternoon, and then the news at night. Dave watches sports as well, but we've never been huge TV watchers because we don't have a lot of free time and we refuse to pay the big bucks for premium channels.
When we first got married, we just used an antenna. Then when we moved to our farmhouse, we couldn't do that, so we got SUPER BASIC cable — like 15 channels and only 6 or 7 of them show anything decent. That has worked for us for the past 3 years… but then my sister told us about ChromeCast and how we can stream anything on YouTube (and tons of shows on the internet) from our phones, our iPad, or our computers directly to our TV.
It's pretty sweet!
I should also mention that we only paid $1.00 for our ChromeCast because I ordered it through Staples.com with Staples Rewards money I had — definitely worth a $1 investment. And there is NO monthly fee with ChromeCast — just the one-time fee to purchase the device that plugs into your TV.
Right now, we've just been watching free shows on the internet (our top choice is This Old House.) We can watch an entire season of This Old House in a few hours if we really want — no commercials, no waiting, just one 21 minute episode after another from the start of a project through the end!
As you can tell, I'm pretty excited about this — which is why it's on my favorite things list this month!
We're considering starting up a Netflix membership as those shows and episodes can easily be streamed to our TV as well… but we're holding off for now since we don't have much time to watch TV and the free internet programs are fine.
.
Sheet Saver Spit-up Mats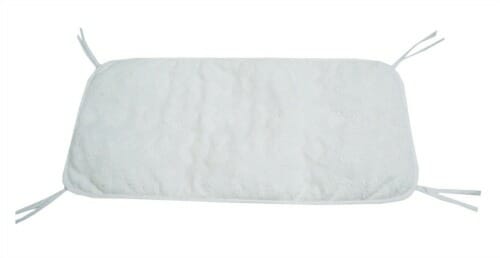 Yes, that is the "technical term" for it 🙂
These sheet-savers are one of the smartest things I ever purchased before Nora was born! I purchased 2 of them for about $25 total (the link above is more expensive, so maybe the prices have gone up) and I can honestly say I would have paid double that price now that I know how much time and energy they save me.
Basically, whenever I put Simon down for a nap, I lay his head on the sheet-saver mat (he's so small right now, I can actually lay his entire body on it). Then, if he spits up or pees/poops through his clothes while sleeping, all I need to do is untie the sheet-saver and toss it in the wash. No need to lift up the mattress, remove the sheet, and then replace the sheet again.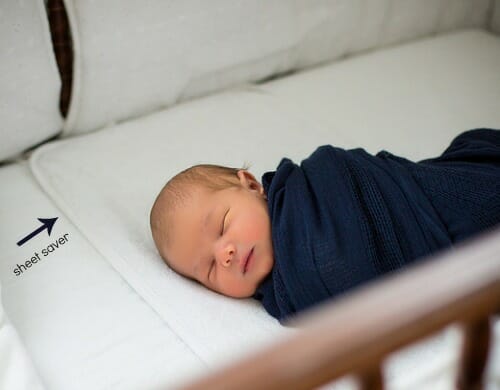 Once he gets older and starts moving, I realize this won't work as well — but I do have 2 layers of sheets/mattress pads in his crib already, so if I do need to change the sheets in the middle of the night, it won't be that big of a deal. But for now, this is still MUCH easier!
.
Steam-in-the-Bag Veggies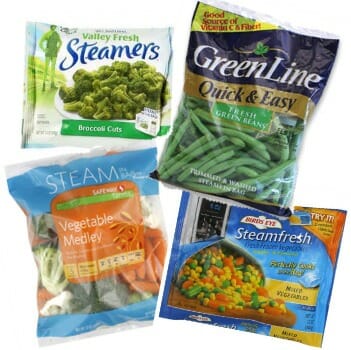 I realize this is a little odd for my "favorite things" list — but the steam-in-the-bag veggies (either fresh or frozen) have become one of my new favorite things over the past few months.
I've purchased both the frozen veggies and the fresh veggies that can simply be microwaved right in the bag — which makes dinner time THAT much easier. No washing, chopping, pealing, cooking, etc. required — and the "steaming process" usually only takes 4-8 minutes total.
Obviously, these veggies are a little more expensive than fresh or canned veggies, but I've been able to get bags (or boxes) of steamable veggies for around $1 when they go on sale (and sometimes less when I have coupons). I'd definitely say that's worth it for the amount of time, effort, and mess I save myself!
Also, they have REALLY come in handy as we've been blessed with SO many delicious meals from church, family, and friends since Simon's birth. Often times, we'll get a main dish, bread, and dessert but no veggie (which is fine — we're VERY grateful for the meals). However, if the meal doesn't come with a vegetable and we don't feel like having salad, I'll just throw one of these bags in the microwave for a few minutes… and our meal is complete.
.
LED Night Lights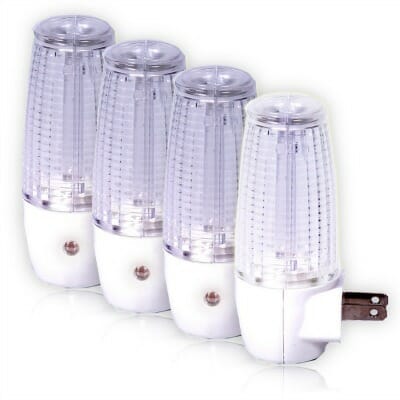 Since Dave and I are both up several times during the night with various children, we've been using night lights to illuminate our walkways since Nora was born. We have a night light in all our bathrooms, in Simon's room, in Nora's room… and now, at the top and bottom of our staircase (since Nora's new room is upstairs).
Before I got smart and found the LED night lights, I was literally changing night light bulbs every week. I figured there had to be a better way so I did a little research and found LED night lights.
The LED bulb uses much less electricity — AND they last forever. We've had the same night lights for months and months now with no issues.
Also, I have since found LED night lights with on-off switches (I couldn't find them on Amazon), which is nice for some of our darker hallways where they would otherwise stay on all day.
.
Smart Phones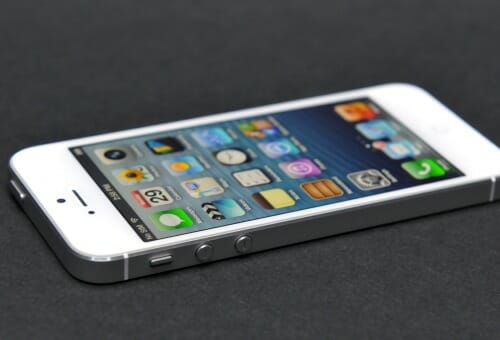 I know I've talked about our iPhones before — and I 100% realize that smart phones are not a life necessity — but they really are one of my favorite things.
After 6 years of VERY basic (very inexpensive) flip phones with no data package or text messaging, Dave and I finally splurged for iPhones about 2 years ago… and honestly, we would NEVER go back.
Even though we got our iPhones for free with a 2-year renewal (we got the older models), I will be the first to admit that it's still totally ridiculous that we spend an extra $29.99 per phone, per month for the data package. However, for the amount of productivity these phones give me, it's worth every penny.
UPDATE: I just got about 30 emails and a ton of Facebook messages asking how we get phone service for $29.99. Our bill is actually more like $128 per month — but the data package is an extra cost of $29.99 per phone per month.
I check and respond to emails, Facebook messages, and blog comments with one hand while feeding Simon or waiting in line at the grocery store. I can read books or online articles when I'm up in the middle of the night. I can view the Meijer ad, make my grocery list, and clip online coupons while I snuggle with Nora for a Sunday afternoon nap. Nora can watch her PBS shows or do FaceTime with my sister while I sit next to her working on my computer.
And yes, I have a few games that I like to play too (Spider Solitaire is my favorite).
I realize that technology can potentially be addicting and a huge time-suck, but I honestly feel like my productivity has gone up (a lot) since we switched over to smart phones… so yes, they are definitely one of my favorite things!
.
That's all for me this month.
Make sure you check out my previous months' favorite things — and feel free to share some of YOUR favorite things in the comments below!