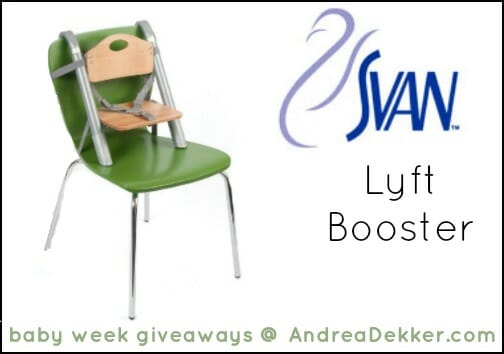 It's time to celebrate Baby Dekker #2 here on the blog, and what better way to do that than with a week of fun baby-related posts and giveaways!

Click here to view the 12 fabulous giveaways — all geared to make life with a new baby a little simpler, more organized, and more fun!
Although Nora absolutely LOVES her highchair, it's about time to start transitioning her into a booster seat — especially since we'll need the highchair for the new baby in just a few more months.
Nora is DEFINITELY not ready to sit in an adult chair just yet and she DEFINITELY still needs to be strapped in to something (unless we want to be chasing after her every 5 minutes during meal time).
So a few months ago, I started looking into various booster seats — but everything was SO bulky, so plastic, and so ugly (in my opinion). I didn't like anything I found… until I came across the Lyft Booster Seat from Svan.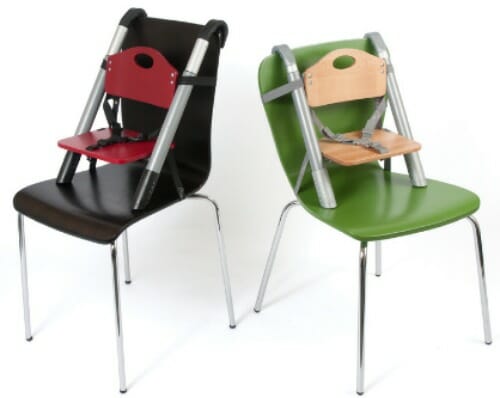 This booster seat was created with the growing child in mind and is ideal for toddlers 18 months to 5 years old — it literally grows with your child! It's the perfect seat for kids who have outgrown their high chairs but aren't yet ready to safely and comfortably sit in a chair for grown-ups (a.k.a. Nora-pants).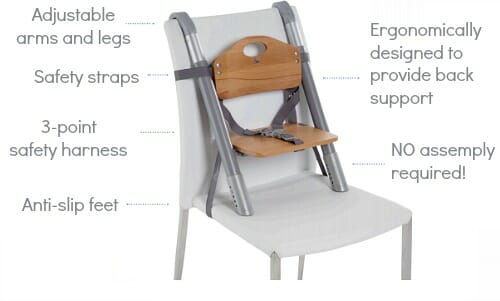 As you can see by the diagram above, the Lyft booster seat is ergonomically designed for small children with tons of adjustments and special features — but it's also super functional and stylish.
Best of all, the lightweight construction is durable and folds compactly for storage or travel (a big plus for me!)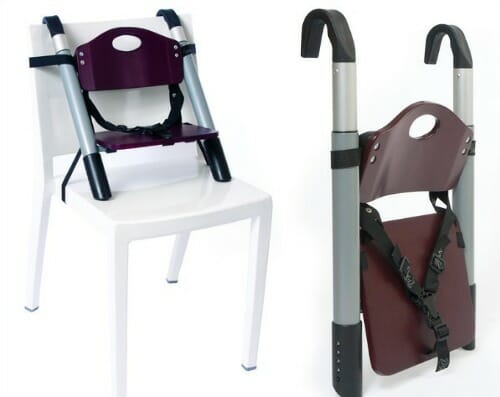 So far, Nora seems to be loving her new booster seat — and hopefully by the time the new baby is ready for a highchair, Nora will have no trouble letting him use "her high chair" as she still calls it!
More about Svan:
Svan of Sweden began in 1996 with the Svan High Chair, designed by two dads! They have now expanded to create a line of beautiful, quality products for the whole family to enjoy.
Svan's smart, contemporary designs make caring for children easier, and allow parents to focus on the important things — like precious family time.
Visit Svan on the web:

Website: www.svan.com
Facebook: Svan
Twitter: @svanbaby
Pinterest: Svan Baby
YouTube: Svan Baby
Enter To Win This Giveaway!
Today, one lucky reader will win the Lyft Booster Seat from Svan!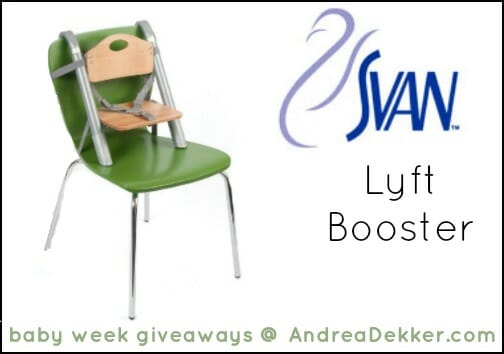 To enter, simply use the Rafflecopter widget below (it might take a second to load). This is a new way of entering giveaways on my blog but it will hopefully make things easier for me AND simpler for you!
First, enter your name and a valid email address (so I can contact you if you win) and click "log in" (you are logging into THIS specific giveaway, and I will be the only one who sees your email address.) Next, click "Enter to Win". Finally, click the big green ENTER button!
a Rafflecopter giveaway

All baby week giveaways end at 11:59 pm EST, Sunday, 2/16/2014 and are open to US residents, 18 years or older. The winners will be randomly selected via Rafflecopter and notified via email. I received a duplicate prize package in exchange for hosting this giveaway — but all opinions are 100% my own. Please see my full disclosure policy and contact me with any questions you have. Good luck!