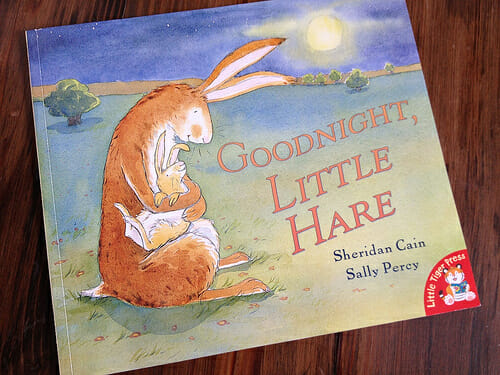 A couple months ago, my mom gave Nora a new book, Goodnight Little Hare.
The book is about a very sleepy baby Hare (my mom has given Nora several "sleeping" books in attempts to get her to sleep more!) It's one of Nora's favorite books — probably because the illustrations are so fabulous.
We read it at least once every day, sometimes 8-10 times a day — and Simon will probably have it memorized by the time he's 3 months old 🙂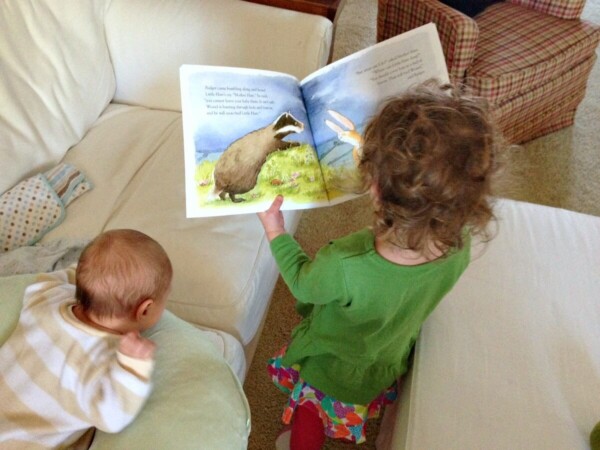 The book starts out with the mother Hare putting the baby Hare to bed. She lovingly tucks him into his bed of hay… only to have a Badger walk by and say, "that's not the best place for your baby to sleep, you should dig a hole for him".
So the mother digs a hole, but then a Mole walks by and says, "that's not the best place for your baby to sleep, you should put him in a bed of leaves."
So the mother gathers up a bunch of leaves, but then a Black Bird flies by and says, "that's not the best place for your baby to sleep, you should put him in a nest."
So she puts her baby in a nest, but then the baby is scared… so the mother takes him down.
At this point, the mother Hare is completely worn out and feeling totally defeated. All she wants is for her baby to have a place to sleep — but by trying to please everyone else and listening to everyone else's opinions, she just ends up running around in circles and getting all stressed out.
Thankfully, a wise Owl flies by and comforts the mother Hare. He encourages her to simply think about how her mother put her to bed when she was a baby… and basically empowers her to do what SHE feels is the "best" way to put her baby to bed.
She ends up laying her baby back in the bed of hay — just as she was planning to do way back at the beginning of the book. Her baby immediately falls asleep and she sits there peacefully, watching him sleep.
I realize I'm totally reading into this book (after all, it's just a cute little children's book) but the first time I read this book with Nora, I felt so much empathy for the mother Hare. I wanted to tell her, "It's OK, you're a good mother. Just do what YOU think is best for your baby."
I honestly felt sad when I saw the picture of her slumped over and defeated — so worried about trying to do what everyone else told her to do that she didn't trust her own instincts.
I know just how she feels — because I felt that way for the first year of Nora's life. I felt so overwhelmed with my role as mother, and I honestly just wanted someone else to have all the answers for me.
I tried everything others suggested… the only problem was that so much of those outside suggestions contradicted each other.
Your baby should sleep on their back… but sleeping on their back can cause flat spots on their heads, so they should actually sleep on their stomach… but sleeping on their stomach isn't safe.
Breast feeding is best… but unless you use bottles, you'll end up with a clingy baby who can't be away from you.
You shouldn't hold your babies too much, you'll spoil them… but you can't ever spoil a baby so you might as well hold them.
Your baby needs to learn how to self-sooth, so they should cry for a while… but "crying it out" is an awful solution, so you really shouldn't let them cry.
Starting solid foods around 4 months is appropriate… but it really is best to wait with solid foods until after the first year to prevent possible allergies.
You should only feed your babies every 3-4 hours… but feeding on demand is really the best method as you don't want to starve your child.
You should have your babies vaccinated… but vaccinations are evil, so only horrible parents allow vaccinations, but you're also horrible if you don't get your child vaccinated.
Co-sleeping is the way to go… but sleeping with your baby is really dangerous so you should never do it.
I could go on and on.
The list of contradictory advice I've received over the past 2 years is enough to make my head spin and my mind wander with all the ways I'm certainly failing my children by doing the "wrong" thing.
I realize that much of the advice was from well-meaning friends and family, but the fact that it was so contradictory (and the fact that I have a type-A personality and always want to follow the rules) made it so much more difficult for me to figure out just how I should handle my new role as mother.
It was a steep learning curve — and I still have SO much learning to do — but I can not tell you how much more confident and relaxed I feel with Simon versus Nora. I've done the tiny baby thing, it was hard, really hard, but I made it through and Nora isn't totally messed up.
The baby phase is still really hard for me — but at least this time, I know enough to trust my own instincts and not worry so much about what everyone else tells me is the right way. I also know that in about year, we'll be past this stage and into the much more enjoyable toddler stage.
Even I can deal with the tiny baby stage for a year 🙂