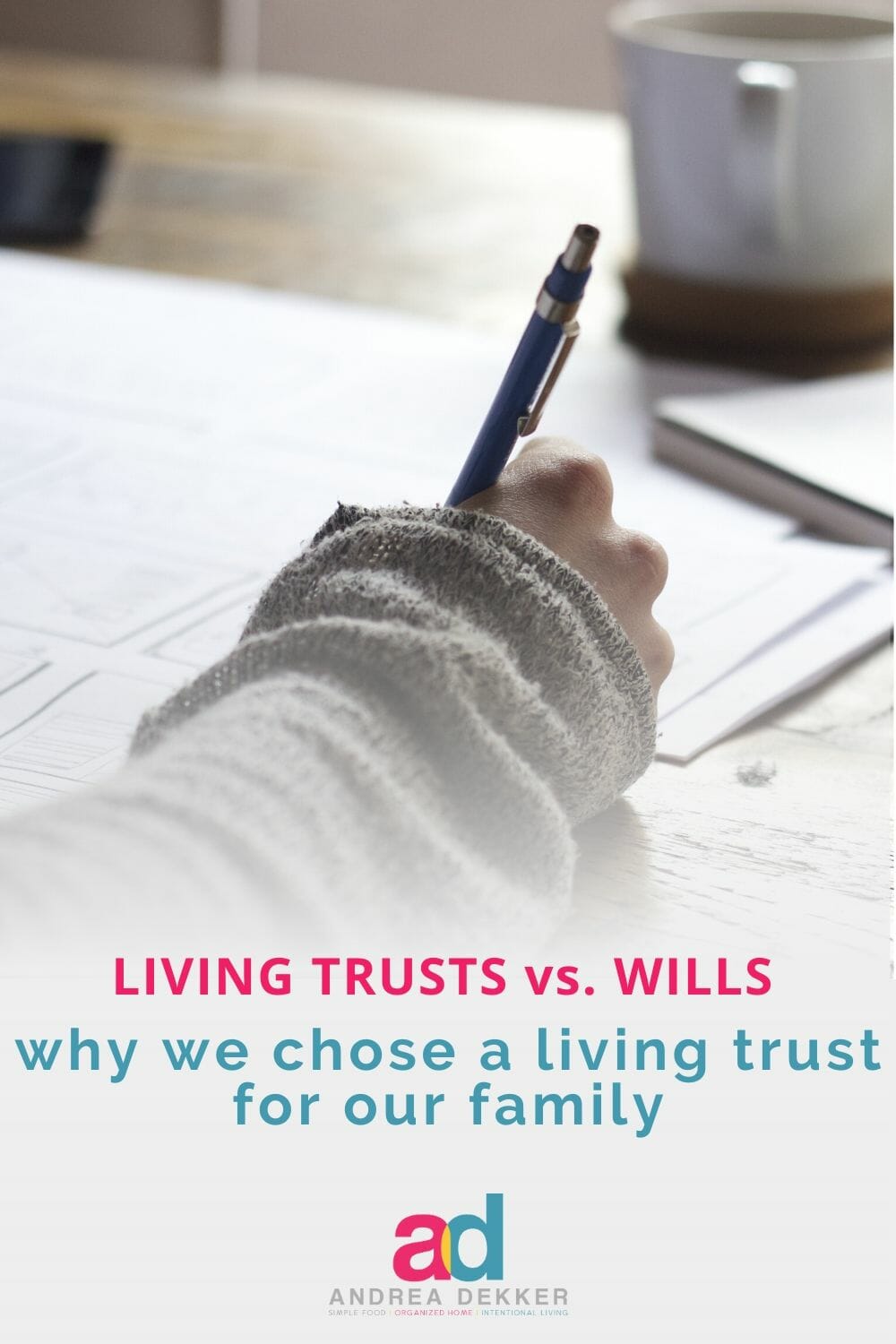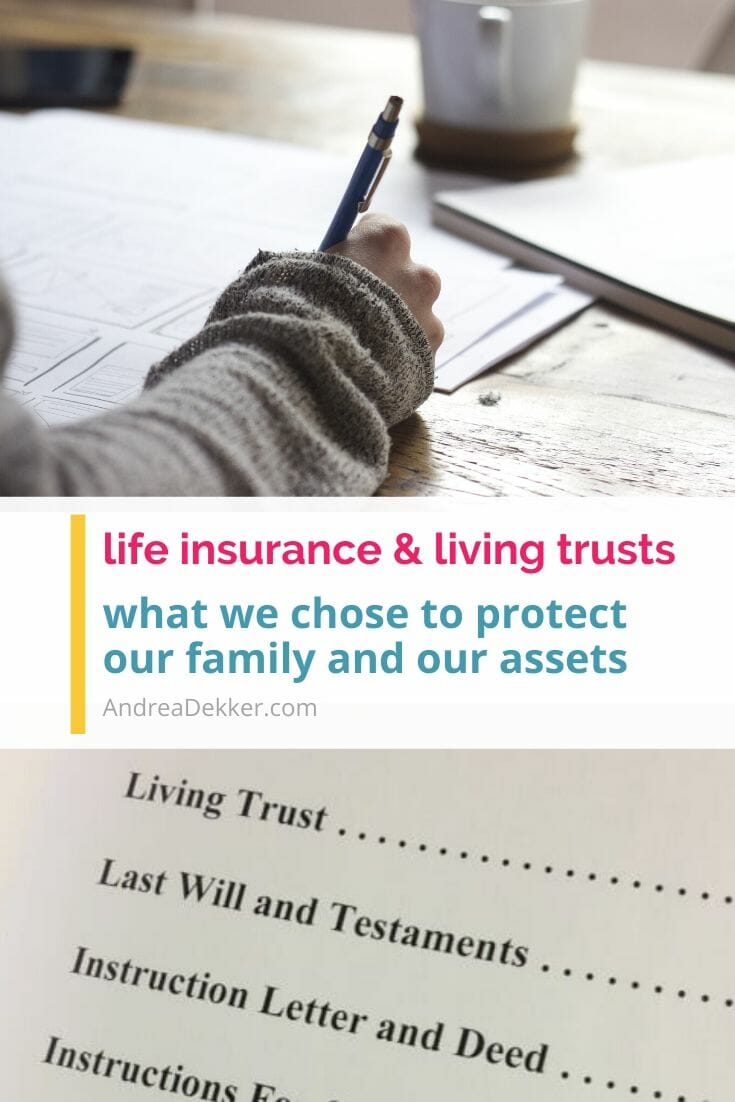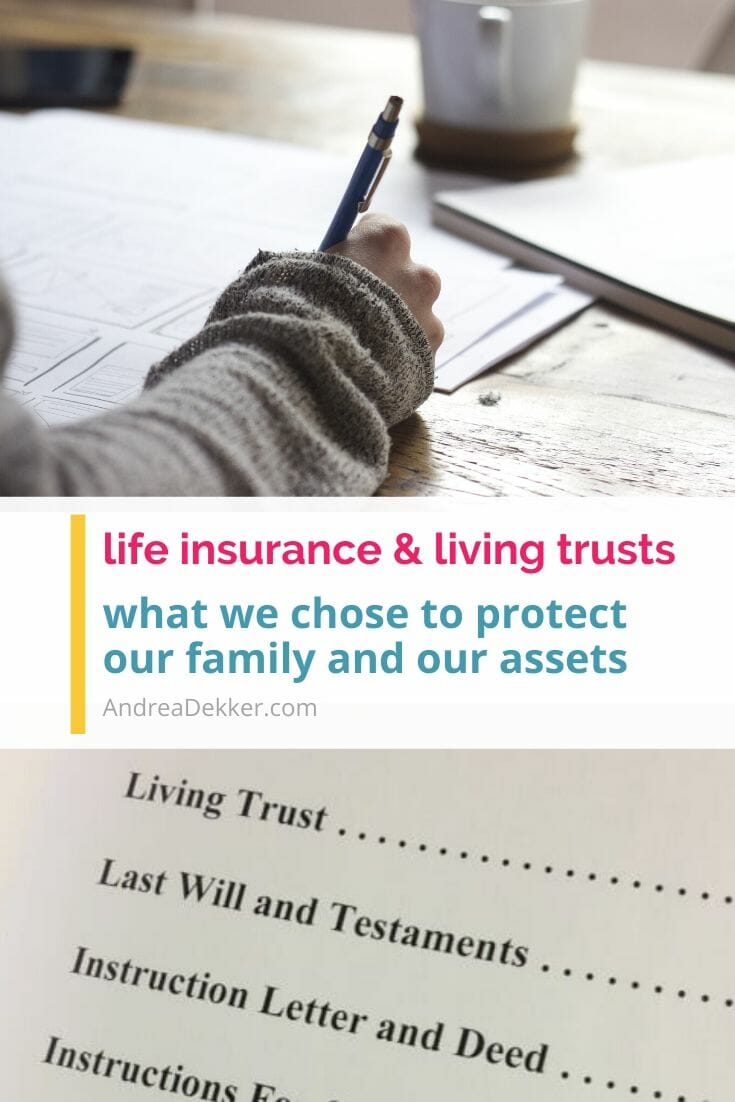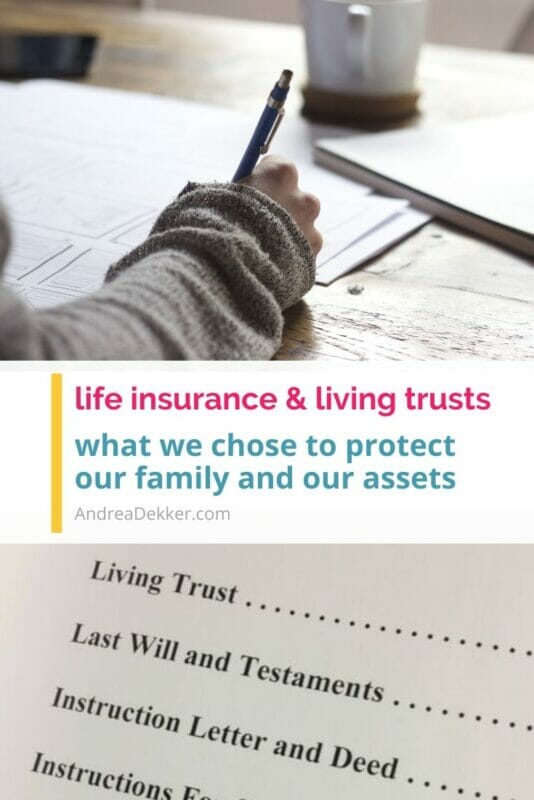 Most couples I know have some sort of "to-do-before-baby" list — often places they want to visit and things they want to experience before having children.
Dave and I also had a "to-do-before-baby" list way back when… but ours wasn't quite as "fun". 🙂
Three of the main things we wanted to do before having children were:
Create an Important Information Binder
Buy Life Insurance
Set up a Will and/or Living Trust
Exciting stuff — I know!
I've already shared more about our Important Information Binder (I have a free printable you can use to create your own binder).
This post shares more about our experience setting up Life Insurance and a Living Trust.
DISCLAIMER: I am not a professional. Please seek the guidance of a trained attorney before making any final decisions.
I know so many people who are overwhelmed and stressed out about the process of buying life insurance or setting up a Will… and what the heck is a "Living Trust" anyway!?!
Dave and I felt the same way, and honestly, we were pleasantly surprised when we realized how simple and painless the process actually was!
If you're intimidated by life insurance, wills, living trusts, and the like, I hope I can encourage you to seek out a bit more information, find an attorney to answer your legal questions, and start the process of setting these important "safeguards" up for you and for your family!
Life Insurance:
Dave and I both purchased a $250,000 life insurance policy shortly before Nora was born. Since Dave and I made about the same income at the time, we each purchased the same policy and even now, we feel confident it is more than enough if something happens to either Dave or me.
The Set-Up Process for Life Insurance:
The process involved contacting our financial investor, deciding on how much we wanted our policy premium to be, getting a health exam (a nursey actually came to our house) and signing a few papers.
Seriously, it was SO easy!
The Cost:
The cost for Life Insurance varies WIDELY based on age, health, lifestyle, amount of the policy, etc. etc.
We pay $250 per year for BOTH of our policies combined — and although we can cancel at any time, the policies will automatically expire after 30 years.
The thought process behind this is that in 30 years, we won't have dependent children anymore so if something happened to us at that point, we wouldn't need extra funds to support a family.
Also, since our mortgage is already paid off and we don't plan to take on any other debt, we won't need extra funds to keep us afloat once all the kids are out of the house.
A few things to think about if you're considering life insurance:
The younger and healthier you are, the less expensive the policy will be. The yearly premium should remain the same for the full 30 years — so it's a huge savings to buy your policy earlier in life.
It's not a bad idea to get life insurance before you have children — however, I feel it's absolutely necessary after you have children.
If you're a stay at home parent or someone else who doesn't necessarily get a paycheck every week, I still highly recommend some type of life insurance for yourself. Even though you don't technically bring home a paycheck, the cost of all the work you do each day could potentially break your budget if something happened to you and your spouse had to either quit their job or hire someone to do everything you do!
The money from a life insurance policy is meant to SUPPLEMENT your income in the event of an emergency — not to live off from for the rest of your life so you probably don't need a huge, expensive policy.
That said, it might be smart to get a slightly larger policy if you have a big family, if you're the main/only income for your family, if you have considerable debt, or if you're currently living paycheck to paycheck with no savings or emergency fund.
I highly recommend working with someone face-to-face to set up your life insurance — and of course, work with a reputable company. I'm not sure I'd trust an online company or someone I didn't know well.
I feel it's smarter to set up a policy with a yearly payment versus a large lump-sum payment. Not only does it defray the costs a bit, it also gives you the ability to cancel at any time without losing out or being penalized.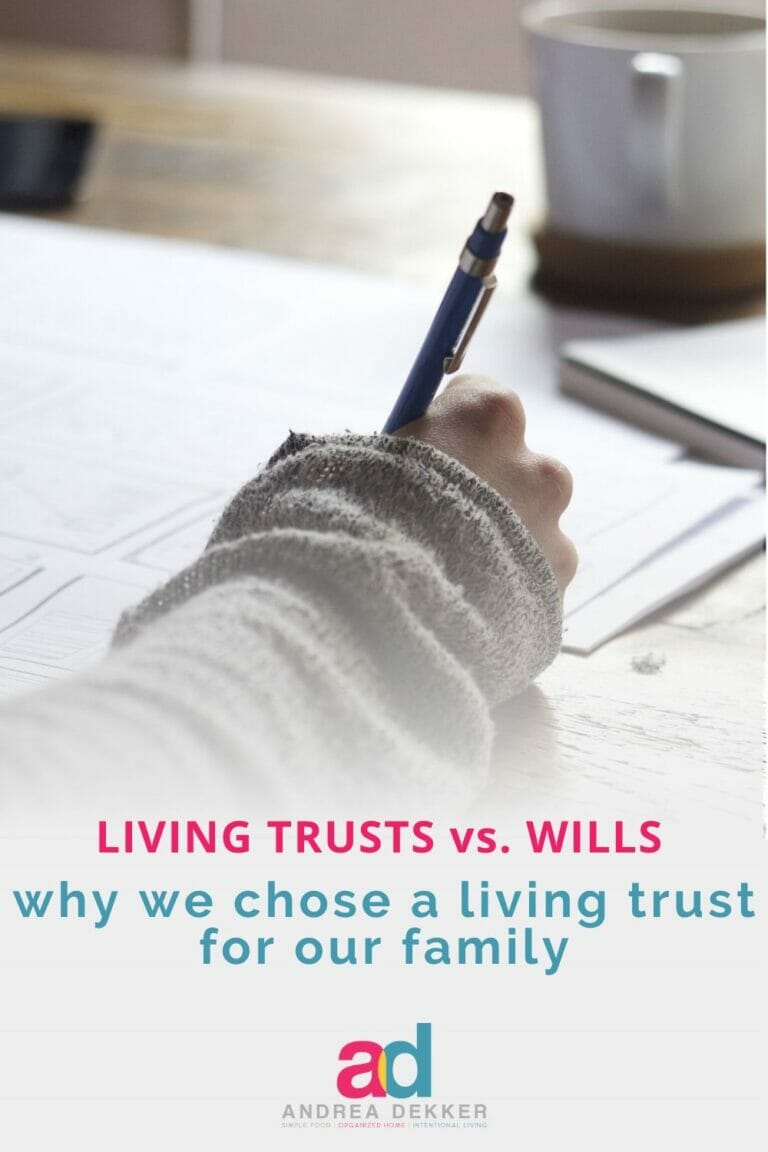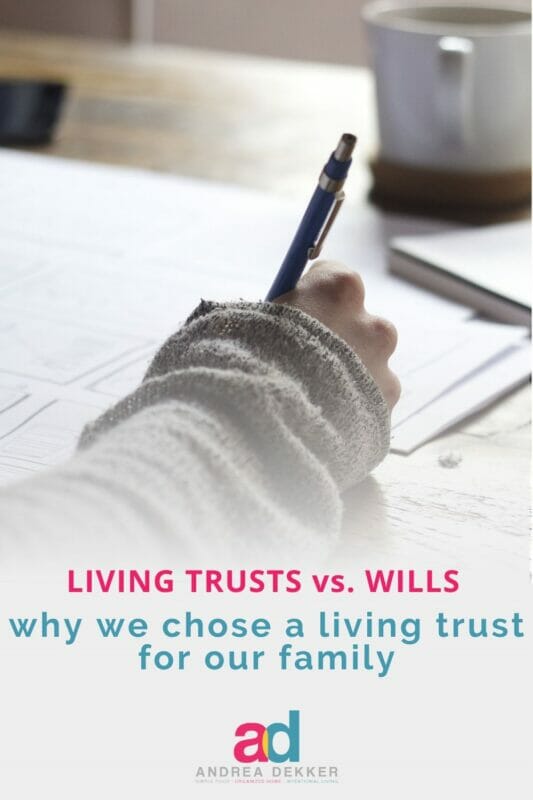 Living Trust:
Before we even get started here, I just want to note that I honestly don't know a lot about Wills or Living Trusts — which is why we paid a professional to set ours up for us (money well spent!)
To clarify, a Living Trust is NOT the same thing as a Will.
They both have similar aspects — as in they both dictate where your assets will go in the event of your death.
A Living Trust basically does everything a Will does… it just makes the process faster, simpler, and easier (all positives in my opinion).
The Set-Up Process for a Living Trust:
In order to set up our Living Trust, we met with a local attorney for roughly 1 hour, provided him with a bunch of important legal documents, waited for him to create our Living Trust, and the signed a bunch more papers.
After we had our actual document, we needed to give copies to various family members, and collect signatures from some family members too.
We then needed to bring signed letters to our bank, our investment agency, and a few other places (our attorney provided us with everything we needed).
It took less than 1 month from start to finish and was fairly painless.
The Cost of a Living Trust:
A Living Trust is a bit of an expense to set up (usually over $1,000) and there's more paperwork involved up-front too.
The Benefit of a Living Trust:
The main benefit of a Living Trust is that it avoids the expense and delay of probate court, which could take up to 3 years to reconcile.
So, in the event that something happens to Dave and me, our family members will IMMEDIATELY have access to our children and our other assets without fighting for them in court and without our children potentially going into foster care for up to 3 years (seriously, I can't even imagine that!)
This is the main reason we chose to spend the extra time and money setting up a Living Trust. For us, it was a no-brainer as we don't want to put any extra stress on our family members or our children.
Like I mentioned above, I'm not an expert (we just paid an expert) so if you want to see an "at-a-glance" chart on the advantages and disadvantages of both a Will and a Living Trust, this article should help.
A few things to think about if you're considering a Living Trust:
If you have children and can afford it, I HIGHLY recommend going with a Living Trust versus a Will.
Find an attorney you trust and can work with face-to-face — not over the internet.
Feel free to "shop around" and ask for attorney recommendations from friends and family.
Don't be afraid to ask lots of questions if you don't understand something or if you're confused. If the attorney makes you feel dumb for asking questions or tries to beat around the bush, he/she is probably not the right attorney for you.
Once you get your Living Trust set up, there is very little (if any) regular maintenance involved.
Obviously, we hope the time and money spent on all this legal business is totally wasted… but it's definitely nice knowing everything is in order "just in case".
I breathed a sigh of relief after we signed the final paperwork for our Life Insurance and Living Trust.
I realize it's not a fun thing to think about, but Dave and I both feel it was/is important to have these things squared away and systems in place "just in case".
We needed to know that we did as much as possible to make it super easy for our extended family to "take over" if we're not around.
What are your thoughts on Life Insurance, Wills, Living Trusts, etc.?