Why We Have Life Insurance and a Living Trust
posted by Andrea | 04/24/2014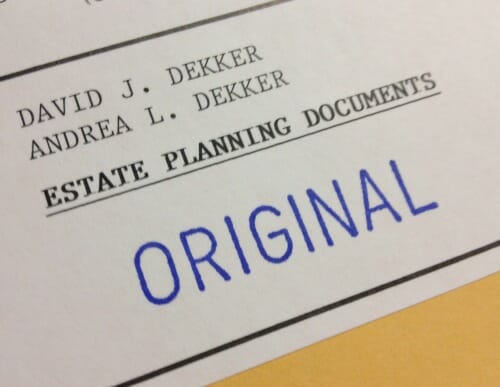 Back in January, I shared my "to-do before baby list" as motivation AND accountability for me to cross all those items off before Simon arrived.
Side Note: I'm happy to say that I was able to cross off every single item (except making his baptism outfit out of my wedding dress). I have the pattern all cut out, I just need to get my butt in gear and actually sew the outfit before his baptism on Mother's Day!)
If you read my list, you'll see that one of the items still listed as "in progress" at the time was setting up our Living Trust. At the time of the post we had started the process with a local attorney, but hadn't fully completed everything yet.
I'm happy to report that we finalized all the details and signed all the paperwork a couple weeks before Simon arrived. Then I breathed a sigh of relief knowing that all our "ducks" were in a row and that if anything ever happens to Dave and/or to me, our kids, our finances, our house, and all our other assets will be "protected" by the terms and conditions of our Living Trust.
If something should happen to Dave and/or to me, it will be VERY easy for our immediate family members to get access to all our finances, our home, our vehicles, our life insurance, any of our other assets… and most importantly, our children. They won't have to go to court to get custody of Simon and Nora, they won't have to jump through hoops to have access to our financial accounts or to be able to sell our house, and they won't have to wonder what we might have wanted — it's all there, written up in black and white.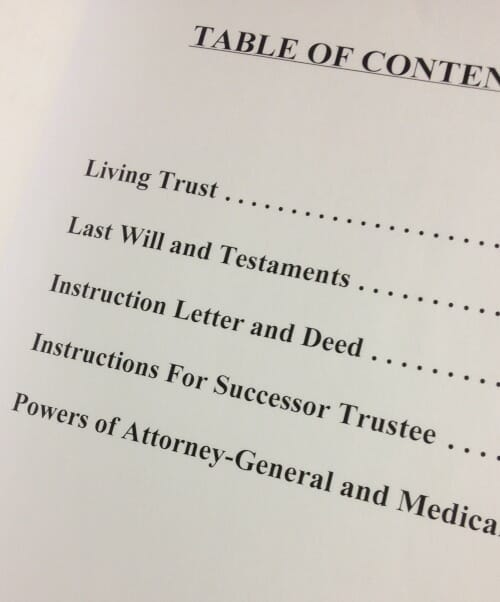 After I shared this to-do list here on the blog, I got several emails asking for more details about how/why we set up the Living Trust, when/why we got Life Insurance, etc. etc. — and while I'm clearly not an expert in any of this legal business, I thought it would make a good blog post topic.
So today, I'm simply going to share what WE did and why. I am in no way implying that you should do exactly what we did… because these types of legal business should definitely be handled on a "per-case" basis and (in my opinion) by professionals.
Life Insurance:
Many of you asked if we had life insurance… and what my thoughts are on this topic.
Dave and I both purchased a $250,000 life insurance policy shortly before Nora was born. Since Dave and I both made about the same income, we each purchased the same policy and we feel confident it will be more than enough if something were to happen to either Dave or me.
We pay approximately $250 per year total for BOTH of our policies combined — and although we can cancel at any time, they will automatically expire after 30 years.
The thought process behind this is that in 30 years, we won't have dependent children anymore so if something happened to us, we wouldn't need that money to support a family anymore. Also, our mortgage will certainly be paid off by then, and we hopefully won't have any other debt to pay off. Plus, this money is just to SUPPLEMENT our income. For example, if something happened to me, Dave would keep working and the Life Insurance money would just be extra to cover funeral costs and then invest to help cover the lack of income from me.
That's what WE do… here are a couple more things to think about if you're considering life insurance:
The younger and healthier you are, the less expensive the policy will be — so I definitely don't think it would be a bad idea to get life insurance before you had kids — however, I feel it's absolutely necessary after you have children. I know I greatly appreciate the peace of mind it gives me.
If you're a stay at home parent or someone else who doesn't necessarily get a paycheck every week, I would still highly recommend some type of life insurance for yourself. Even though you don't technically bring home a paycheck, the cost of all the work you do each day could potentially break your budget if something happened to you and your spouse had to either quit their job or hire someone to do everything you do 🙂
It might be smart to get a larger policy if you have a very large family, if you're the main/only income, if you have a lot of debt, or if you're living paycheck to paycheck.
I would definitely suggest working with someone face-to-face to set up your life insurance — and of course, working with a reputable company. I'm not sure I'd trust an online company or someone I didn't know well.
Personally, I feel it's smarter to set up a policy with a yearly payment versus a large lump-sum policy. Not only does it defray the costs a bit, it also gives you the ability to cancel at any time without losing out or being penalized.
.
Living Trust:
 Before we even get started here, I just want to note that I honestly don't know a lot about Wills or Living Trusts — which is why we paid a professional to set ours up for us (definitely money well spent!)
Some of you might be wondering if a Living Trust is the same thing as a Will — and the answer is 'no'. They both have similar aspects — as in they both dictate where your assets will go in the event of your death. A Living Trust basically does everything a Will does… it just does it a lot faster and easier.
A Living Trust is somewhat expensive to set up (usually over $1,000) and there's more paperwork involved up-front, BUT a Living Trust avoids the expense and delay of probate court, which could take up to 3 years to reconcile. So, in the event that something happens to Dave and I, our family members will IMMEDIATELY have access to our kids and our other assets without fighting for them in court and with our kiddos potentially going into foster care for up to 3 years (seriously, I can't even imagine that!)
This is the main reason we chose to spend the extra time and money setting up a Living Trust. For us, it was honestly a no-brainer — if something does happen to us, we don't want to put any extra stress on our family members or our children — and going to foster care, hiring lawyers, and going to court to get access to our assets certainly sounds stressful to me!
Like I mentioned above, I'm not an expert (we just paid an expert) so if you want to see an "at-a-glance" chart on the advantages and disadvantages of both a Will and a Living Trust, this article does just that.
That's what WE do… here are a couple more things to think about if you're considering a Living Trust:
If you have children and can afford it, I would HIGHLY recommend going with a Living Trust versus a Will.
I would most definitely want to work with a person face-to-face — not over the internet.
I would suggest "shopping around" and asking for recommendations from friends and family for good attorneys in your area.
Don't be afraid to ask lots of questions if you don't understand something or if you're confused. If the attorney makes you feel dumb for asking questions or tries to beat around the bush, he/she is probably not the right attorney for you.
.
Obviously, we hope the time and money spent on all this legal business is totally wasted as we certainly don't want anything to happen to Dave or to me… but it's definitely nice knowing everything is in order "just in case".
I breathed a sigh of relief after we signed the final paperwork for our Living Trust. I felt like we did as much as we possibly could to make it super easy for our parents and siblings to "take control" if we're not around anymore.
I realize it's not a fun thing to think about — but Dave and I both feel it was/is important to have these things squared away and systems in place "just in case".
What are your thoughts on Life Insurance, Wills, Living Trusts, etc.?
Oh, an along the same lines, here's a post I wrote about how we organized all our important documents like our Living Trust.