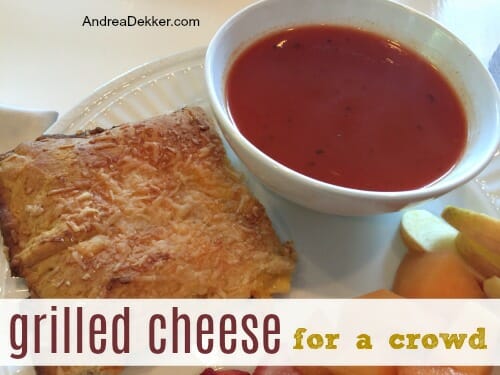 Although I still can't get my kids to eat tomato soup, they are HUGE fans of grilled cheese sandwiches — actually, they love anything with a lot of cheese!
So, in an effort to mix things up a bit from the traditional cheese + bread, I decided to try using crescent roll dough and baking the grilled cheese in the oven.
It was SO fast and was SO much easier than buttering 10 slices of bread, monitoring and flipping 5 sandwiches, and trying to serve them before they get cold, but also before they get too brown for my kids' liking.
If you are looking for a super quick weeknight meal, a fun appetizer for an upcoming party, or just a really easy way to make grilled cheese for a crowd, this recipe should work well for you!
Recipe for Grilled Cheese for a Crowd
serves 8 — I made a half batch for our family and for the pictures in this post
INGREDIENTS:
2 T. softened butter
2 packages (8 oz each) refrigerated crescent roll dough
10-15 oz. cheese — I used medium cheddar and colby jack but any flavor should work (sliced or shredded work best)
1/4 c. grated parmesan cheese
a sprinkle of garlic powder (optional)
DIRECTIONS:
Preheat oven to 375ºF.
Put 1 T. of butter in the bottom of a 9″ x 13″ pan and put in the oven as it preheats to melt the butter.
Once the butter is melted, press 1 package of crescent roll dough in the bottom of the pan — making sure to seal any seams.
Layer cheese on top of dough, and then top with the 2nd package of dough.
Spread 1 T. of butter over the top layer of dough and sprinkle with parmesan cheese and garlic powder.
Bake in preheated oven for 15-20 minutes or until dough is browned and cheese is gooey.
Serve and enjoy!
NOTE: as I mentioned above, I only made a half batch for our family and made it in a 9″ x 9″ pan — so the pictures in this post show a half batch.
See… SO easy!
If you're planning to serve it as an appetizer, I would cut the "sandwiches" into breadstick-like strips and serve with marinara sauce. In fact, you could even put pepperoni inside with the cheese for a pizza/breadstick appetizer. YUM!
It's so soft, cheesy, gooey, and delicious — not to mention it takes less than 30 minutes from the time I pull the ingredients out of the fridge until food is on the table!
Do you have a favorite grilled cheese "recipe"?
Visit my virtual recipe box for more simple, delicious, family friendly recipes!