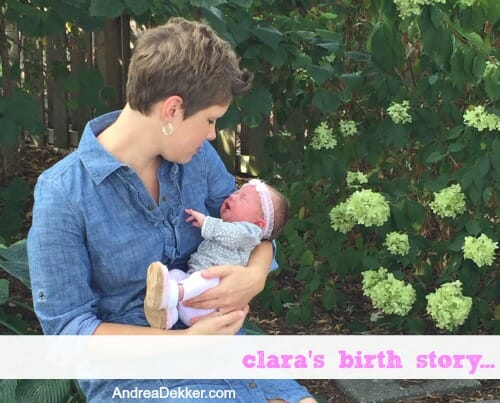 After TWO solid weeks of daily contractions — sometimes lasting for several hours at a time, I woke up on Monday, September 25, completely unphased by the fact that I felt more contractions.
No big deal, just another day of waiting… or so I thought!
Dave had a half day of school due to crazy hot temperatures, so the plan was to meet him at Culver's for a fun lunch with the kids.
As the morning progressed and the contractions continued, I decided I'd better do a couple loads of laundry (just in case!)
Then, after Culver's, I had Dave take the kids home and I stopped by the grocery store to pick up a few essentials — again, just in case!
I never said anything to Dave about my contractions until about 4:00 in the afternoon as I was getting dinner ready. I decided to make dinner AND breakfast for the next morning, since by this time, I was almost positive I'd be in the hospital before breakfast time.
I got everything ready for Nora to go to school the next day, everything ready for my sister to spend the night, and everything ready for the rest of the family for breakfast. Then I took a shower while Dave fed the kids dinner (I wasn't in the mood for pork chops and mashed potatoes!)
We got the kids in bed by 7:00, gave my sister her instructions, and left for the hospital shortly before 8:00pm.
Potentially the last pregnant photo I'll ever have! Crazy!
The nurses didn't even make me go to triage based on my history of really quick deliveries (and probably the fact that I was already 41 weeks). So we went straight to our delivery room.
We got into our room at 8:20pm (I remember, because the clock said 20:20) and Clara was born at 9:57pm — so I didn't spend much time in the delivery room.
All ready to go… obviously, between contractions 🙂
Another "between contractions" photo.
I had my favorite doctor and the best nurses. We were all chatting as we waited for Clara to arrive. At one point during a really bad contraction, I can remember Dave and the doctor talking about triathlon training and how difficult the swimming part was for Dave. 🙂
Here's a photo during a contraction… Dave said he felt bad taking my picture, but I told him I wanted a picture of me in labor because I don't have any with the other kids.
Apparently, since I have such quick labors, my contractions are REALLY close together and REALLY intense. At one point, I had 3 long, hard contractions back-to-back-to-back… and then I was ready to push.
Two big pushes, and about 1 minute later, Clara was here!
Dave went back home around 11:00pm, so my sister didn't even have to spend the night and our kids never knew anything was going on until they woke up the next morning. I was hoping the older 3 kids would be sleeping when we had the baby — and they were!
Even though she was a full week late, Clara really had perfect timing!
As I mentioned before, Clara was my tiniest baby — at least as far as weight goes. She got down to 6 lbs. 10 oz. before we left the hospital, but popped right back up in weight only a few days later.
She's been gaining weight well and eats like a champ!
And just like that, we have FOUR kiddos!
My sister, Dave's brother, our parents, and our kids visited us the next day (Tuesday) — and from Tuesday morning until I went home Wednesday afternoon, I enjoyed peace and quiet while snuggling Clara, binge-watching The Gilmore Girls on Netflix, and ordering room service.
It was glorious!
My recovery went so well too.
The nurses kept asking me what my pain level was, and I felt so weird saying "0" or "1". I didn't even need pain medicine and I actually slept really well in the hospital too.
Besides the fact that I had to move a little slower, I really felt very "normal". It was so strange for me, but I wasn't complaining!
.
Ironically, my favorite part of this story is the "going home" part… and not because I didn't LOVE being in my quiet hospital room for 2 days!
You see that smile on my face? That's the first time I've ever been able to smile on my way HOME from the hospital.
With all my other babies, I cried as they wheeled me out to my car… and sobbed the whole drive home. I couldn't help it, I just cried and cried and cried, even though I was happy.
For the last month, I've been dreading the day I leave the hospital because I know how crappy I felt with all my other kids. Honestly, my one wish for this pregnancy was that I could be happy when I brought my baby home… especially since it might be my last one.
And I was!
I haven't even shed one tear!
So what's the difference?
I basically begged my doctors to let me start taking the anti-postpartum-depression medication 3 full weeks before Clara was born. I took a half dose every day until she was born, and then switched to a full dose that day… it worked wonderfully!
In the past, I started taking the medicine once the baby was born, but it requires a good 2 weeks to start working, so I still felt awful those first 2 weeks. I finally got "smart" and started taking it before the baby arrived — I'm sure that's what made all the difference this time around.
A Few More Clara Pictures
The last 2 weeks that I've been home from the hospital have gone so much better than I could have ever expected.
Not only do I feel great physically and mentally, I've also been doing a really good job of resting and relaxing whenever I can. I've been going to bed right after Clara goes down for the night (usually between 8 and 9pm) and resting for a bit in the afternoon while she naps and the boys watch a TV show.
I've even taken several naps on the weekends when Dave is home — he's been so helpful with the older 3 kids!
Taking time off from working has been fabulous too. I love that I'm able to check in a couple times a week, and then keep my computer off the rest of the time. It's very freeing.
We've been savoring many of the freezer meals I made ahead of time, using up restaurant gift cards, and enjoying a few meals from friends and neighbors, so I've hardly cooked at all.
I've also hardly left the house at all! Dave stopped to pick up a few groceries for me last week, and I stopped in to get more produce and milk this week, but other than that grocery trip and one appearance at church, I've just been home — and it's been nice.
Seriously… I love this photo so much!! Classic "first bath baby freak-out"!
Clara is fairly fussy, especially in the evenings… and she wants to eat ALLLLLLLL the time.
So far, I can't interest her in a pacifier — but I'm not giving up yet! 🙂
She takes pretty good naps during the day and usually has at least one 4-hour stretch at night, but I'm definitely still "behind" on sleep — which isn't really that abnormal for a mother of 4 young kids!
We had family/newborn pictures taken 1 week after she was born (my sister took the pictures above on my cell phone) and I can't wait to get the pictures back from the photographer. I'll be sure to share several of them once I have a chance!
I'm taking it easy for the rest of the month, and then I should be back to full-time blogging in November!
Thanks for sticking with me!!