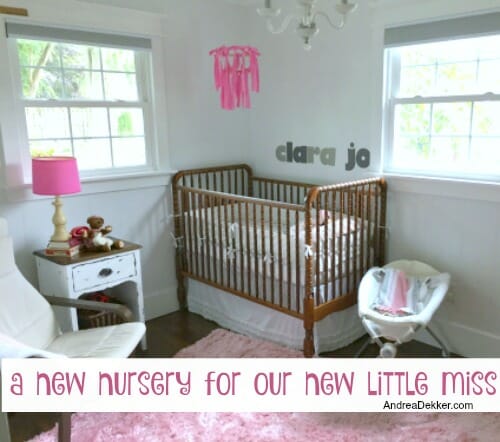 I've been waiting (not so patiently) to share Clara's mini nursery makeover on the blog… and today is the day!
I technically could have shared this post over a month ago, but I really wanted to wait until after she was born because, as you'll see by many of the photos below, we have her name on the wall and her initials in 2 places — and I wanted to include those in the pictures without "spilling the beans" before she was actually born!
I'm very pleased with how this room turned out — especially since it took minimal time and energy on my part AND I only had to purchase 2 things:
the pink rug (seriously, the softest rug ever — from RugsUSA.com)
the hoops for the doilies on the collage wall — from a local craft store
Everything else was repurposed from something I already had in the house or it's something I borrowed from a friend or relative. Even all the clothes and girly blankets were gifts or hand-me-downs!
Here's the full tour!
Walking into the room from the little hallway between our master bedroom and the nursery — looking at the changing table area.
A better view of the changing table area and the collage wall.
Each of these doilies and pieces of handiwork were done by one of Dave or my grandmas, great-grandmas, great-great-grandmas, great-aunts, etc. They all have a story and I just love how the collage turned out!
Looking towards the crib area from the doorway. The crib, table, chair, and all the bedding is exactly the same as the other 3 kids… however, I borrowed a rock 'n play this time around, and we've already gotten LOTS of use out of it!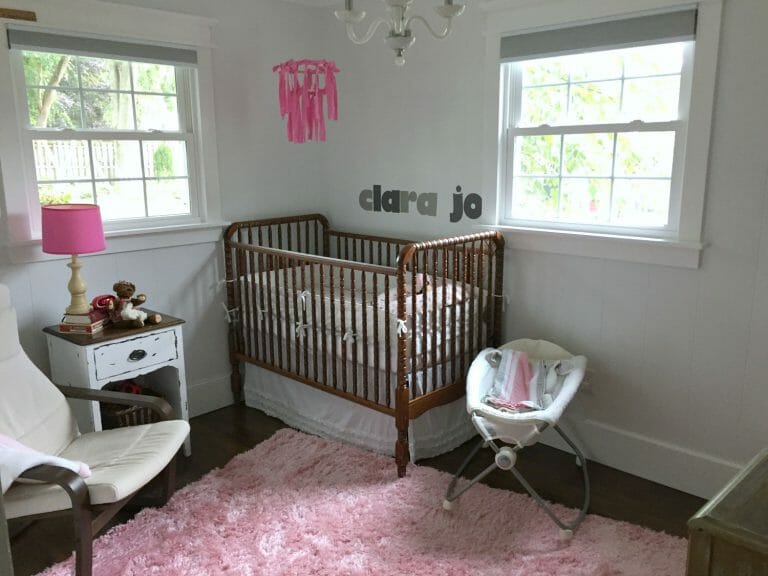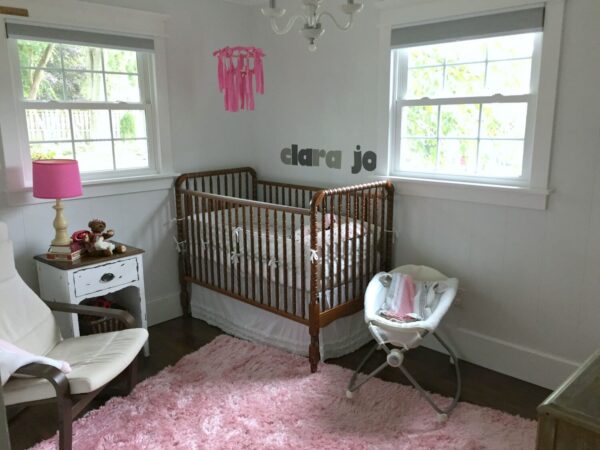 The mobile is the same hoops I used for the boy's mobile, I just took the wooden tools off and tied leftover pink fabric from dying the pink fabric for Nora's bedroom. Nothing special, but it was free, it took about 5 minutes to make, and it adds a punch of color to that part of the bedroom.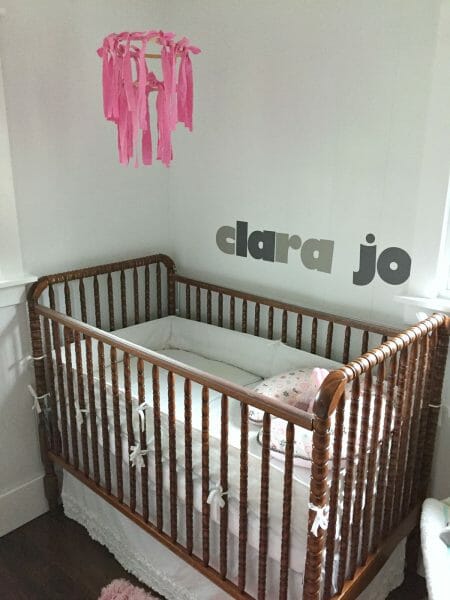 Another view of the crib and chair area — standing by the changing table.
Rotating around to the closet area.
The oval picture above the chair is my Grandma as a baby.
A peek inside her closet — so many cute clothes (ALL given to us to borrow or pass on to someone else!)
Standing by the crib, looking back towards the closet and the door to the hallway.
.
So that's the full tour of the smallest bedroom in our house!
It's the perfect size for a cute little nursery, and super convenient considering it's right down the hall from our master bedroom!
More Nursery Tours:
If you're interested, here's a look at how I decorated this room for the other 3 kiddos (this latest makeover is my favorite!)
1 week old Clara — and 1 tired mama 🙂