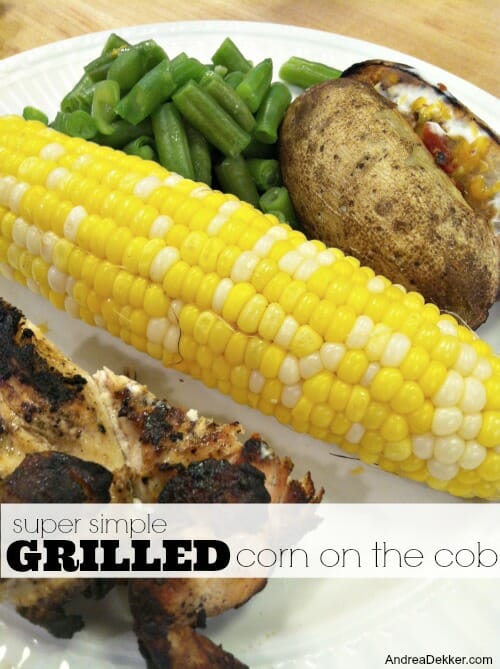 Corn on the cob is one of my favorite things about summer — and although the Michigan-grown corn isn't quite ready yet, there's been plenty of great deals on "fresh" corn on the cob at our local grocery stores.
So I've been buying it every week and looking for an excuse to make it as often as possible.
A few years ago, Dave and I tried grilling our corn on the cob… and since then, we've been hooked on the simplicity and deliciousness of yummy grilled corn on the cob.
If you've never tried grilling your corn, your mouth will be in for a treat the first time you try this recipe 🙂
Recipe for Grilled Corn on the Cob
INGREDIENTS:
several ears of corn on the cob
aluminum foil
ice cubes
butter, salt, and pepper to taste
DIRECTIONS:
Shuck corn and rinse clean
Lay each ear of corn on a separate square of aluminum foil
Place 2 ice cubes next to each ear of corn (this helps to "steam" the corn while it's grilling)
Wrap the aluminum foil around the corn and ice cubes
Put the wrapped corn directly on the grill and cook over medium high heat for 8-10 minutes.
Discard aluminum foil and slather with butter, salt, and pepper.
Enjoy!
This is the simplest method for grilling corn (at least in my opinion). It's much simpler than grilling it directly in the husks because you don't need to worry about soaking the husks ahead of time or trying to remove the husks when the corn is piping hot.
Plus, it's almost impossible to burn the corn with the aluminum foil and ice cubes protecting it!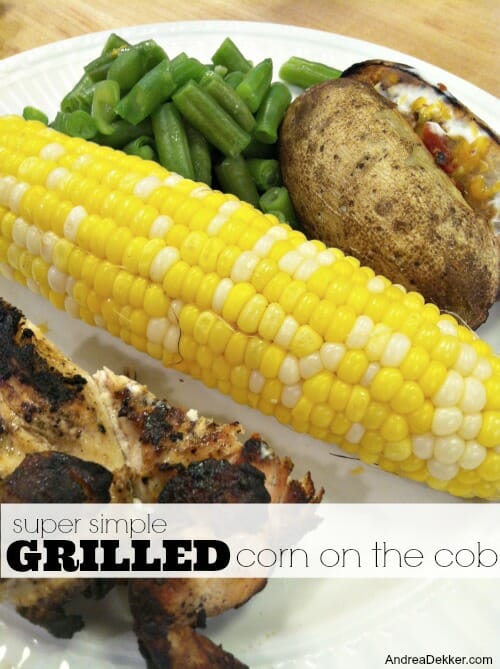 Do you grill vegetables? If so, what are your favorites!
Visit my virtual recipe box for more simple, delicious, family friendly recipes!