A few months after Nora was born, I was given the highchair my great-grandma used as a baby. One of my mom's cousins had been using it as a decoration for years and was ready to get rid of it… so she gave it to me.
At the time, I thought I could use it for Nora's highchair, but when I actually saw the chair, I decided that I didn't want to be cleaning a wooden tray every time it got messy with food. However, I had a few ideas up my sleeve for what I thought I could do with the chair, so I hung onto it.
I gave myself an 18 month deadline (because you know how much I like working with deadlines!) to do something with the chair; otherwise I would donate it to another family member. So a couple weeks ago, I brought the chair up from the basement and decided it was time to transform it into a useable, functional piece of furniture for our home.
I knew I didn't want to use the tray as it was really rickety and pretty gross… so I removed that right away (I did save it though in case I eventually want to use it).
Nora had to "try it out for size"… and then I sanded some of the really rough spots with 100 grit sand paper. It wasn't really as "rough" as it was "greasy" and super dirty though. So since I'm not a huge fan of sanding, I used denatured alcohol (my favorite pre-painting tool) to thoroughly scrub down the entire chair.
You could almost see the years of grease, gunk, and grime melt away as I scrubbed.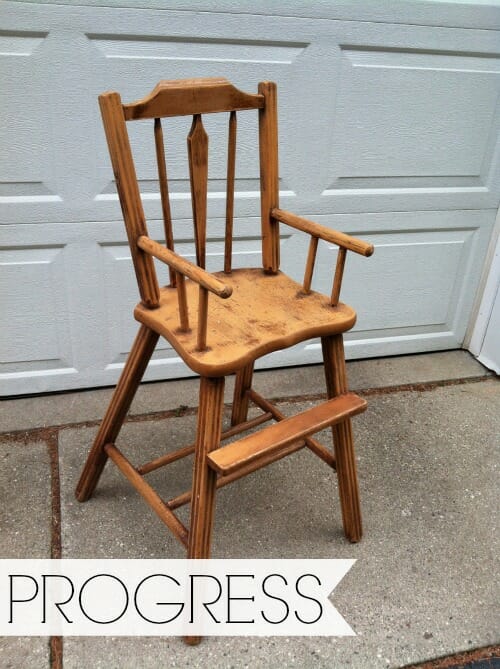 I already knew exactly what color I wanted to paint the chair — my most favorite "Awning Red". That's the same color as the red hutch in the corner of our kitchen and I thought an Awning Red chair would be the perfect opportunity for another punch of red in my white kitchen.
Don't you love the hutch? $60 on Craigslist and it was in total shambles when I purchased it — that's a story for another day though.
Anyway, after pulling out my 1/2 full can of Awning Red paint, I decided that I really did not want to use a paint brush to meticulously brush in between and around all the spindles and the legs.
I figured there had to be a spray paint that was pretty close to my beloved Awning Red… and I was right. Rust-oleum has a Heritage collection of spray paint and their Heritage Red is nearly an identical match to Behr's Awning Red.
So with two quick coats of spray paint, my great-grandma's high chair was literally transformed from gross to gorgeous in less than 2 hours.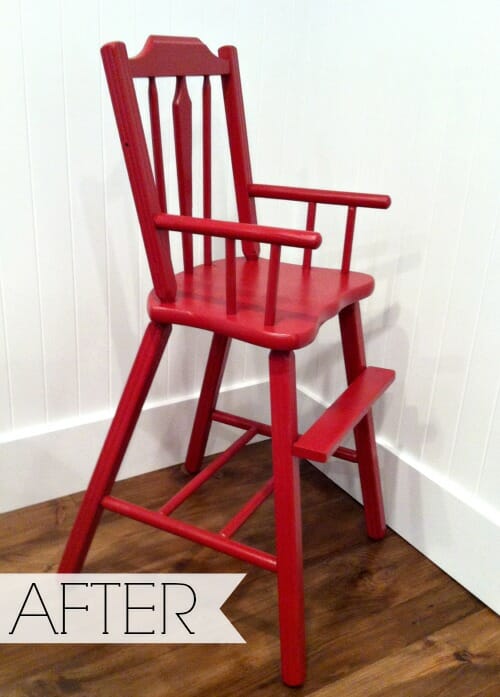 And yes, Nora loves it!
Since I posted a few pictures of the chair on Facebook the day I did the painting, I've gotten several emails and questions already — many from people who thought it would have been better to "preserve" the chair by re-staining it, leaving the tray attached, and using it as a decorative piece instead of letting Nora use (and abuse) it.
I totally get that everyone is entitled to their own opinion, and I agree that the chair will most likely get scratched and scuffed by succumbing to every-day toddler use… BUT I'm 100% OK with that.
I personally feel that if a piece of furniture is going to take up space in our home, we have to love it AND use it — and we will definitely be loving and using this super cute red chair for years to come.
I don't buy into the idea that we need to "preserve" antiques and family heirlooms, because in my experience, "preserve" means "let it sit in the basement" or "store it in a closet where no one can see, use, or enjoy it".
That's not really my style.
I don't need this chair to remember my great-grandma. I actually never even met her… but I'm told that my mom and several of her siblings and cousins also used this chair.
However, even though I don't even know my great-grandma, I bet I'll think of her more using this chair every day than keeping it perfectly preserved in the basement, in a closet, or stuffed in the corner of our living room as a decoration. Plus, won't it be fun to tell our kids that they're using great-GREAT-grandma's high chair!
If you're holding onto old family heirlooms, please don't be afraid to "alter" them in any way so you can actually use them. And honestly, if you're not going to use them, don't feel bad if you'd rather just get rid of them (if you need some motivation, here are a few posts I've written about emotional clutter!)
While I'm not extremely sentimental, I do get tons of satisfaction from repurposing old stuff into new, usable pieces — even more so when those old things have family history or a neat story!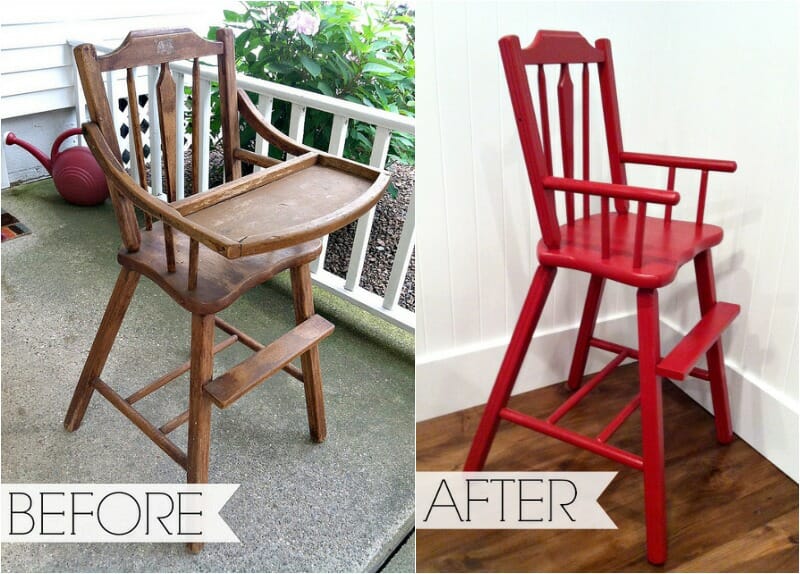 What do you think – worth my 2 hours of elbow grease?