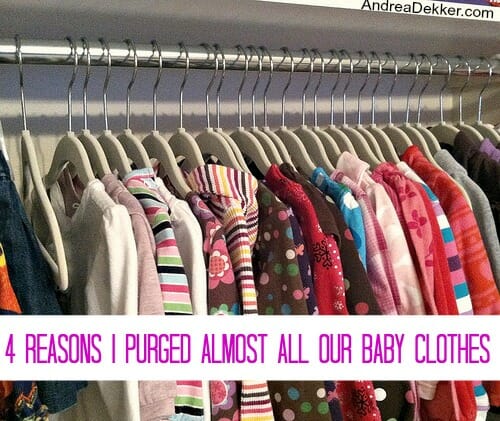 Back before I was pregnant with Nora, I would frequently organize for families with young children — and often times, a huge source of clutter for these families was the lack of storage for all their out-grown baby/kids clothing (or in my opinion, the fact that they wanted to keep way too much stuff.)
Sometimes, they did have other children to eventually pass the clothes down to, but MOST of the time, they were just hanging on to boxes and boxes and boxes of baby clothes "just in case" — using up valuable storage space in their own closets, in their kid's closets, or in the basement to do so.
I remember one family in particular. They were in the process of moving across the country, and despite the fact that her children were 7 and older, they were moving into a smaller home, and they had very limited storage space in their moving truck, the mom still refused to get rid of any baby clothes.
It was obvious that she was emotionally attached to the sentiments behind the baby clothing so I didn't push too hard, but I did decide that whenever I had kids, I would purge the majority of my out-grown baby clothing unless I had another baby who could wear it immediately after.
That might sound overly harsh, but I've pretty much stuck to that decision… and here's why:
1. I might never use the clothing again.
Yes, Dave and I would like to have more children eventually, but there's a chance we might never have another girl. And even if we do have another girl, if she's not born in the Fall like Nora was, much of the clothing wouldn't work anyway.
Or, what if we have a couple boys and then another girl 8 years from now. I can almost guarantee I'll want to get new items at that point.
I know SO many people who hang onto clothing, take up storage space in their home, move boxes to new homes, etc. and then never end up using the clothing. Then, by the time they finally decide to part with it, it's too out-dated to sell so they end up giving it all away.
Think how much time and space could be saved by simply getting rid of it right away — not to mention the money that could be made by selling the clothing when it's still in style.
2. I'll have several months to prepare for the next child.
Even if we have another child soon, I'll have several months to prepare for the birth — so it's not like I'll be caught off guard with no clothes for my newborn baby.
I'll have plenty of time to shop garage sales, borrow from friends, or find rock-bottom clearance deals at the store. Meanwhile, Nora's outgrown clothing has been used for over a year by other friends, family, and neighbors who we've either lent it out or given it too — and I've enjoyed the extra storage space in our house!
3. Babies don't need that much stuff.
Babies don't really "NEED" much clothing — especially in the beginning. Yes, it's fun to dress them up all cute, but as long as you have a handful of white onesies, socks, and sleepers (all of which I did save), you're good to go for at least the first 2 months.
After that, I can most likely find everything I needed via garage sales (for about $0.50 an item) or by borrowing from friend (see below).
4. I can borrow most of what I do 'need'.
I was fortunate to be able to borrow a whole bunch of clothes for Nora from Dave's cousin who has 2 girls a little older than Nora. And now that Nora is grown out of her clothing, we've passed most of it along to others as well. Sometimes they give it back (and then I loan it out again or donate it) or sometimes they just pass it along to someone else they know who's having a baby girl.
However, even if Dave's cousin didn't have something I needed (like a snow suit and boots) I just asked around to friends on Facebook and within a week I had 2 different snow suits for free. One snow suit went back to the original owner and I passed the other one on to a neighbor who has a girl 1 year younger than Nora.
Not only did I save a bunch of money by borrowing, I'm also saving other friends lots of money by sharing our clothing — and we're all saving tons of storage space in our homes (and keeping extra clothing out of landfills).
I realize many of you might think I'm totally crazy, but for me, it all comes back to #1 above. I simply can't justify storing something that I might never need ever again (even if I have plenty of space.)
Who knows if we'll ever have another girl.
If I knew I was pregnant with another baby girl right now, I would most likely start saving a few more of Nora's 12-18 months clothes (the stuff she's growing out of right now), but since that's not the case, I'm going to keep donating, selling, and lending her clothes out to anyone who can make use out of them.
If the time comes that I need more baby girl clothes, I don't think I'll have any trouble restocking our nursery closet for free or at rock bottom prices!
Oh, and if you're wondering how I store and organize the small amount of baby clothing I do save (like white onesies, sleep-sacks, pj's, socks, bibs, etc. read this post.
What are your thoughts about storing extra baby clothes?