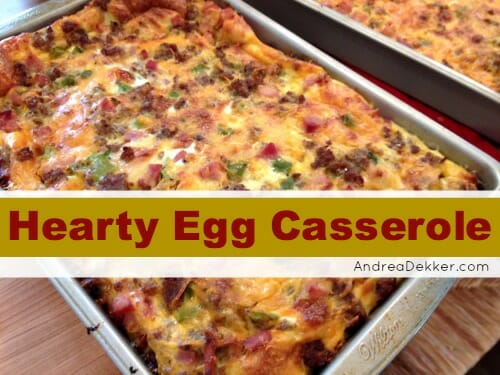 Last week, I shared the Bacon-Wrapped Sausage recipe from our baptism/Mother's Day brunch… and today, I'm back with another super simple, really delicious brunch recipe.
I'm guessing you already have all (or at least most) of the ingredients in the house — and the best part of this recipe is that you can make it several hours in advance or even the night before. Then just pop it in the oven about an hour before you're ready to eat!
If you're looking for a great new egg dish to add to your recipe box, this one is definitely a winner.
Recipe for Hearty Egg Casserole:
INGREDIENTS:
3-4 cups cubed bread (stale white bread is best)
2 cups cooked ham, bacon, sausage (or combination)
1 onion; diced
1 green pepper; diced
1 c. shredded cheese
12 eggs
2 c. milk
1 t. salt
½ t. dry mustard (or 1 T. prepared mustard)
DIRECTIONS:
Preheat oven to 350*F
Place cubed bread evenly in a greased 9×13 pan.
Spread meat, cheese, and veggies over the bread.
In a large bowl, beat eggs until fluffy. Add milk, salt, and dry mustard to eggs and mix well.
Pour egg mixture over meat, cheese, and bread.
Cover and refrigerate overnight for at least 2 hours.
Bake in preheated oven for 50-60 minutes, or until center is set.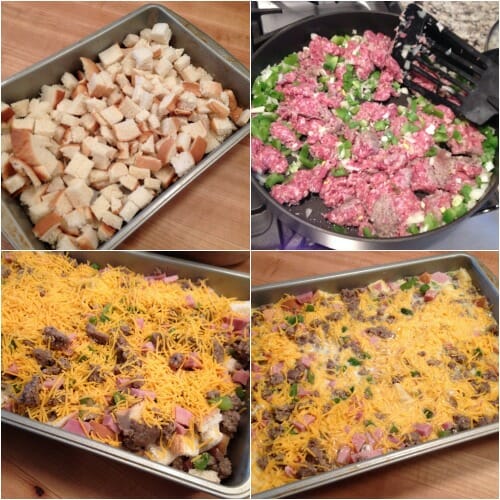 I think this is my new favorite egg dish.
Not only was it super easy, I loved that I could make it the night before. Plus, there was so much meat and cheese that it really filled me up.
The only complaint I have is that even though I thoroughly greased my pans, they were still really hard to clean with all the baked-on egg. Next time, I'll probably use disposable pans!
Do you have any favorite make-ahead brunch recipes?
Visit my virtual recipe box for more simple, delicious, family friendly, recipes!