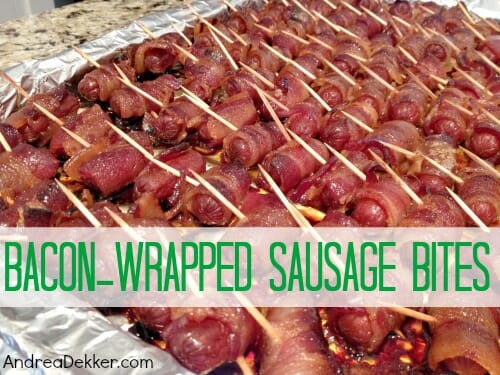 This past weekend, we hosted a brunch for both our immediate families — mainly to celebrate Simon's baptism (more on that tomorrow) but also to celebrate Mother's Day.
We had lots of yummy brunch foods including these blueberry muffins, these banana chocolate chip muffins, and this fruit salad — but I think the favorite menu item (especially for the guys) was bacon-wrapped sausage bites.
Yes, that's right… a recipe that combines two of my favorite breakfast meats into one bite-size morsel, coated with a delicious brown sugar glaze!
These delectable treats are the perfect addition to any brunch menu. They also make fabulous appetizers… and they couldn't be simpler to make!
Recipe for Bacon-Wrapped Sausage Bites:
Makes about 40 sausage bites
Ingredients:
1 pound bacon
1 14 oz. package of mini smoked sausage links
1 c. brown sugar
Directions:
Preheat oven to 375*F
Cut slices of bacon into 3 or 4 pieces
Dip each slice of bacon into brown sugar; pressing to coat both sides.
Wrap each bacon slice around one sausage link and secure with a toothpick .
Line up sausages on a large RIMMED baking pan (I usually line it with aluminum foil for easy clean up)
Bake in preheated oven for 30-40 minutes, or until bacon is cooked and crispy.
After they are cooked, you can either serve them immediately or put them in a slow cooker on low (or warm) until you're ready to eat.
The only downside of this recipe is the grease in the pan — I usually line the pan with aluminum foil before baking and then let the grease solidify before I clean it up.
These are so delicious and they taste fabulous with almost any main dish (especially breakfast foods!)
I made about 7 dozen bites for our 14 guests and we only had a few left at the end of our brunch — I think it's safe to say they went over well!
Also, in case you're wondering, the leftovers taste delicious straight out of the fridge — you don't even need to warm them up again 🙂
What are your favorite brunch recipes?
Visit my virtual recipe box for more simple, delicious, family friendly, recipes!